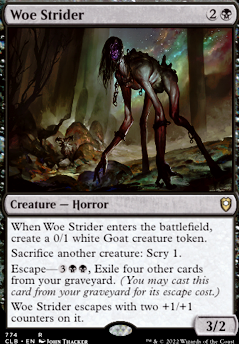 Tokens
Legality
Woe Strider
Creature — Horror
When Woe Strider enters the battlefield, create a 0/1 white Goat creature token.
Sacrifice another creature: Scry 1. (Look at the top card of your library, you may put that card on the bottom of your library.)
Escape—, Exile four other cards from your graveyard. (You may cast this card from your graveyard for its escape cost.)
Woe Strider escapes with two +1/+1 counters on it.