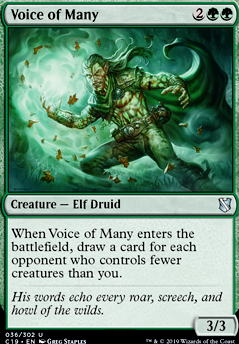 Legality
| | |
| --- | --- |
| Format | Legality |
| Tiny Leaders | Legal |
| 1v1 Commander | Legal |
| Magic Duels | Legal |
| Leviathan | Legal |
| Duel Commander | Legal |
| Oathbreaker | Legal |
| Commander / EDH | Legal |
Voice of Many
Creature — Elf Druid
When Voice of Many enters the battlefield, draw a card for each opponent who controls fewer creatures than you.
Voice of Many Discussion
1 month ago
hello mr. durtee i just wanted too say hey cool nice deck but your playing too many creatures like what if you get field swiped dude?? haha wouldnt that be crazy any way you should make it a landless stacks control prison combo storm deck with blue i herd those were good okay thanks you john bye
I'm going to try to order these from my most to least recommended.
Mirror March: I get making token copies, even if it's only nontoken creatures. What I can't get behind is costing 6 and STILL HAVING A 50% CHANCE OF DOING NOTHING.
Spirit Bonds: Ignoring the weak payoff of the spirit token (at least by edh standards), paying five mana and sacrificing a specific creature to protect one guy for one turn is pretty lame. You can't even protect your seance tokens because they're spirits.
Mercy Killing: If you choose an opponent's creature, they get the tokens. If you choose your own guys, you're going wide at the cost of two cards.
Eyes of the Wisent:
Emrakul's Evangel: I can't see what he does other than act like a one-time sac outlet that you have to wait for. 3/2 is going to be pretty close to what you're usually sacrificing anyway.
Huatli, Warrior Poet: Her token is cool, but her other abilities are really weak for the cost. Also she got a tiny booty.
Caller of the Claw: He'd be like a backup Fresh Meat if he counted the tokens too. 1 less mana for 1 less p/t would have been alright. Too bad.
Summoner's Pact: Kind of a weak creature tutor since you aren't playing toolbox or gunning for combo. Only green too.
Hornet Nest: Deathtouch flyers are good, but you don't have a way to damage it yourself and you probably have bigger threats than getting hit by birds.
Hoofprints of the Stag: Unless you add a lot more draw, these stags take forever to come out.
Godsire: Nice token, but he's got no haste or protection, which means you have to wait for the token while this dumbass sits there waiting to see if anyone around the table wants to remove him. Could be alright if you cheat him out reliably.
Regisaur Alpha: Neat to make a token copy of, but just under the bar on his own.
This is all in no particular order.
Assemble the Legion : So I heard you run doubling season. But really, you know what this does to games.
Kiki-Jiki, Mirror Breaker : Splinter Twin backup. Makes infinite tapped kikis with helm, in case you needed that.
Huatli, Radiant Champion : Easy to gun for the emblem, with an alright mid ability
Nacatl War-Pride : Forcing blocks means the rest of your creatures get through, or that you can divvy up the copies to other players. Gets really crazy the next turn when you populate one of the tokens. Absolutely insane if you get an additional combat.
Heroic Intervention : Boring, but necessary
Teferi's Protection : Extra boring, but even more necessary since it's the only answer to biff out there that isn't countering it.
Selfless Spirit : Not as boring since you can make a token copy of it for repeat use.
Baloth Cage Trap : Wow, when does anyone play an artifact in edh?!?! stupid card
Sneak Attack : Cheats creatures out with haste at instant speed for one mana and puts them in the grave to seance afterwards.
Gate to the Afterlife / God-Pharaoh's Gift : Kind of an investment, but a permanent Seance with haste is no joke.
Survival of the Fittest : Puts big boys in grave, and any creature you want in hand.
ok thanks for coming to my ted talk bye
No data for this card yet.