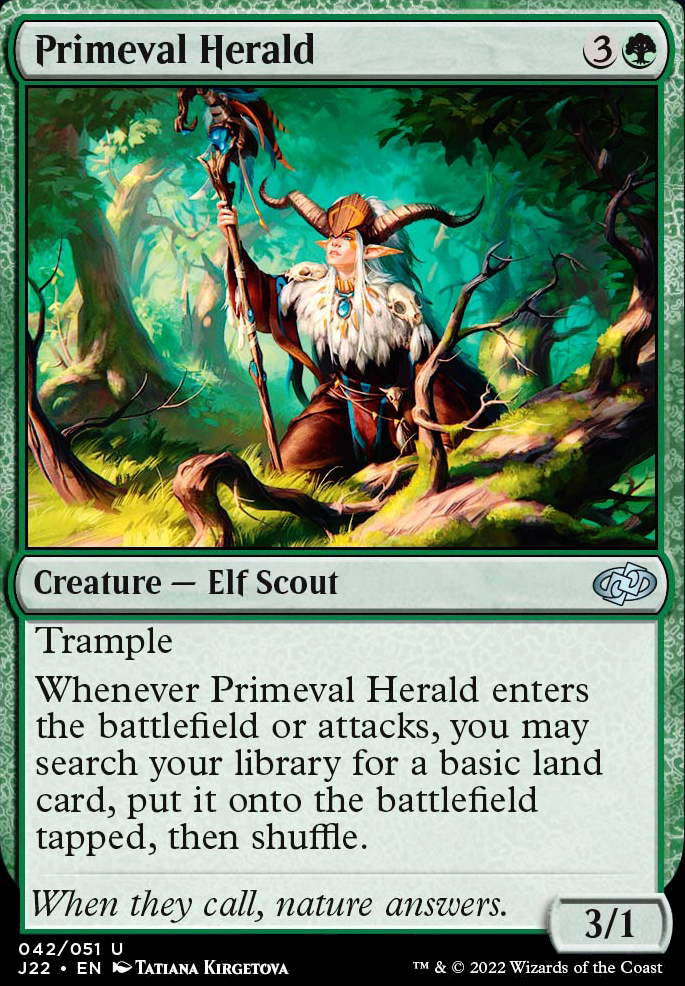 Legality
4 months ago
i see no synergy in your deck. you got some ramp artifact, ramp sorceries, ramp creatures, ramp enchantments, but nothing really synergizes. if you put all ramp into 1 of those, your deck gets alot better.
id say go for creatures, so you can end with a nice overrun effect. So grab all the 1 mana elfs that produce mana, your missing Boreal Druid, Joraga Treespeaker. Then get Priest of Titania, taps for all elfs.
For removal, run creatures aswell, id get Foundation Breaker, Druid of Purification, Bane of Progress, Haywire Mite, Reclamation Sage, Voracious Hydra, Acidic Slime, Duplicant, Kogla, the Titan Ape, Meteor Golem, Terastodon, Woodfall Primus, Ulvenwald Tracker
For draw, run creatures aswell (your starting to see a synergie?) Beast Whisperer, Voice of Many, Toski, Bearer of Secrets, Augur of Autumn
for ramp you have the mana dorks, Sakura-Tribe Elder, Fertilid, Wood Elves Elvish Pioneer, Primeval Herald, Skyshroud Ranger, Selvala, Heart of the Wilds
For bombs, id run creatures that already have trample, Defiler of Vigor, Neverwinter Hydra, Ochre Jelly, Kalonian Hydra, Aberrant, Craterhoof Behemoth and a tutor: Fierce Empath
some other cards i would consider Champion of Lambholt (makes your creatures unblockable, Saryth, the Viper's Fang hexproof untapped, deathtouch when attacking (insanely powerfull with big trample creature).
non creatures i would run: Lifecrafter's Bestiary, Skullclamp, Return of the Wildspeaker, Inspiring Call, Harmonize, Rishkar's Expertise maybe a few things like Fade from History, Beast Within, Nature's Claim, Collector Ouphe is also really strong since you will be running creatures
Sure, the mana doubling can be fun, but is it really needed? your commander is gonna be 1-2 punching people, doubling your mana is gonna waste a turn, and you cant do alot with the mana other then empty your hand, and then you get boardwiped and your sent back to your childhood. Id cut them, and just get more consistency out of your deck