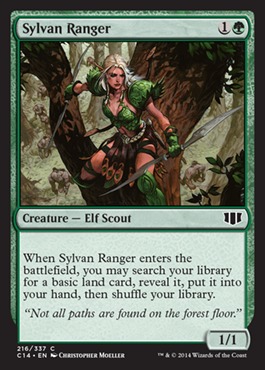 Sylvan Ranger
Creature — Elf Scout
When Sylvan Ranger enters the battlefield, you may search your library for a basic land card, reveal it, and put it into your hand, then shuffle your library.
Sylvan Ranger Discussion
1 day ago
carpecanum: Oh yeah, totally. I've been meaning to pick up a Solemn Simulacrum, but I'd somehow overlooked Sylvan Ranger. The counter is definitely the biggest cherry on top, but there's also the flicker interactions with Deadeye Navigator to consider. That shitlord is one of my favorite cards to exploit.
And Ancestral Statue... I'd meant to add that card in so long ago. I don't know how it had alluded me for so long. Thanks for the reminder!
Nullstone Gargoyle, my oh my does that look like a fun card to play against my meta! Excellent suggestion, sir.
6 days ago
Do your creatures die a lot or the pressure is on early? I would cast some of those hydras when you have 6 mana or more, so on mana 5 you could set up a bomb hydra in the next turn by casting D Season. I notice your low drops - Arbor Elf and Voyaging Satyr are important to you - I don't see any blockers while you're ramping up - I have gotten into the habit of using Farhaven Elf or Sylvan Ranger, or better yet Viridian Emissary, so that they do something for you, but then they are an easy blocker because you won't lose anything when they die. Now that depends on the meta situation of your group - if you get hit by a lot of hast fliers, then probably go with Deadly Recluse, because sometimes the best way to ramp is to stay a live until you get the higher end of your mana :)
3 weeks ago
Off the top of my head, you ought to drop:
Side note: why is Ezuri, Renegade Leader NOT your commander?
That's 13 cards you can toss. My overall impression is that you're trying to field a lot of really low cost, low power elves, which is really only feasible if you have a really good way to power them up consistently and/or can draw and play a lot to try and swarm and make up for losses. Maybe look into Beastmaster Ascension, Military Intelligence, Bow of Nylea for sure, Gaea's Anthem, Curse of Predation possibly, Death's Presence,Primitive Etchings, and Wild Pair.
Maybe that's helpful? I just don't like creatures for ramp when you could get a sorcery or instant to get you a land. And 1/1's or 2/2's in edh? you have to argue that one to me pretty well.
3 weeks ago
You will need to find a way to win quick with fact that your creatures are going to take some time to become useful. I love hydras, I just know there limitations. The cards I suggested are only suggestions to help speed the deck up. I would also take out at least 5 lands and possibly put in creatures that search for basics like Sakura-Tribe Elder, Wood Elves, Sylvan Ranger, Yavimaya Elder, Frontier Guide, Borderland Ranger, Civic Wayfinder, Farhaven Elf and other sorceries to consider Cultivate, Boundless Realms, Search for Tomorrow, Seek the Horizon and Skyshroud Claim.
| | |
| --- | --- |
| Power / Toughness | 1/1 |
| Color(s) | Green |
| Cost | 1G |
| Converted cost | 2 |
| Avg. draft pick | 5.02 |
| Avg. cube pick | 4.7 |
Legality
| | |
| --- | --- |
| Format | Legality |
| Legacy | Legal |
| Vintage | Legal |
| Commander / EDH | Legal |
| Modern | Legal |
| Duel Commander | Legal |
| Pauper | Legal |