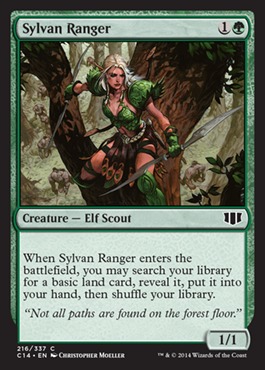 Sylvan Ranger
Creature — Elf Scout
When Sylvan Ranger enters the battlefield, you may search your library for a basic land card, reveal it, and put it into your hand, then shuffle your library.
Sylvan Ranger Discussion
6 days ago
I just built my first elf deck and it's really fun.Elvish Archdruid works really well both for mana and extra attack power.Arbor Elf is better than Llanowar Elves because you can untap a forest that has Elvish Guidance on it.Elvish Visionary doesn't seem that great at first, but the extra cards really help to speed up your deck.Instead of using Naturalize, you can summon Reclamation Sage.Instead of using Rampant Growth, you can summon Sylvan Ranger.
1 month ago
Song of the Dryads could be a really good card in this deck. Being able to get rid of their commander or whatever threat is on the board while also being able to utilize Forestwalk in case the opponent isn't playing any forests. Also why not play Wood Elves instead of Sylvan Ranger?
1 month ago
What help are you looking for exactly, card options, deck mechanics, or something else? Additionally are you looking to make this deck function as aggro, elf ball, or combo? Lastly do you care about format (pauper, modern, etc.) or is this strictly budget casual?
Inexpensive Cards I would suggest in general (All Roughly < $1 each):
Elvish Visionary - Elf and Cantrip - one of the most underrated elf cards
Ezuri, Renegade Leader - Regeneration for all your elves and a mini-Overrun effect that can be used as often as you have mana
Birchlore Rangers - Turns all your elves into mana and lets you access any color type of mana
Nettle Sentinel - The Combo Elf Card, 2/2 for 1 mana and with lots of elves he essentially has vigilance.
Quirion Ranger - Untaps Elvish Archdruid, Elvish Branchbender, Elvish Mystic, Jagged-Scar Archers, Llanowar Elves, Priest of Titania, Timberwatch Elf, Wellwisher, and Immaculate Magistrate and works as soon as you play him
Sylvan Ranger - Gets you an basic land you want and filters your deck
Joraga Warcaller - Super fun for casual play, especially with Immaculate Magistrate, but possibly too pricy
Distant Melody - Super Powerful, but requires U mana, so you would want to run it with Sylvan Ranger and Birchlore Rangers
Elvish Guidance + Arbor Elf are great for additional mana generation
Might of the Masses is a fantastic finisher since you can attack, see which elf is unblocked and then boost at instant speed, or power up an elf blocked by a nuisance creature.
Skullclamp is fun but broken and banned in serious play.
Cloudstone Curio + Heritage Druid + Nettle Sentinel + Glimpse of Nature constitute the most powerful elf combo cards, but again they are crazy expensive.
I hope that helps a bit.
Here are some sample decks I have made:
Pauper: http://tappedout.net/mtg-decks/party-time-elf-pauper/
Modern: http://tappedout.net/mtg-decks/elf-explosion-modern-creature/
Budget Casual: http://tappedout.net/mtg-decks/20-bucks-elves-g-elfball/
Aggro: http://tappedout.net/mtg-decks/elven-war-lords/
1 month ago
I don't think Ainok Guide is a strait upgrade to Sylvan Ranger because the land gets placed on the top of your deck, meaning I lose my draw. Thragtusk is powerful, but not strait up better than Species Gorger either, because it beats the thragtusk in stats, and also has a benefical effect. You also have to think that when I bounce the Thragtusk I've got to spend another 5 mana to get him back out, whereas with Species Gorger I don't have to keep repaying the cost to get the benefit. Coiling Oracle is actually a strait upgrade to Elvish Visionary, but if I ever need more card draw I'll know where to look. Champion of Lambholt seems like it would be an awesome addition to the deck, I will work on fitting it in! It's effect also triggers if a Fable of Wolf and Owl token enters, correct?
1 month ago
Makes all of your ETB dudes super awesome because you get a new one every turn. Curves nicely after thragtusk, and is probably just better than Species Gorger.
Ainok Guide is just better than your Sylvan Ranger, Champion of Lambholt looks like a fun one to try out, Elvish Visionary is a good one to get more stuff into your hand.
Just a few suggestions to ramp things up.
| | |
| --- | --- |
| Power / Toughness | 1/1 |
| Color(s) | Green |
| Cost | 1G |
| Converted cost | 2 |
| Avg. draft pick | 5.02 |
| Avg. cube pick | 4.7 |
Legality
| | |
| --- | --- |
| Format | Legality |
| Legacy | Legal |
| Vintage | Legal |
| Commander / EDH | Legal |
| Modern | Legal |
| Duel Commander | Legal |
| Pauper | Legal |