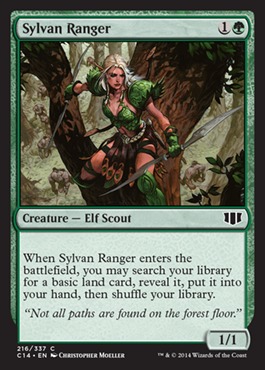 Sylvan Ranger
Creature — Elf Scout
When Sylvan Ranger enters the battlefield, you may search your library for a basic land card, reveal it, and put it into your hand, then shuffle your library.
Sylvan Ranger Discussion
1 week ago
Changes!
-Explore, Harmonize, Sylvan Ranger.
Explore doesn't do anything better than Exploration or any of my other card draw spells. Harmonize is too expensive for only three cards. Sylvan Ranger doesn't accelerate my mana as quick as Wood Elves.
+Nettle Sentinel, Wood Elves, Staff of Domination.
Sentinel's Untap with every green spell will work wonders. Wood Elves is a better Sylvan Ranger, and Staff of Domination is an easy way to go infinite.
1 month ago
heyy! this is so nostalgic! mono green beasts was my first deck too although it ended being more of a "big creatures" deck. what exactly is your budget? it'll help a lot in terms of what cards i would suggest adding.
There are a few cards that i absolutely loved and i think need a spot in the deck. Joraga Treespeaker and Myr Superion was a little combo i loved pulling off. turn 2 5/6 is not something to scoff at. you can get both for under a dollar too. if you can get your hands on some Sylvan Rangers too, that would help you consistently get your land drops. and finally, Overwhelming Stampede is almost a guaranteed game winner in this deck.
i'll leave these two decks at your disposal. check them out and see what cards you like from each of them. if you have any questions, i'd love to help! Genesis wave into a win and Tribal Deck: Beasts. the first one is the deck i was talking about over. the second one is just for reference in case you find any other beasts you like from there
You're off to a great start though!
1 month ago
Not sure about Yavimaya Dryad, who is not an elf. Sylvan Ranger has better synergy.
Elvish Archdruid is definitely missing as he is both a lord and gives you a fuckload of mana, which I think you should spend on having two Ezuri, Renegade Leader. Also think that Elvish Promenade could go in favor of Overrun, at least one or two.
Other things is that you can easily consider going down to 21 or 20 lands in this, I think, given that your curve is very low.
Also, and I'm sure you've thought of that, but Lush Growth also gives your opponent access to those mana colours.
2 months ago
I just built my first elf deck and it's really fun.Elvish Archdruid works really well both for mana and extra attack power.Arbor Elf is better than Llanowar Elves because you can untap a forest that has Elvish Guidance on it.Elvish Visionary doesn't seem that great at first, but the extra cards really help to speed up your deck.Instead of using Naturalize, you can summon Reclamation Sage.Instead of using Rampant Growth, you can summon Sylvan Ranger.
| | |
| --- | --- |
| Power / Toughness | 1/1 |
| Color(s) | Green |
| Cost | 1G |
| Converted cost | 2 |
| Avg. draft pick | 5.02 |
| Avg. cube pick | 4.7 |
Legality
| | |
| --- | --- |
| Format | Legality |
| Legacy | Legal |
| Vintage | Legal |
| Commander / EDH | Legal |
| Modern | Legal |
| Duel Commander | Legal |
| Pauper | Legal |