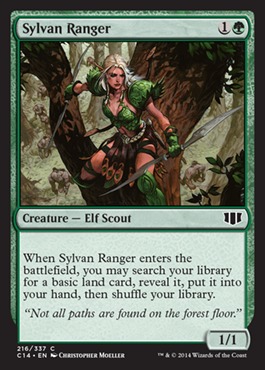 Sylvan Ranger
Creature — Elf Scout
When Sylvan Ranger enters the battlefield, you may search your library for a basic land card, reveal it, and put it into your hand, then shuffle your library.
Sylvan Ranger Discussion
2 weeks ago
Song of the Dryads could be a really good card in this deck. Being able to get rid of their commander or whatever threat is on the board while also being able to utilize Forestwalk in case the opponent isn't playing any forests. Also why not play Wood Elves instead of Sylvan Ranger?
2 weeks ago
What help are you looking for exactly, card options, deck mechanics, or something else? Additionally are you looking to make this deck function as aggro, elf ball, or combo? Lastly do you care about format (pauper, modern, etc.) or is this strictly budget casual?
Inexpensive Cards I would suggest in general (All Roughly < $1 each):
Elvish Visionary - Elf and Cantrip - one of the most underrated elf cards
Ezuri, Renegade Leader - Regeneration for all your elves and a mini-Overrun effect that can be used as often as you have mana
Birchlore Rangers - Turns all your elves into mana and lets you access any color type of mana
Nettle Sentinel - The Combo Elf Card, 2/2 for 1 mana and with lots of elves he essentially has vigilance.
Quirion Ranger - Untaps Elvish Archdruid, Elvish Branchbender, Elvish Mystic, Jagged-Scar Archers, Llanowar Elves, Priest of Titania, Timberwatch Elf, Wellwisher, and Immaculate Magistrate and works as soon as you play him
Sylvan Ranger - Gets you an basic land you want and filters your deck
Joraga Warcaller - Super fun for casual play, especially with Immaculate Magistrate, but possibly too pricy
Distant Melody - Super Powerful, but requires U mana, so you would want to run it with Sylvan Ranger and Birchlore Rangers
Elvish Guidance + Arbor Elf are great for additional mana generation
Might of the Masses is a fantastic finisher since you can attack, see which elf is unblocked and then boost at instant speed, or power up an elf blocked by a nuisance creature.
Skullclamp is fun but broken and banned in serious play.
Cloudstone Curio + Heritage Druid + Nettle Sentinel + Glimpse of Nature constitute the most powerful elf combo cards, but again they are crazy expensive.
I hope that helps a bit.
Here are some sample decks I have made:
Pauper: http://tappedout.net/mtg-decks/party-time-elf-pauper/
Modern: http://tappedout.net/mtg-decks/elf-explosion-modern-creature/
Budget Casual: http://tappedout.net/mtg-decks/20-bucks-elves-g-elfball/
Aggro: http://tappedout.net/mtg-decks/elven-war-lords/
3 weeks ago
I don't think Ainok Guide is a strait upgrade to Sylvan Ranger because the land gets placed on the top of your deck, meaning I lose my draw. Thragtusk is powerful, but not strait up better than Species Gorger either, because it beats the thragtusk in stats, and also has a benefical effect. You also have to think that when I bounce the Thragtusk I've got to spend another 5 mana to get him back out, whereas with Species Gorger I don't have to keep repaying the cost to get the benefit. Coiling Oracle is actually a strait upgrade to Elvish Visionary, but if I ever need more card draw I'll know where to look. Champion of Lambholt seems like it would be an awesome addition to the deck, I will work on fitting it in! It's effect also triggers if a Fable of Wolf and Owl token enters, correct?
3 weeks ago
Makes all of your ETB dudes super awesome because you get a new one every turn. Curves nicely after thragtusk, and is probably just better than Species Gorger.
Ainok Guide is just better than your Sylvan Ranger, Champion of Lambholt looks like a fun one to try out, Elvish Visionary is a good one to get more stuff into your hand.
Just a few suggestions to ramp things up.
3 weeks ago
I had a green ETB deck planned with the Roaring Primadox, but the Temur Sabertooth seems like a better pick. Same CMC, one less toughness, but I can choose when I send a creature back to my hand, and it gives the Sabertooth indestructible for the turn. I'm thinking of ramp cards like the Sylvan Ranger and creatures that give +1/+1 counters like the Bond Beetle.
1 month ago
@yetimas: Fate Reforged is Standard legal since it's from Khans block. Some of the cards in the Commander sets are Standard and/or Modern legal, but only if they're reprints of cards already legal in those formats. Otherwise, they're only legal in EDH, Legacy, and Vintage.
Drafting is a great way to improve your skills, build up a collection, and be on equal footing with the other players around you. If you have the money, I'd strongly suggest picking it up. Here and here are some great guides on how to get started.
As far as your deck goes and what you should change, this is a bit tricky because your cards come from different sets (it's something people have been complaining to Wizards of the Coast about, since they don't make it very clear the Commander and Conspiracy sets aren't always Standard or even Modern legal). The easiest way I guess we can get you started would be to break down what's legal in what format out of the cards you have. From the "Guided By Nature" deck you bought and the packs you opened, we have the following:
Cards originally from Theros Block, Khans Block, or M15 (Standard Legal):
1x Elvish Mystic1x Reclamation Sage1x Evolving Wilds2x Cloudform1x Frontier Siege1x Temur Runemark3x Thornwood Falls1x Hunt the Weak3x Map the Wastes1x Abzan Kin-Guard1x Arashin War Beast1x Archers of Qarsi1x Rakshasa's Disdain1x Reality Shift1x Temporal Trespass1x Return to the Earth1x Supplant Form2x Aven Surveyor1x Destructor Dragon2x Lotus Path Djinn1x Temur War Shaman2x Mindscour Dragon2x Whisperer of the Wilds
Cards originally from Mirrodin Block and 8th. Edition or later (Modern Legal):
1x Drove of Elves1x Elvish Archdruid1x Silklash Spider1x Soul of the Harvest1x Sylvan Ranger1x Elvish Skysweeper1x Elvish Visionary1x Oran-Rief, the Vastwood1x Essence Warden1x Terastodon1x Thornweald Archer1x Terramorphic Expanse1x Gargoyle Castle1x Grim Flowering1x Hunting Triad1x Overrun1x Collective Unconscious1x Overwhelming Stampede1x Praetor's Counsel1x Ghost Quarter1x Haunted Fengraf1x Tornado Elemental1x Fresh Meat
1x Beastmaster Ascension1x Harrow1x Wolfbriar Elemental1x Wood Elves1x Wren's Run Packmaster1x Ezuri, Renegade Leader1x Farhaven Elf1x Immaculate Magistrate1x Imperious Perfect1x Joraga Warcaller1x Llanowar Elves1x Lys Alana Huntmaster1x Masked Admirers1x Primordial Sage1x Rampaging Baloths1x Seer's Sundial1x Swiftfoot Boots
Cards printed before 8th. Edition/Mirrodin Block or in stand-alone sets (Legacy, Vintage, EDH Legal):
1x Creeperhulk1x Grave Sifter1x Lifeblood Hydra1x Priest of Titania1x Siege Behemoth1x Sylvan Safekeeper1x Thunderfoot Baloth1x Timberwatch Elf1x Titania, Protector of Argoth1x Titania's Chosen1x Wellwisher1x Song of the Dryads1x Wolfcaller's Howl1x Havenwood Battleground1x Jungle Basin1x Myriad Landscape1x Slippery Karst1x Tranquil Thicket1x Crystal Vein1x Desert Twister1x Sylvan Offering1x Wave of Vitriol1x Whirlwind1x Assault Suit1x Commander's Sphere1x Emerald Medallion1x Loreseeker's Stone1x Moss Diamond1x Predator, Flagship
Cards banned in Modern, Legacy, and Standard (despite being printed in sets that would otherwise be legal in those formats):
1x Skullclamp1x Sol Ring
These two are only legal in EDH and Vintage. Skullclamp is unrestricted in Vintage (meaning you can play the usual 4 copies of it), while Sol Ring is restricted (meaning you can only have one in your deck).
Whew! Holy shit is that a lot of text and cards and information. By the looks of what you have, you have a good start on a solid Elf deck for Modern. Essentially, you'll want to play a bunch of elves that tap for mana to churn out more elves, then cast spells that make your army bigger. Or you drop a giant threat onto the battlefield. Let's cut this down to 60 cards:
1x Silklash Spider1x Drove of Elves1x Elvish Archdruid1x Elvish Mystic1x Reclamation Sage1x Sylvan Ranger1x Elvish Skysweeper1x Elvish Visionary1x Essence Warden1x Thornweald Archer1x Wolfbriar Elemental1x Wood Elves1x Wren's Run Packmaster1x Ezuri, Renegade Leader1x Farhaven Elf1x Immaculate Magistrate1x Imperious Perfect1x Joraga Warcaller1x Llanowar Elves1x Lys Alana Huntmaster1x Masked Admirers1x Primordial Sage1x Rampaging Baloths1x Soul of the Harvest1x terrastodon1x Tornado Elemental----------------------------------------------------------26 Creatures
1x Frontier Siege1x Hunting Triad1x Overrun1x Collective Unconscious1x Overwhelming Stampede1x Hunting Triad1x Beastmaster Ascension1x Harrow1x Temporal Trespass1x Return to the Earth----------------------------------------------------------10 Other Spells
1x Ghost Quarter1x Evolving Wilds1x Terramorphic Expanse3x Thornwood Falls1x Oran-Rief, the Vastwood2x Island15x Forest----------------------------------------------------------24 Lands
I'll be back later with a list of cards you should look into getting, but this should give you a good start. The first cards I'd look into right off the bat would be getting 4 copies of Elvish Mystic, Imperious Perfect, Joraga Warcaller, Llanowar Elves, Arbor Elf, Elvish Archdruid, and 1 or 2 Craterhoof Behemoth.
| | |
| --- | --- |
| Power / Toughness | 1/1 |
| Color(s) | Green |
| Cost | 1G |
| Converted cost | 2 |
| Avg. draft pick | 5.02 |
| Avg. cube pick | 4.7 |
Legality
| | |
| --- | --- |
| Format | Legality |
| Legacy | Legal |
| Vintage | Legal |
| Commander / EDH | Legal |
| Modern | Legal |
| Duel Commander | Legal |
| Pauper | Legal |