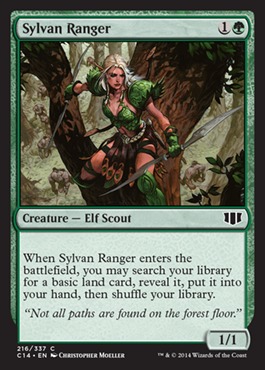 Sylvan Ranger
Creature — Elf Scout
When Sylvan Ranger enters the battlefield, you may search your library for a basic land card, reveal it, and put it into your hand, then shuffle your library.
Have (12)
Swamy ,

X

x

C

a

t

a

c

l

y

s

m

i

C

x

X

, Kravian , sleepy104 ,

C

o

m

i

c

a

l

f

l

o

p

, ThymeTheSage ,

o

m

e

g

a

s

u

n

, SerenityTheFool , xzavierx , Raistlin911822 , Xathrid845 , thenewcraft
Want (2)
Myogenesis , aminvanbruno
Sylvan Ranger Discussion
3 days ago
When it comes to removal, don't forget cards like Oblation and Chaos Warp. Tucking is sometimes more effective than anything else. You also have full access to board wipes, and cards like Winds of Rath can be especially potent. As far as enchantment and artifact removal, you are playing the best possible colors for it. Hull Breach, Mystic Melting, Return to Dust, Krosan Grip and a dozen others are all available to you, so it is just a matter of picking your poison.
For ramp, you have all the best choices. Besides the green sorcery spells like Cultivate, Explosive Vegetation, and Kodama's Reach, you also have access to all the mana dorks like Birds of Paradise, Bloom Tender, Elvish Mystic, Fyndhorn Elves, Llanowar Elves, Quirion Elves, and Sylvan Caryatid. You can also opt for creature ramp through cards like Farhaven Elf, Sylvan Ranger, and Wood Elves.
When it comes to auras, I think the most important thing to remember is to avoid "win-more" cards. I know cards like Ethereal Armor and Daybreak Coronet seem like obvious choices, but they are not as potent as something as simple as Rancor. Generally, your auras should give you evasion, trample, or protection. If you streamline them, you will be more likely to pull a card that will get you through enemy defenses. You don't need to be a 50/50 to win the game. 21 damage is all you have to do. Getting Uril indestructible is also worthwhile.
To fill out your deck I suggest getting something to avoid the sacrifice mechanic (Sigarda, Host of Herons or Tajuru Preserver or both), a few combat tricks (having Uril with 2 enchantments will most likely make him an 11/11 minimum, so being able to us Boros Charm or Rush of Blood to double his power when they don't declare a blocker will get you easy pick-offs), tutoring (both for creatures in case Uril is tucked, and for auras to pull out game winners; cards like Three Dreams, Eladamri's Call, Enlightened Tutor, Green Sun's Zenith and Idyllic Tutor all work to that ends, but there are creature options like Totem-Guide Hartebeest and Heliod's Pilgrim to consider as well), card draw (enchantress cards are best here; Eidolon of Blossoms, Argothian Enchantress, Mesa Enchantress and Verduran Enchantress), and a solid land base will make your Uril deck dangerous.
A few suggested cards would be Grand Abolisher, Kessig Wolf Run, Rogue's Passage, Slayers' Stronghold,Sunhome, Fortress of the Legion, Yavimaya Hollow, Replenish, and Retether. These are all potent cards that have really good synergy with Uril's win conditions.
I don't want to shamelessly plug my own deck, but I feel like if you looked at it you would find a good direction to head in. If you are curious, you can check it out here: Uril, the Miststalker
3 weeks ago
You might benefit from Vedalken Orrery and Roaring Primadox. With Ruric Thar, the Unbowed you can damage yourself quickly when playing non-creature spells. Use the Primadox, target Sylvan Ranger (or any other creature with a beneficial come-into-play effect) each turn until it is time for you to play a non-creature spell. That's when you target Ruric Thar with the Primadox, play the non-creature spell, and re-cast Ruric Thar. Genesis Hydra is also a very tempting creature to cycle with the Primadox.

Purphoros, God of the Forge might also be an excellent addition since you are wanting to play as many creatures as possible. Also Genesis Wave would be very helpful for getting multiple creatures on the board quickly.
| | |
| --- | --- |
| Power / Toughness | 1/1 |
| Color(s) | Green |
| Cost | 1G |
| Converted cost | 2 |
| Avg. draft pick | 5.03 |
| Avg. cube pick | 4.7 |
Legality
| | |
| --- | --- |
| Format | Legality |
| Legacy | Legal |
| Vintage | Legal |
| Commander / EDH | Legal |
| Modern | Legal |
| Duel Commander | Legal |
| Pauper | Legal |