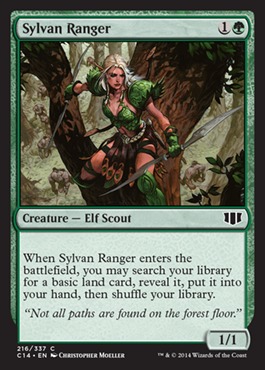 Sylvan Ranger
Creature — Elf Scout
When Sylvan Ranger enters the battlefield, you may search your library for a basic land card, reveal it, and put it into your hand, then shuffle your library.
Sylvan Ranger Discussion
1 month ago
carpecanum: Oh yeah, totally. I've been meaning to pick up a Solemn Simulacrum, but I'd somehow overlooked Sylvan Ranger. The counter is definitely the biggest cherry on top, but there's also the flicker interactions with Deadeye Navigator to consider. That shitlord is one of my favorite cards to exploit.
And Ancestral Statue... I'd meant to add that card in so long ago. I don't know how it had alluded me for so long. Thanks for the reminder!
Nullstone Gargoyle, my oh my does that look like a fun card to play against my meta! Excellent suggestion, sir.
| | |
| --- | --- |
| Power / Toughness | 1/1 |
| Color(s) | Green |
| Cost | 1G |
| Converted cost | 2 |
Legality
| | |
| --- | --- |
| Format | Legality |
| Legacy | Legal |
| Vintage | Legal |
| Commander / EDH | Legal |
| Modern | Legal |
| Duel Commander | Legal |
| Pauper | Legal |