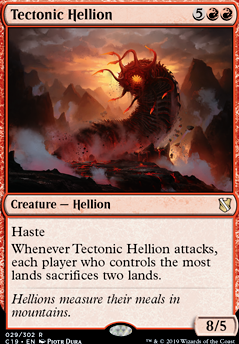 Tectonic Hellion
Creature — Hellion
Haste
Whenever Tectonic Hellion attacks, each player who controls the most lands sacrifices two lands.
Browse Alters
Legality
| | |
| --- | --- |
| Format | Legality |
| Tiny Leaders | Legal |
| 1v1 Commander | Legal |
| Magic Duels | Legal |
| 2019-10-04 | Legal |
| Leviathan | Legal |
| Duel Commander | Legal |
| Oathbreaker | Legal |
| Commander / EDH | Legal |
Tectonic Hellion Discussion
2 months ago
Hey, you're welcome :)
What's the max budget you have to make card upgrades? When you finish making upgrades what price range can you have for total deck cost? The precon for example at $60 is low and I would hope you could afford at least $50 for upgrades. If you can afford more expensive price cards then my card suggestions will be different then if you can't. Smothering Tithe and Birds of Paradise for example are very good cards for ramp, but they might be too expensive for the budget.
What advice about upgrades would you like?
Some cards from the precon that can be cut since they're not as good as others or don't have good enough synergy with Ghired:
2 months ago
Well, there's quite a few ways to make a deck quicker, the simplest would be just to add more ramp. Rampant Growth , Kodama's Reach , Nature's Lore . Having Ghired out by turn 4 is good, so try to stay under 4 CMC with ramp spells.
The deck, like any precon deck, has quite a few weird cards that don't fit the main commander, for example Tectonic Hellion , Tahngarth, First Mate , Marisi, Breaker of the Coil

, Scaretiller etc. These are interesting cards and they have homes, but Ghired probably isn't that home.
When playing, check which cards are underperforming, as well. Some do fit your theme but simply aren't very efficient. Some, like Emmara Tandris or Desolation Twin can come down to late with too little impact. Of course, it's ultimately your call, some people, myself included, enjoy using less efficient cards if they have fun effects. It's commander after all, it's about using the cards you enjoy!
More haste could help you get Ghired up and running faster, so perhaps a few more haste enablers such as Swiftfoot Boots , Rhythm of the Wild , Hammer of Purphoros , Ogre Battledriver etc.
Having a faster star will absolutely help, but being able to hold out for a longer game will benefit you too, which is why card draw is important as well! Card draw is very valuable in commander, so some more of that couldn't hurt. the deck already includes some awesome draw cards like Ohran Frostfang and Idol of Oblivion but there's plenty of other great draw spells as well and it's an effect you're likely going to want lots of. I like Rishkar's Expertise a lot personally, and Return of the Wildspeaker is awesome, being either a draw spell or an Overrun effect if needed.
If you'd like to see more suggestions, I recommend the site EDHREC. You could use it to see what cards other Ghired players use, which can be very helpful! Although remember to make your own decisions on what to include too, the majority's not always right. Just see what cards are the most fun to play, that's the most important!
Hope this helps! Happy populating!