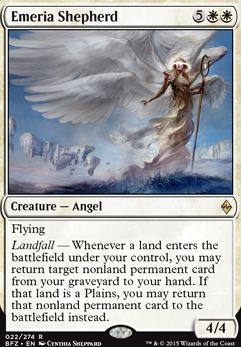 Legality
| | |
| --- | --- |
| Format | Legality |
| Pre-release | Legal |
| Limited | Legal |
| Tiny Leaders | Legal |
| Magic Duels | Legal |
| Vintage | Legal |
| Modern | Legal |
| Highlander | Legal |
| Penny Dreadful | Legal |
| Block Constructed | Legal |
| Casual | Legal |
| Leviathan | Legal |
| Legacy | Legal |
| Frontier | Legal |
| 1v1 Commander | Legal |
| Duel Commander | Legal |
| Unformat | Legal |
| Pauper | Legal |
| Commander / EDH | Legal |
Emeria Shepherd
Creature — Angel
Flying
Landfall — Whenever a land enters the battlefield under your control, you may return target nonland permanent card from your graveyard to your hand. If that land is a Plains, you may return that nonland permanent card to the battlefield instead.
Have (31)
EliGjerdingen ,

f

a

i

l

u

r

e

c

h

i

l

d

8

8

, Puzzlemayor ,

W

o

l

f

n

i

n

j

a

, TrackerD ,

D

r

_

J

a

y

,

N

e

m

e

s

i

s

,

T

h

i

s

I

s

B

u

l

l

s

h

i

t

, DarkMagician ,

R

e

g

u

l

u

s

1

0

1

0

, Snydog17 ,

a

e

o

n

s

t

o

r

e

m

y

l

i

v

e

r

, thetechzombie , KB2187 , ecurps , Lucretian , Wazerwifle ,

W

o

l

f

e

b

l

a

d

e

e

l

i

t

e

, Nightdragon779 , Supremespeed , NobleSlay3r ,

8

v

o

m

i

t

,

r

o

c

k

l

e

e

m

y

h

e

r

o

, Zhorus_The_Bauqret , Candyman949 ,

s

o

n

n

e

t

6

6

6

,

g

o

l

g

a

r

i

g

i

r

l

, MattN7498 ,

s

a

j

0

2

1

9

, mziter501 ,

P

o

p

t

a

r

t

z

9

5

Want (2)
Turtlelover73 ,

S

h

i

s

h

k

y

B

o

b
Emeria Shepherd Discussion
4 days ago
Another pretty major tuning pass. The main thing I found after playing this deck a few times was that it wasn't interactive enough with other players. Especially those that had any Flying creatures (I had ZERO answers to flying, other than Constant Mists!). So, in the interest of upping this interaction, I have trimmed out a good amount of the "Awaken" theme to make room for better cards, and more removal, more answers.
These cuts aren't easy to decide on... I'd really love to find a way to fit in 4-6 more lands and really lean into the Landfall theme even harder, but I'm hesitant. I have really come to love the Rude Awakening+Teleportal(overloaded) combo!
2 weeks ago
I saw you were looking to get all your lands out with the god of harvest? With this combo you can get out all your forests and plains Karametra, God of Harvests Emeria Shepherd and Endless One Cast endless one for 0 he dies search your library for land, return him to hand, reapeat.
2 weeks ago
Hey Dr.Crust, I like this build! I like the use of flagbearer-type cards to keep the hate away from Gisela.
A few recommendations I have is that I'm confused about a couple of card choices. If this is a voltron deck, what are Porcelain Legionnaire or Lantern Kami doing to help you achieve that goal? I would recommend increasing the amount of card draw in the deck by using artifacts like Staff of Nin, Tamiyo's Journal and the newly-spoiled Immortal Sun from RIX. It may increase your curve but at 3.1 you may have some room to spare depending on your meta. If aggro is a problem, Ghostly Prison is a great card and I can see has been mentioned before.
In my Bruna deck, I'm able to keep a lot of cards in my hand by spending a lot of my mana on recurring stuff from the graveyard to get more value out of those cards. That's the goal of that deck so I run cards like Emeria Shepherd, Sun Titan and Emeria, The Sky Ruin.
Also, I highly recommend Endless Horizons it's such an excellent enchantment and helps you make sure you always get your land drops.
Happy deck building!
1 month ago
It does seem like ever so much goodstuff, that being said, Sun Titan does synergize with Selfless Spirit, Fleshbag Marauder and Krosan Verge.
Adding a 5-7 more fetch lands would make the Sun Titan much more powerful aswell.
I do get the confusion though, the deck lacks a clear victory plan, instead relying on powerful cards to threaten the boardstate all by themself.I would advise to focus on a few engines and one of two victory conditions, in this deck Purphoros, God of the Forge and the token generators appears to be the strongest candidate.
It looks like the deck might struggle with it's mana curve aswell, having a high average cmc and possibly not enough ramp to get there in time.
A few concrete suggestions Emeria Shepherd + Sakura-Tribe Elder allows you to put every Plains into play from your library.
Hour of Promise is fantastic for fetching both Urborg, Tomb of Yawgmoth and Cabal Coffers.
For card draw I would be remiss if I did not suggest Reassembling Skeleton/Bloodghast + Skullclamp
The Bloodghast would incresae in power in synergy with Ashnod's Altar + fetchlands aswell, resulting in sudden ramps of colorless mana from a single fetchland drop, enabling big plays far earlier.
Adding both the Bloodghast + Reassembling Skeleton would turn cards like Buried Alive and Entomb into powerful mana efficient tutors aswell.
On a last note Demonic Tutor is better than Beseech the Queen in every way, but most importantly because it denies information from your opponents.
To make room for some of these changes I would start by taking a long hard look at your planeswalkers, they appear to be slow to impact the board and few of them plays well with your general strategy.
Only one of them looks like it's powerful enough to matter on it's own, that would be Elspeth, Sun's Champion
1 month ago
Maybe you could use them to replace Emeria Shepherd and Noxious Gearhulk? These are both nice creatures and their abilities are good, however you have better, cheaper recursion available than Shepherd. The extort creatures are also much stronger than Gearhulk is; especially their cumulative effect. Btw, just though of another card that could be nice to add: Exsanguinate; can be even better than Gray Merchant or Kokusho.
Load more