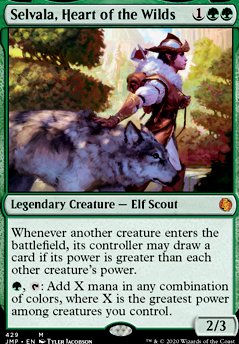 Selvala, Heart of the Wilds
Legendary Creature — Elf Scout
Whenever another creature enters the battlefield, its controller may draw a card if its power is greater than each other creature's power.
, : Gain X mana in any combination of colours, where X is the greatest power among creatures you control.
Start Commander Deck
Browse Alters
Trade
Legality
| | |
| --- | --- |
| Format | Legality |
| Oathbreaker | Legal |
| 2019-10-04 | Legal |
| Canadian Highlander | Legal |
| Casual | Legal |
| Historic | Legal |
| Vintage | Legal |
| Leviathan | Legal |
| Legacy | Legal |
| Limited | Legal |
| Arena | Legal |
| Duel Commander | Legal |
| Highlander | Legal |
| Commander / EDH | Legal |
| Tiny Leaders | Legal |
| 1v1 Commander | Legal |
Rules Q&A
Latest Decks as Commander
Selvala, Heart of the Wilds Discussion
5 hours ago
You described almost every Xenagos deck, mine included. You hit it right on the head.
As you said, we either have it or we don't. With no way to tutor card draw, adding more helps increase the odds of maintaining gas
Lifeblood Hydra - Not necessary but always welcome on X = 3 or more. Even if they destroy it, you still get value, has built in evasion and has a high ceiling.
Life's Legacy - If blue is too prevalent in your meta, ignore this suggestion
Momentous Fall - Similar to above, but would still put in despite blue, and despite the fact that its hard to have 4 mana after casting a beater. But similar to rishkar's expertise, I argue the potential card draw is worth the risk. You usually use this in response to opponent's removal
Bonders' Enclave - Never hurts, coudl replace a fetch land possibly
Elder Gargaroth - Makes beasts for blockers/draw spells, draws cards and gains life in a pinch.
Harmonize - Reliable draw
Be sure to lmk what you think of each suggestion. Some will work better for you than others. I see you run some dorks so I know you don't want too many nonbasics, but with all the ramp in Xenagos, I think we can be a little greedy. If you can't find room, I have ideas for cuts.
4 days ago
You might be interested in Quicksilver Amulet, Elvish Piper, Selvala's Stampede, Birds of Paradise, Sneak Attack, Nature's Lore, Skyshroud Claim, Selvala, Heart of the Wilds, Heroic Intervention, Teferi's Protection and Wood Elves.
1 week ago
Interesting deck +1
What is your meta like?
Proud Wildbonder - Seems too unimpactful for 4 mana
Essence Warden - Whats the purpose of this?
Beast Whisperer - Seems cool, I tried him in my build. Does he get a chance to stick around long enough to draw you atleast 2-3 cards?
Ravager Wurm - Is this meta against maze of ith?
Shivan Wurm - Reusing ETB effects or something I'm missing? Seems weak
Voracious Cobra - Gosh this card brings back memories from my childhood. Curious how it's been for you, seems like a card they need to burn removal on if they want a chance of attacking you unless they go wide
Windstorm - Meta?
Fog - Meta, if so, why not get the new green fog that came out recently?
Soul's Might - Return of the Wildspeaker would better serve you as you can draw cards in response to removal rather than your creature getting removed in response to might being cast.
Ancient Tomb , Castle Garenbrig are ramp
Goreclaw, Terror of Qal Sisma - Trample and ramp
Heroic Intervention - Protection
Selvala, Heart of the Wilds - Ramp and draw
The Great Henge , Somberwald Sage, Shaman of Forgotten Ways are all good ramp
Inferno Titan - Removal
Kogla, the Titan Ape - Removal
Deflecting Swat - Utility! Counter counterspells, redirect targetted removal/draw/extra turns. Very powerful
Rishkar's Expertise, Bonders' Enclave, Elder Gargaroth, Greater Good, Life's Legacy, are all amazing card draw options, especially greater good. Seriously, don't sleep on greater good
I hope the suggestions werent too overwhelming, I just didn't see that much draw and I figured that adding more never hurts.
1 week ago
Temur Sabertooth + Zacama, Primal Calamity works by repeatedly bouncing the Zacama to abuse the "untap all lands when it enters the battlefield" ability on Zacama. It will require 11 mana from lands to break even, or 12 mana from lands to create a positive infinite mana loop. With the very high land requirement, it is not a good inclusion for competitive edh unless Zacama is your commander.
I recommend looking at infinite combos in already existing cedh decks in those colors. Synergy has recommend some competitive level combos, but I can contribute some more. Off the top of my head, I can recommend some:
Temur Sabertooth + Dockside Extortionist = Generate infinite mana, requires opponent to have the correct board state, which they almost always do
Big Dork + Untap effect = Infinite mana. Look at Priest of Titania, Selvala, Heart of the Wilds, Bloom Tender, or Marwyn, the Nurturer for your big dork needs. Look at Umbral Mantle and Staff of Domination for your untapping needs, honorable mention to Sword of the Paruns which I don't recommend.
Underworld Breach has lots of great combos, most of the playable ones are in mono red for Naya colors. Shameless self plug, check out my EDH Underworld Breach combo guide here, I cover card choices and how to pilot the combos in detail here - https://tappedout.net/mtg-decks/the-underworld-breach-edh-combo-guide/
Another option, but definitely not a top tier combo, is Boonweaver Giant + Pattern of Rebirth + Sac Outlet. This combo works by abusing creatures that return Boonweaver from the graveyard to play to continue pulling creatures from your library until you have assembled your actual winning combo. Generally you pull Karmic Guide -> return Boonweaver -> sac Boonweaver to fetch Fiend Hunter -> Fiend your Guide -> Sac Fiend to return Guide, which returns Boonweaver -> Fetch Reveillark which returns Guide + Fiend Hunter to loop to pull all creatures from your deck. You can find a very well detailed guide for this combo here - https://www.mtgsalvation.com/forums/the-game/commander-edh/multiplayer-commander-decklists/621075-karador-boonweaver-combo The guide is for Abzan colors, but the core of the combo is GW and can easily be adapted to Naya colors, especially with red creature sac outlets like Goblin Bombardment. This is a fun combo, high powered but not competitive, and will blow the minds of most players who haven't seen it in action before.
1 week ago
Hey there! Maybe consider some of the following!
Hope this helps, and have a great day!
3 weeks ago
Yeah You pretty much nailed it. I will hold a dork in my hand if I draw one later and don't NEED it. I don't run every dork but I like the added utility of having them be fodder to some tutors later. Exploration is kind of niche though. It definitely adds to devotion and isn't super useful all the time. But there are times where I can draw 6+ cards easily and roughly a third of a deck is land, so it helps a ton in that scenario. I used to run Burgeoning as well, but dropped it because it did not have that added functionality. I also replaced Sylvan Caryatid with Arcane Signet for the sake of devotion (also speed). Ideally, I don't play more than 2 ramp spells before slapping Xenagos down. If they are both dorks I just have to be careful for a few turns. After Xenagos dorks have much less chance of seeing the field.
The outlier is Selvala, Heart of the Wilds. Selvala will always see the field if drawn, as her pros far outweigh her cons.
On the subject of the elemental, I personally wouldn't run it. In my opinion it would be similar to the reason I have a Lazav, the Multifarious deck as opposed to a Lazav, Dimir Mastermind deck. Or even why I choose not to run Malignus. It doesn't sit right with me that an opponent has an amount of control over how powerful my cards are. I also think there is a balancing point between raw power and utility. That is a pretty generalized statement, but that is about where I land on it. I would not fault anyone for using it; it seems fine honestly. I would be interested to hear how it performs if you try it out.
Also, Moraug, Fury of Akoum is pretty decent so far. Each extra combat adds a ton of power, it's wild. He does nearly 100 damage by himself (with Xenagod, of course) and that is just stupid. It is worth noting that he does not have trample though, not everybody is perfect.
1 month ago
Anybody catch the new grouphug tag? lol (Aikido for sure)
"Grouphug" or Aikido package (lol):
Load more