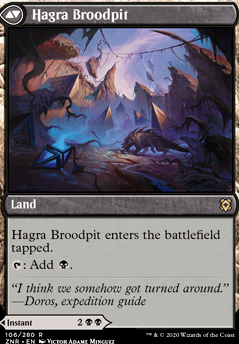 Back:
Hagra Mauling
Flip
Legality
1 year ago
I co-sign almost everything ldvatwa said, but I'm here to take it a step further..
I agree on cutting Leaden Myr, Tree of Perdition, Triskaidekaphobia, and Skeletal Vampire. I'm also wondering why Sever the Bloodline is here; do your friends play a lot of tokens too?
Adding Bontu's Monument is a good idea, but have you also thought about Mycosynth Wellspring & Ichor Wellspring as well?
You lack only one of the upkeep token generators in Mono-, that is Dreadhorde Invasion. Despite that, you otherwise have all the token generation in the world for . A couple of stax pieces like a Contamination & Smokestack, etc., could easily slide into here without changing very much at all..
Speaking of Mono-, is there any particular reason you are not running Necropotence and/or Bolas's Citadel?
Finally your land situation. I think you will want to cut down on your non-basic utility lands. Even though you are running Urborg, Tomb of Yawgmoth, you will want to maximize your Swamp-count to consistently get the most out of Cabal Coffers (and goes triple for Cabal Stronghold), or if you even want to consistently play your Everglades & Lake of the Dead!
I would cut Barren Moor, Hagra Broodpit  Flip, Malakir Mire  Flip, Phyrexian Tower, and Vesuva; all for basic Snow-Covered Swamps... and maybe a Karn's Bastion since you are running several Planeswalkers..
2 years ago
Can Golos, Tireless Pilgrim play a ZNR modal double-faced card like Hagra Broodpit  Flip as a land with his activated ability? Nothing I'm reading out there really answers this directly, but from what I am reading my assumption would be that he can't... but since you aren't targeting it with Golos, I can see room to be able to access both sides of the card (targeting it would be an obvious 'no' to access the land side). What if it was Kianne, Dean of Substance  Flip? Could I cast Imbraham, Dean of Theory?
Thanks in advance! :)