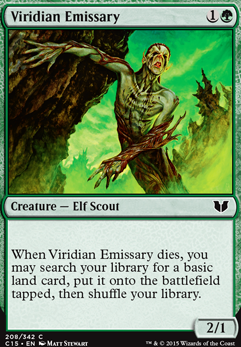 Viridian Emissary
Creature — Elf Scout
When Viridian Emissary dies, you may search your library for a basic land card and put that card onto the battlefield tapped, then shuffle your library.
Latest Decks as Commander
Viridian Emissary Discussion
8 months ago
People have always strived for something bigger. Something bigger. Some Johnnies of the world never wanted their Arcum Dagsson to be just one color, the resident Timmies always thirsted for an Omnath, Locus of Rage that wasn't confined to just Gruul. Or at least, I did. This strategy of having a bunch of tutors used to be very shaky, because half your deck would be recursion, tutors, and reanimation to keep your pseudo-general alive. Luckily, with the printing of Sisay, Weatherlight Captain, you have a legendary tutor in the command zone, and now, you only have to dedicate about 5 slots to finding your commander. The rest is up to you!
Personally, the commander I've wanted to try this on has been the face of Grixis Herself, Marchesa, the Black Rose (sorry, Lord of Tresserhorn). You get a ridiculous amount by adding Selesnya. You get enter the battlefield and death triggers like no other: Guardian Project, Stonehorn Dignitary, and my personal favorite, Gutter Grime. You get amazing ramp, like Sakura-Tribe Elder and Viridian Emissary, and the best sac outlet in the game, Fanatical Devotion.
But there's one thing I haven't talked about: Rhythm of the Wild and friends (Grumgully, the Generous, Renata, Called to the Hunt, Good-Fortune Unicorn, etc) . These cards are broken, leading to pseudo-infinites, locking your opponents out of their combat steps forever, invincible boardstates, hundreds of tokens per turn cycle, etc. So, what do you think? Do you have any commanders that could use this treatment? Any suggestions for cards for this deck? Well, thanks for sitting through this ramble, and as always, Happy Tapping!
1 year ago
Azeworai, thanks for the comment. I won't be adding anything too far out of budget, costing more than 3, or too many instants and sorceries, since those were the design constraints I placed on myself for this build. With my playtesting, I've found that having the right options in the graveyard is more important than having many options in the graveyard or the right options in hand. Buried Alive has been the most successful card in the deck by an extremely large margin while cards like Nyx Weaver and Chronicler of Heroes (which I had in earlier revisions) showed that more standard mill and card draw tend to underperform, respectively. So while Satyr Wayfinder was successful, I often preferred Sakura-Tribe Elder, Viridian Emissary, or Wood Elves for the speed. Also, generally speaking, I'd prefer to have more ways to protect Tayam than redundant options like Sevinne's Reclamation, and you're correct that I should add more. I'll add Selfless Spirit to the maybeboard as a non-budget stretch goal and toss in Dauntless Escort now. I also like Ramunap Excavator since I find it tough to get myself to choose a Forest out of the bin when Abzan Ascendancy or something is seducing me away. Plus, it would synergize with another of my favorite cards in Sylvan Safekeeper for more commander protection.
1 year ago
Given that you are playtesting this deck against other cEDH decks, I am going to assumer you are also building a cEDH style deck. This is sort of hard to do on a budget and will cost a pretty penny. I only am wary because your deck is only ~$400 right now. I am not a cEDH player but I do understand enough to make these suggestions...
For a cEDH build you want low 30's in lands. For example, some you would want right now: Gaea's Cradle, City of Brass, Mana Confluence, the fetch lands, and the shock lands. Almost no land can enter tapped in competitive (take out the temples). The ramp would include some rocks but also mana dorks because they synergise well with the Cradle. Examples of ramp: Arbor Elf (really good for enchanted forests), Llanowar Elves/Elvish Mystic, Noble Hierarch/Birds of Paradise, Mana Crypt, Mana Vault, Carpet of Flowers (this works because in multiplayer one player almost always is in blue and it is also an enchantment!), Chrome Mox, and Mox Diamond.
Two Bant cEDH decks on tapped out that I would look at for examples are The Bant Hammer [cEDH] and Estrid Stax cEDH. The Rafiq deck is very similar to yours and you could probably use from cards from that list.
If you aren't planning on cEDH, ramp is much more forgiving since games last longer more often. In that case I like creatures like Wood Elves, Yavimaya Dryad, Viridian Emissary, and Sakura-Tribe Elder because land destruction isn't as common and lands usually survive board wipes.
I hope this is more helpful!
1 year ago
Thanks, I was planning on removing Viridian Emissary once I sort the manabase out and remove more basic lands for hermit druid. I do like the idea of changing to Sadistic Hypnotist to get an additional sac outlet as I thought I might not have enough. Think I've got one so once I get the chance I'll give it a test!
Load more