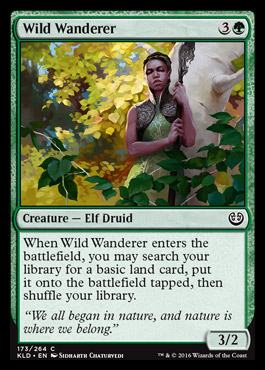 Wild Wanderer
Creature — Elf Druid
When Wild Wanderer enters the battlefield, you may search your library for a basic land card, put it onto the battlefield tapped, then shuffle your library.
Latest Decks as Commander
Wild Wanderer Discussion
2 months ago
Part 2
Other Cards that you could consider cutting
Other Cards that you could consider adding
This is where the fun begins and your wallet cries
That is all I can think of at the moment. I'm sure I'll have more la
5 months ago
Hi, first of all, I like the simplicity of this Deck. Lathril, Blade of the Elves has the colour identity green and black (gb). Unfortunately hybrid mana, like the mana for Rhys the Redeemed and Growing Ranks gives both colours to the colour identity of a card, so that these two cards are regarded green and white cards and are therefor illegal in a Lathril deck. (If your playgroup ignores that, which is you right to do, ignore that.)
Since you propably want to attack with Lathril, you'll want to protect her. The two most basics cards to do that would be Lightning Greaves and Swiftfoot Boots , although they are not vrey flavourful. You could also improve her first effect by giving her double strike (i.e. with Fireshrieker ), which would result in triggering the effect twice per attack.
An additional Elf, I would recommend, is Fauna Shaman . With that you can search you library for more important elves. The following cards would greatly improve the deck, but are also pretty expensive moneywise, are Kindred Dominance , Kindred Summons and Doubling Season .
If you want to protect your whole board (at least for a single time) you could add Druid's Deliverance .
What could also help would be trading a few lands (like 4-6) for hard ramp like Kodama's Reach , Cultivate , Wild Wanderer and Sword of the Animist to get faster to the needed mana for your elves.
I hope I could help you a little.
Have fun with your deck
1 year ago
This is so cool! Have you considered Rapacious One instead of Essence Feed? Maybe Ashnod's Altar? I feel like the altar would be able to net you twice the mana from your eldrazi spawn and can also provide on-demand death to your creatures, and a hit from Rapacious One can easily advance your board state towards something powerful and repeatable.
As backups, I would consider Quicksilver Amulet or Elvish Piper in case you can't get enough mana eldrazi.
Your land base looks good, however Korvold especially benefits from lands that can sacrifice themselves. Fetch lands like Wooded Foothills, Verdant Catacombs, Bloodstained Mire, Windswept Heath, Misty Rainforest,Prismatic Vista, Scalding Tarn and Polluted Delta could really speed up your mana base and let you draw cards at the same time! I get that they may be out of budget- proxies are always an option if your playgroup is cool with them. Additional lands like Spawning Bed, Lotus Field, Jund Panorama, Blighted Woodland and Fabled Passage work well too.
Harrow instead of Wild Wanderer would fit your sacrifice theme. Pitiless Plunderer would give you double value while Broodwarden only buffs some of your creatures. You're not really winning with spawn, and a lot of your best eldrazi produce scions anyway.
I like your removal package, but I feel like there are some unneeded spells that can also be cut for ramp/removal. Things like Fog, Spawning Breath, Prismatic Omen, and Wave of Vitriol don't really advance your game plan (at least not as much as you'd like them to), and I think things such as Breaker of Armies, Nature's Lore, and Corpsehatch, and Commander's Sphere would work some wonders.
This is a super cool concept and I'm eager to see it in the future. I hope this helps!
1 year ago
The deck's average cmc is pretty high in the first place, so knocking it down a bit couldn't necessarily hurt. At the very least consider replacing Wild Wanderer and/or Ondu Giant with some more efficient artifact ramp. You could also be running talismans and signets over less potent, less efficient, and altogether weaker cards, such as Darksteel Ingot, for example.
1 year ago
Wild Wanderer seems somewhat weak. If you're really intent on having a creature with that effect in addition to the Farhaven Elf already present in your list, I'd recommend Nissa, Vastwood Seer  Flip. Yes, they can both be cascaded into by Maelstrom Wanderer, if that's the manner in which you're aiming to utilize them, though that wouldn't appear to be the case, and yes, Nissa only grabs basic Forests as opposed to any manner of basic, yet that seems to be the basic land you're running the most of in the first place. In my opinion, Nissa's a pretty significant upgrade compared to Wild Wanderer. Another suggestion for a card with which one could potentially replace Wild Wanderer, though it doesn't ramp you (though who still wants to be ramping one pip with an otherwise low-impact four drop anyway?) would be Man-o'-War.
2 years ago
That I did! I removed Wild Wanderer to make space for it, I'll update it now
2 years ago
Nasser_inside1 I did think of that, but wasn't quite sure what to drop to add Frilled Mystic . The deck is still very much a work in progress so thank you for your input.
I have shifted towards more token generation, and added Deep Forest Hermit due to its budget price and good value for mana cost, as well as Hornet Queen for valuable blocker generation. Replacing one of these two, or possibly Wild Wanderer , would make room for Frilled Mystic . I am still looking for a card to switch with Dead of Winter as well.
Load more