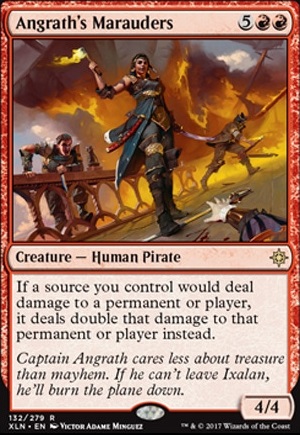 Angrath's Marauders
Creature — Human Pirate
If a source you control would deal damage to a permanent or player, it deals double that damage to that permanent or player instead.
Browse Alters
View at Gatherer
Trade
Legality
| | |
| --- | --- |
| Format | Legality |
| 1v1 Commander | Legal |
| Arena | Legal |
| Block Constructed | Legal |
| Canadian Highlander | Legal |
| Casual | Legal |
| Commander / EDH | Legal |
| Custom | Legal |
| Duel Commander | Legal |
| Gladiator | Legal |
| Highlander | Legal |
| Historic | Legal |
| Legacy | Legal |
| Leviathan | Legal |
| Limited | Legal |
| Modern | Legal |
| Oathbreaker | Legal |
| Pioneer | Legal |
| Tiny Leaders | Legal |
| Unformat | Legal |
| Vintage | Legal |
Angrath's Marauders occurrence in decks from the last year
Latest Decks as Commander
Angrath's Marauders Discussion
1 week ago
The newly spoiled Ruin Grinder and Cursed Mirror from the Lorehold Legacies deck seem awesome for Purphoros:
Ruin Grinder

Artifact Creature — Construct

Menace

When Ruin Grinder dies, each player may discard their hand and draw seven cards.

Mountaincycling

7/4
This dude works on every axis of this deck. It's an artifact fatty that wheels on its death. The fact that every other player may wheel is probably good for table morale :) Just perfect.
Cursed Mirror

Artifact

: Add .

As Cursed Mirror enters the battlefield, you may have it become a copy of any creature on the battlefield until end of turn, except it has haste.
This can help us ramp early when we need it, or be a second version of a sneaked threat later in the game (double Angrath's Marauders anyone? >:) )
1 week ago
I just cheated out 11 Elder Dragons on Turn 6. I had more creatures in play, but only 11 were Elders. I also had three more Elders in my hand I could have cast but that's no fun. They all had haste thanks to Fervor , Temur Ascendancy and Purphoros, Bronze-Blooded . Damage was doubled and tripled thanks to Angrath's Marauders and Fiery Emancipation . +1/+1 counters thanks to Rhythm of the Wild . They had lifelink thanks to True Conviction , which also gave them double strike in addition to Atarka, World Render . Mana was doubled with Doubling Cube and I had both Mirari's Wake and Vorinclex, Voice of Hunger in play. I also had Tawnos, Urza's Apprentice

and Rings of Brighthearth , which if these were not bad enough I can use Rings to not only copy Golos' ability, but Tawnos' as well.
Needless to say, I think I won.
2 months ago
You might like these: Akki Underminer, Embermaw Hellion, Gratuitous Violence, Goblin Vandal, Fiendish Duo

, Angrath's Marauders, Goblin Goliath, Null Brooch, Inner Fire, Mask of Memory
2 months ago
Can you explain your plan a bit. With so few pirates in the 98 you are relying on Malcolm, Keen-Eyed Navigator as your only source of damage ramp. I don't see many haste, or flash, enablers so this looks like a slow plan. It does combo nicely with Kediss, Emberclaw Familiar giving you extra treasure when it hits; but it is easy to see it coming. I would add more pirates to at least get a slow burn on the ramp. I love the spell-slinger style, but I just don't think you want to use these two commanders for this style of deck.
Kediss, Emberclaw Familiar is missing all their best friends: Angrath's Marauders (also a pirate), Dictate of the Twin Gods, Fiery Emancipation and Jeska, Thrice Reborn.
Malcolm, Keen-Eyed Navigator also has some fun interactions with cards like Sorcerer's Wand and Quicksilver Dagger
2 months ago
You got to take advantage of what boros gives you to be aggressive. The biggest thing boros gives you that no other color pairing gives you is extra combats. Take advantage of that with cards like Combat Celebrant, Aurelia, the Warleader, World at War, Scourge of the Throne, Seize the Day, Savage Beating, Relentless Assault, Moraug, Fury of Akoum, Waves of Aggression, Response / Resurgence, Breath of Fury Hellkite Charger, Aggravated Assault, Fury of the Horde and Port Razer. Along with that you need to speed up the damage output. Boros gives you damage doublers, with cards like Fiendish Duo

, Goblin Goliath, Gisela, Blade of Goldnight, Insult, Furnace of Rath, Gratuitous Violence, Dictate of the Twin Gods, Curse of Bloodletting, Bitter Feud, Angrath's Marauders, Overblaze, Inquisitor's Flail, and Fiery Emancipation.
Also consider other things boros gives you that will speed up damage like double strike. Boros gives you haste, trample, and evasion. You need to consider all of those. All while staying low on curve and fast in ramp. If you do this you'll have a good aggro deck.
3 months ago
I've gotta say, Sakashima of a Thousand Faces is great to copy. And he works great in a clone deck.
Other than that, here's some of the other cards I know of that give exponential value.
Utvara Hellkite and Terror of the Peaks are great in multiple. Throw in Angrath's Marauders and it just gets silly. Fiendish Duo

is rather similar as well and lets your opponents join in on the fun.
Agent of Treachery is just super powerful. There's always something worth stealing.
Dragon Broodmother can make tons of tokens over time. She's not even legendary.
Load more