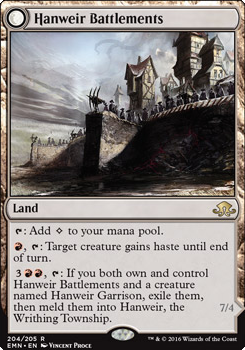 Melds with:
Hanweir Garrison
Melds to:
Hanweir, the Writhing Township
Latest Decks as Commander
Hanweir Battlements Discussion
1 day ago
Hey! Kinda late, but I would like to suggest some stuff:
(Disclaimer: I have a budget way lower than yours, but I've been tinkering with Ghired for almost two years - he's my favorite commander. I'll break the suggested upgrades down into categories for better organization.)
Haste enablers:
Ramp: Run at least 15 ramp cards to make your deck flow smoother and faster.
As an aggressive deck, speed is fundamental. Fellwar Stone, Nature's Lore, Three Visits, Skyshroud Elf, Bloom Tender, Faeburrow Elder, Chromatic Lantern, Coalition Relic, Wood Elves, Skyshroud Claim and Mirari's Wake can ramp and heavily fix your mana, taking the place of Gyre Sage, Solemn Simulacrum, Rampant Growth, Sakura-Tribe Elder and Xenagos, the Reveler - the latter is a win-more ramp, and his 2/2 token is not large enough to synergize with the power-based card draw, while the other four fix for a single color of mana (Ghired decks can sometimes be color-hungry), and this deck can't abuse the sad robot for value.

In the land department, Krosan Verge and Blighted Woodland pull their weight, and synergize greatly with Avenger of Zendikar and Rampaging Baloths. Maybe remove Cascading Cataracts? (Your spells are not THAT color hungry.)
Direct damage:
Extra combats: You don't have to worry about your opponents' answers if they never get to their turn, so...
Boardwipes:
Card draw: Alongside ramp, it is my main concern with Ghired. I want to be able to rebuild my board after a boardwipe.
Some cards I suggest you to remove:
Some cool lands for you to try out: (landbase is my favorite part of deckbuilding)
I hope I've been of some help to you. I didn't suggest many token-related cards because I believe that, as long as you have decent ramp, draw and removal in your deck, you can win to your heart's content. Wanna throw in a Godsire? Do it. Prefer to clone your opponents' creatures with Hate Mirage? Go ahead. But the fundamentals of the deck is what makes it flow consistently. Have fun and smash 'em all (and run Doubling Season for extra fun) ;-)
3 months ago
Repetition is key to success, in all things in life. This is true with financing, learning a new skill like playing a guitar, pulling oneself out of depression, and yes winning in MTG.
The more reliable of a deck you have, the easier you will win. Reliability can often be found in using repetition. If you have multiple copies of similarly-functioning cards, the likelihood of at least drawing into one of them throughout the course of the game greatly increases - and your potency exponentiates as you get more and more online.
For example, in my Lathliss deck I have many, many cards that do ETB damage effects;
I also have many, many cards that all enable haste;
My point is, having repetition in decks is a great way to ensure your deck functions the way it should, at all times. Is Greed strictly worse than Necropotence? Sure. But is having a second drawable engine a good idea? Yes.
I think it's fine. If it's budget and that's what you can afford without proxies, keep it. If you can afford Necropotence, put that in instead. But if you can make room for both, or even a few more, go for it.
Even if you only get 1 card off of Greed per rotation of the table, because you leave a single pip of open at all times just in case, that's still a lot of advantage.
Consider it in this regards: The very first time you activate Greed, it effectively becomes a Cantrip - It replaced itself in your hand. Every moment thereafter is gravy. With just one activation per rotation of the table, you effectively double your draw:
This is immense. Just that one card really does help out a lot. Greed isn't a terrible card - Necropotence is just better. But being "better" does not automatically make everything else "shit".
Dragon Tempest is strictly better than Impact Tremors, but being able to hit 1 damage to each opponent over-and-over-and-over-and-over-and-over again, it all adds up. Nobody's laughing when Impact Tremors dishes out 10 damage to three opponents - a total of 30 damage over the table. That is a HUGE, heh well, impact.
I'd say keep it. It does more good than you might think ;)
6 months ago
Did you know that Jeska's Will + Reiterate = Infinite mana + "Draw"? I see you're also running the Godo combo. While not a serious suggestion, Experimental Frenzy + Ugin, the Ineffable + Top = Draw your whole deck.
Hellkite charger's ability is way too costly.
What is the purpose of braid of fire? Am I missing something?
Curse of Opulence - Ramp and politics all in 1. Comes down in the early game which will help this deck given it's high avg cmc (normal for an Etali deck)
Dualcaster Mage - Value, also counters counterspells which is fun.
Hanweir Battlements  Flip - Haste redundancy
Myriad Landscape - Ramp
Your deck is commander reliant and without it or more ramp, you will have a much harder time to reliably cast your spells. Lastly, I love your avg cmc #420 :D +1
7 months ago
Suggestions:
Remove:
1x Tangle Wire
1x Bolt Bend Is this ever reduced for your commander?
1x Taurean Mauler It's okay but sort of unnecessary. Can have an artifact dwarf instead.
1x Torbran, Thane of Red Fell Useless in your deck, replace with a 1 mana dwarf.
1x By Force
1x Wheel of Misfortune Really unreliable, especially if all 4 players still playing.
1x Akroma's Memorial You shouldn't win by combat.
1x Illusionist's Bracers One use of commander should be more than enough to win.
1x Dwarven Thaumaturgist His effect is irrelevent.
1x Mycosynth Lattice Mana fixing for opponents, how generous.
1x Rings of Brighthearth see Illusionist's Bracers above
Add:
1x Clock of Omens Primary wincon, and at instant speed.
1x Dwarven Grunt 1 mana dwarves
1x Dwarven Scorcher 1 mana dwarves
1x Dwarven Trader 1 mana dwarves
1x Enslaved Dwarf 1 mana dwarves
1x Liberated Dwarf 1 mana dwarves
1x Proteus Machine Artifact dwarf, slotted for consistency. Unnecessary really, can be replaced with whatever.
1x Feldon of the Third Path Can create an artifact dwarf or maybe pull out a dragon that was discarded/played if game went too long.
1x Dwarven Recruiter Can grab us an artifact dwarf, or whatever deemed necessary. Great with Jeska's Will .
1x Possessed Portal Use if winning and clock of omens has been dealt with or you don't have an artifact dwarf.
1x Daretti, Scrap Savant Good for rummaging or returning an artifact, since you always have a treasure in play. Can be replaced with good card draw.
1x Mystic Forge 1/4 of deck is artifacts. Can also fix dead draws to a certain extent. Can be replaced with good card draw.
1x Herald's Horn Call dwarves every time. Can be replaced with good card draw.
1x Final Fortune Can win out of nowhere. Use only if you are certain you can win. Be careful, highly recommended only if opponents appear tapped out.
Other worthy mentions I don't feel like figuring out how to slot in right now:
Vanquisher's Banner Great draw, and a buff. You can play like half your deck Dwarven Recruiter .
Outpost Siege Solid red card draw.
Commune with Lava Playable red card advantage.
Maze of Ith Use this as a spell slot, not a land slot. Can untap your own dwarves, or be used defensively.
Shatterskull Smashing  Flip Removal or land.
Scrying Sheets all your lands are snow for whatever reason, so could be okay if you have nothing else to cast in a turn.
Valakut, the Molten Pinnacle with all these mountains, why not?
Command Beacon In case people kill your 1 toughness commander too many times.
Darksteel Citadel More artifacts. ONLY PUT IF you don't have color problems.
Flamekin Village Not sure if haste is important enough, but something to consider.
Hanweir Battlements  Flip More haste.
Inventors' Fair gives you health, but more importantly can tutor an artifact.
Madblind Mountain If you end up with a lot of top deck shenanigans.
Labyrinth of Skophos If you're being attacked.
Kher Keep Chump blockers.
Shinka, the Bloodsoaked Keep Might help seem more intimidating early game?
Sequestered Stash Can return an artifact to your DECK, and then commander can grab it.
Sea Gate Wreckage If you run out of cards and have colorless mana sources.
Quicksand Can dissuade attackers
Nykthos, Shrine to Nyx Big mana
Myriad Landscape Ramp
Mouth of Ronom If you still have too many snow lands.
8 months ago
Profet93 Alright. Let's do this.
Jeska's Will , Hanweir Battlements  Flip, and War Room are in the list. War Room in specific has become a favourite of mine.
I have steadily become averse to the slow Myriad Landscape , thence have excluded it from all lists.
I mislike spells blatantly designed for Commander, starting with the free cycle of spells from Ikoria. Deflecting Swat is thus ignored.
Blast Zone was considered, but I need a high amount of Mountains to actually cast my spells. The current swath of utility lands I have has worked out well.
Tectonic Edge is one I should add. I own a Gaea's Cradle and know all the power it imposes.
Finally is Champion's Helm , which does not work as you would think. Hexproof is not functional with Diaochan , for she targets herself, meaning that I control the ability maugre it being my opponent's choice. Thus, Whispersilk Cloak .
Thus is all.
8 months ago
Fair enough, I kind of figured as much but wanted to run them by you just in case. Thank you for discussing each reason for each card :) Do you have a budget per card? Any reason why you are running all basics and no valakut or atleast some minor nonbasics?
Jeska's Will - Value town
Hanweir Battlements  Flip - Haste for commander, politics (if you're into that), etc...
War Room - Draw
Deflecting Swat - Counter counterspells, redirect targetted draw, extra turns, removal, discard, etc... the utility!
The land that can make your dude a G-d and then if you sac it, you get an indestrucible counter. It came out in the last year, forgot the name as I haven't been up to date since March 2020. Can be helpful as a means of protecting your commander
Champion's Helm > Whispersilk cloak - I take it you aren't attacking with your commander nor the remainder of your creatures
Myriad Landscape - Ramp
Strip Mine / Wasteland / Field of Ruin / Tectonic Edge /Any similar card - Deal with cradle, coffers, urborg, field, etc.... meta call, but these lands are prevalent in my meta.
Blast Zone - Interact with enchantments/others. A bit expensive mana wise, but worth a look at if you have troubleseome enchantments in the meta
Load more