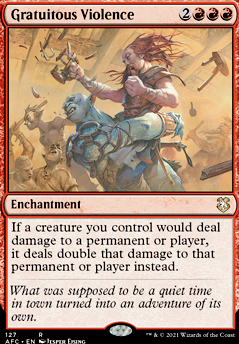 Gratuitous Violence
Enchantment
If a creature you control would deal damage to a permanent or player, it deals double that damage to that permanent or player instead.
Latest Decks as Commander
Gratuitous Violence Discussion
1 week ago
Hey! Kinda late, but I would like to suggest some stuff:
(Disclaimer: I have a budget way lower than yours, but I've been tinkering with Ghired for almost two years - he's my favorite commander. I'll break the suggested upgrades down into categories for better organization.)
Haste enablers:
Ramp: Run at least 15 ramp cards to make your deck flow smoother and faster.
As an aggressive deck, speed is fundamental. Fellwar Stone, Nature's Lore, Three Visits, Skyshroud Elf, Bloom Tender, Faeburrow Elder, Chromatic Lantern, Coalition Relic, Wood Elves, Skyshroud Claim and Mirari's Wake can ramp and heavily fix your mana, taking the place of Gyre Sage, Solemn Simulacrum, Rampant Growth, Sakura-Tribe Elder and Xenagos, the Reveler - the latter is a win-more ramp, and his 2/2 token is not large enough to synergize with the power-based card draw, while the other four fix for a single color of mana (Ghired decks can sometimes be color-hungry), and this deck can't abuse the sad robot for value.

In the land department, Krosan Verge and Blighted Woodland pull their weight, and synergize greatly with Avenger of Zendikar and Rampaging Baloths. Maybe remove Cascading Cataracts? (Your spells are not THAT color hungry.)
Direct damage:
Extra combats: You don't have to worry about your opponents' answers if they never get to their turn, so...
Boardwipes:
Card draw: Alongside ramp, it is my main concern with Ghired. I want to be able to rebuild my board after a boardwipe.
Some cards I suggest you to remove:
Some cool lands for you to try out: (landbase is my favorite part of deckbuilding)
I hope I've been of some help to you. I didn't suggest many token-related cards because I believe that, as long as you have decent ramp, draw and removal in your deck, you can win to your heart's content. Wanna throw in a Godsire? Do it. Prefer to clone your opponents' creatures with Hate Mirage? Go ahead. But the fundamentals of the deck is what makes it flow consistently. Have fun and smash 'em all (and run Doubling Season for extra fun) ;-)
1 month ago
I have more but I was sticking to boros
1 month ago
Rasaru, I like Invasion Plans. I ran Grappling Hook in my deck at one time. Ib's sac a goblin to damage a blocking creature hasn't come up all that often for me in the games either. Players who want to block and don't want their creatures blown up generally prioritize getting Ib off the battlefield. I can't say I gave hook a great chance to prove it's worth in the deck but I remember the 8 mana to play and equip was just too much investment when I should have been focused on developing my board state. Heat Stroke seems redundant. I would hope your Ibplosion would have done the job, especially if you have one of the many ways to increase that damage out on the battlefield. Invasion Plans definitely looks like the best option for a strategy where you want to Ibsplode lots of stuff. In the right Meta it sounds like a blast.
At this point I generally won't even run Ib out until I am getting close to being able to go off and win or I have decent protection for him. Sacrificing lands to make gobos is the ability I use to reliably win games. In a game last night I tried to alpha strike with a huge swarm of gobos to clear the board before I went for the win. One of my opponents played a fancy fog that ruined the attack so just sacked the team to Goblin Bombardment. It was a very silly game and I had Gratuitous Violence & Fiery Emancipation on the battle field so each Bombardment trigger hit for 6. Game over.
3 months ago
Thanks so much for the kind words, Sentri! I'm glad you enjoy the deck! Hoarding Ogre Is definitely a good card to replace, as it's pretty inconsequential more often than not. As for what other cards to replace it depends on how you prefer to win. If you find yourself going infinite relatively often, the anthem effects that don't give trample like Crucible of Fire, Gratuitous Violence, or Atarka, World Render wind up being irrelevant, and could definitely be replaced. In general though, I would say that the relatively slow ramp of Wood Elves and the fairly situational Sarkhan the Masterless are among the weaker cards and would probably be the best to replace.
P.S. Yeah my Grist deck is definitely a bit lower power level than this one, but one of my favorites to pilot, very fun.
3 months ago
While my deck is far less competitive than yours I have a few suggestions
One sided-Damage Doublers-Fiendish Duo and Gratuitous Violence
Faster creatures-Rhythm of the Wild or Fires of Yavimaya
Makes creatures hit harder-Unnatural Growth, Shared Animosity, Gruul War Chant (I prefer this to Goblin War Drums as it gives creatures both menace only when attacking (the only time it matters) plus a combat boost)
Extra Combat phase cards I don't see you have- Port Razer, Fury of the Horde and Breath of Fury
Draw power-Guardian Project, Lifecrafter's Bestiary or Beast Whisperer
Other wincons-Overrun, Craterhoof Behemoth,Blightsteel Colossus
Protection-Darksteel Plate, Ulrich's Kindred, Whispersilk Cloak, Commander's Plate
Cult of the Waxing Moon-if your transforming enough can crank wolf tokens at a good pace, The Celestus for more night control and bit of mana, Ruric Thar, the Unbowed to discourage other players from playing spells and flipping your werewolves
4 months ago
Crucible of Fire, Obelisk of Urd,Vanquisher's Banner or Jugan, the Rising Star to buff your dragons and give you more card draw, Gruul War Chant or Goblin War Drums to give them even more evasion Purphoros, God of the Forge, Impact Tremors and Warstorm Surge for more ETB Burning, Balefire Dragon for massive field clearing potential (the bigger it get the damage it to the field) Moonveil Dragon for a field firebreathing effect, Dragon Broodmother for big tokens, while not dragons Neheb, Dreadhorde Champion and Neheb, the Eternal both ramp you very well, Ryusei, the Falling Star, Star of Extinction, Savage Twister, Starstorm and Blasphemous Act for board wipes. Red rituals like Pyretic Ritual, Seething Song, Mana Geyser or Battle Hymn quick mana and Braid of Fire for steady ever increasing mana. Can't go wrong with the Bird duo of Birds of Paradise and Gilded Goose for mana nor is Archetype of Endurance bad for protection Gratuitous Violence and Fiendish Duo are both one sided Furnace of Rath. Fervor or Fires of Yavimaya make dragons hasty, and Glorybringer and Combat Celebrant can be massive boon and if you Seedborn Muse you can alway have them untapped as exerted creatures only don't untapp during your phase but since seedborn untaps during opponents turns they also untap so you can get 4 free damage and an extra combat step ever turn. Savage Beating + Spellbinder can give free extra combat and if you use this combo the entwine also happens so you get both Savage Beating's effect's each time it goes off.
Load more