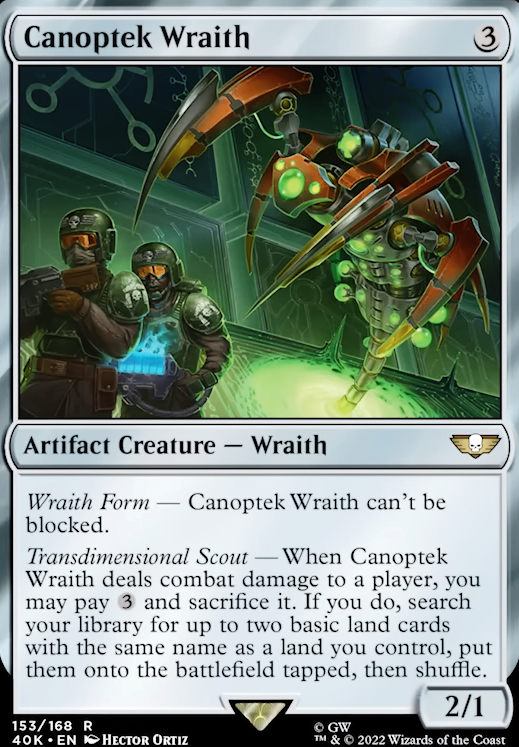 Legality
Canoptek Wraith
Artifact Creature — Wraith
Wraith Form — Canoptek Wraith can't be blocked.
Transdimensional Scout — When Canoptek Wraith deals combat damage to a player, you may pay and sacrifice it. If you do, search your library for up to two basic land cards with the same name as a land you control, put them onto the battlefield tapped, then shuffle your library.
2 months ago
Bolt Bend. For 1 mana more and $60 less, you get a deflecting swat.
Humble Defector + "I'll give it to you if you give it right back to me." it's the offer people can't refuse. I rarely get fewer than 8 cards if he's played early enough.
Generator Servant. for when you want that big cmc commander 2 turns early, with haste.
Blood-Chin Fanatic in my Korlash, Heir to Blackblade deck. Absolutely blasts people and has become the main win-con.
Canoptek Wraith, the new and second copy of Burnished Hart, another cheap favorite.
Hostile Negotiations. If you're messing with your yard at all, this is like drawing 6 cards.
Fraying Line. Weird little board wipe, can be slow unless you flash it in before your turn...
Medomai's Prophecy. solid lil value engine, draw to cards for casting what you would have anyway, your commander.
Bestial Fury. on anything that wants to deal combat damage, this card presents a tricky choice to your opponents.
5 months ago
Here are some suggestions:
Utility Lands: Bojuka Bog, Hagra Mauling  Flip
Ramp: Arcane Signet, Sword of the Animist, Burnished Hart, Canoptek Wraith, Neheb, Dreadhorde Champion, Sifter of Skulls, Solemn Simulacrum
Card Draw: Laelia, the Blade Reforged, Morbid Opportunist, Keep Watch, Breya's Apprentice, Moonveil Regent, Smothering Abomination, Reconnaissance Mission, Necrologia, Future Sight, Kothophed, Soul Hoarder, Will Kenrith, Harvester of Souls, Ruin Grinder, Deepfathom Skulker, Sandstone Oracle
Targeted Removal: Rapid Hybridization, Wild Magic Surge, Terminate, Resculpt, Reality Shift, Forbid, Daring Apprentice, Transmogrifying Wand, Ravenous Chupacabra, Chaos Defiler, Glorybringer, Mystic Confluence, Necron Deathmark, Reaper from the Abyss, Rowan Kenrith, Curtains' Call, Duplicant, Meteor Golem
Board Wipes: Nevinyrral's Disk, The Phasing of Zhalfir, Whelming Wave, Ixidron, Blood on the Snow, Deathbringer Regent, Necromantic Selection
Synergy: Ghoulish Procession, Jadar, Ghoulcaller of Nephalia, Drana, Liberator of Malakir, Blight Mound, Braids, Arisen Nightmare, Fleshbag Marauder, Gravelighter, Irenicus's Vile Duplication, Magus of the Abyss, Anowon, the Ruin Sage, Ruthless Winnower, Ogre Slumlord
Threats: Quietus Spike, Elturel Survivors, Relentless Assault, Gratuitous Violence, Sarkhan the Masterless, Westgate Regent, Precursor Golem, Necropolis Regent, Walk the Aeons, Combustible Gearhulk, Embercleave, Sharding Sphinx, Angrath's Marauders