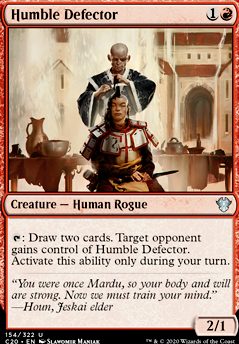 Humble Defector
Creature — Human Rogue
: Draw two cards. Target opponent gains control of Humble Defector. Activate this ability only during your turn.
Browse Alters
Trade
Legality
| | |
| --- | --- |
| Format | Legality |
| Modern | Legal |
| Block Constructed | Legal |
| Oathbreaker | Legal |
| 2019-10-04 | Legal |
| 1v1 Commander | Legal |
| Canadian Highlander | Legal |
| Casual | Legal |
| Pioneer | Legal |
| Vintage | Legal |
| Leviathan | Legal |
| Legacy | Legal |
| Limited | Legal |
| Duel Commander | Legal |
| Highlander | Legal |
| Commander / EDH | Legal |
| Tiny Leaders | Legal |
| Unformat | Legal |
Latest Decks as Commander
Humble Defector Discussion
2 weeks ago
Given you are mono red, you need a way to draw cards
Hedron Archive - Ramp when you need it, draw when you don't
Humble Defector - Nice to have but not necessary, politics and card draw. Nice with homeward path should you wish
Ignite the Future - "Draw" and flashback is very powerful
Light Up the Stage - Similar to above, easy to cast with all your burn. Although truth be told, you should really cut down on burn and focus on strengthening your weaknesses rather than incorporating burn with no particular strategy
Mind's Eye - Expensive, not necessary but nice with wheels
Outpost Siege - A little slow similar to above, but often gives you many cards as people don't want to waste removal on it.
Skullclamp - Draw
Solemn Simulacrum - Draw and ramp
Be sure to let me know what you think of each suggestion. There are more tribal cards to consider but since I don't play tribal, they are not on the top of my head. Once we go through these, we can consider other tribal cards as well. Your biggest issues are lack of ramp and card draw. For a dragon deck, it's not bad.
2 weeks ago
Head Games - Politics, fun, and "mind games" all in one. Did I give my opponent his combo piece so you have to focus on him instead of me, or did I give him all lands? The world may never know....
Mirrorpool - Utility land which can copy g-wave, rishkar's expertise, a tutor, etc... way too much utility to ignore IMO. Coming in tapped sucks, but for the utility it provides, in midrange decks it finds a loving home
Nissa, Vital Force - Recursion, wincon and untapped cradle/nkythos. Note that its very close to it's ult already
Rude Awakening - Wincon or ritual. Even more fun with cradle! Add in deserted temple/thespians stage/vesuva to make it more fun
Mind Twist - Mess over 1 player, at random makes it more painful. Its easy counter bait against blue
Thought Distortion - A very powerful silver bullet for my meta. Blue really does destroy our hopes and dreams. Note, it is also a form of grave hate!
Worst Fears - Never underestimate how powerful taking someone's turn can be. Putting their commander in grave/exile, destroying their own board, etc.... so much potential. In black we ramp anyways.
Sword of the Animist - For mono red and white decks that want lands
Ignite the Future - Draw, flashback is great!
Humble Defector - Politics, fun with Homeward Path
1 month ago
I like how you made the deck goblin tribal and very low to the ground. How exactly do you win though, just hoping you push damage through? Moreover, have you considered adding cards that help mitigate your weakness of dealing with enchantments and card draw.
Blast Zone - Fits in the landbase easily
Valakut, the Molten Pinnacle- Not sure if you should add because your deck is low to the ground but worth considering
The mass MLD cards don't seem to further your gameplan, what's the purpose? To maybe have a boardstate filled with weenies and cast the MLD? You run crucible but with no real means of tutoring for it, or a consistent draw engine, you're hoping that you cast it and it sticks for a couple turns since your ramp is mostly burst based through rituals and smaller rocks. If you're gonna run crucible, at least add some fetchlands to make it impactful. But it's really not worth it in this build at all. Your playgroup will realize you use MLD and destroy crucible on sight, hold mana open to counter your MLD and more. The deck isn't competitive enough despite it's low CMC to justify it's inclusion IMO. Really curious to hear your thoughts on this.
The free to play cards aren't that impactful, except deflecting swat because even though we will rarely cast it for free, it is still super useful.
Arch of Orazca - Fits in landbase
Endless Atlas - Cheap to buy cast and activate
Humble Defector - Not the best in this build but worth considering
Ignite the Future - Good in here since you have a low curve
Tome of Legends - Best card in Norin, hands down
Mind Stone > Fire Diamond - Doesn't tap for red, but you already have enough red sources and card draw is nice
Sword of the Animist - Repeatable rampant growth
Chandra, Torch of Defiance - Ramp, removal, draw and wincon all in 1. Might be a little high CMC for you, but the 2 mana it produces can help offset the tempo.
Myriad Landscape - Might be too slow, but worth considering
Purphoros, God of the Forge + Terror of the Peaks + Warstorm Surge - Are these too costly to run? They provide insane value.
2 months ago
Thank you so much for your comment Profet93! Super helpful :)
Your first point about lowering land counts and dropping Molten Vortex for a few draw engine sounds like a superb idea!
A lot of cool sugestions will give you my thoughts about them!
Draw Ideas
Ramp
Utility
Tough one, $15 is about what I am prepared to put down on a single card, if it isn't a win con or simply a "must have", I wouldn't say this is either but it is strong and versatile so will probably pick it up if I can.
Etali, Primal Storm Aww, I just bought this guy for my Xenagos' Dudes goes Face deck where he can get instant value, maybe I should have picked up two of them. My fear here is that it's can be a bit too slow to have to wait another turn to be able to attack with it.
Sunbird's Invocation Insane card. At the point I can put this down the game is either over or would be over in a few turns. Most of the cards in the deck needs a few turns to actually do something so even though this card is insane it might be too late?
Sensei's Divining Top Love this card so much, but unfortunately a bit too expensive. It's on the "Get it on a bargain" list :)
Valakut, the Molten Pinnacle It's also a bit too much to put on a card that is only going to ping for 3. If I had a few more ways to put out lands each turn it could be worth the 20$
Removal
Again thank you so much for your comment, it have been super helpful.
I am super interested in hearing your thoughts about cuts to the deck. Like what you think is too weak or doesn't fit. :)
2 months ago
Why isn't Norin listed as your commander? In any case, I have a couple ideas...
Molten Vortex - I get the concept behind this card with your high land count, but rather hope to draw this card as you are flooding your deck with a high land count and less draw, why not increase your draw and lower your land count a bit? This way, you are less reliant upon top decking and card find an easier time to maintain gas in the mid-late game. Draw ideas are as follows...
Now that we have discussed card draw, it is time to help you ramp out your goals more quickly....
There is more ramp but this should be a decent help given your CMC is low enough already despite the chaos cards, especially for a Norin build! Kudos to that! Now let's discuss some utility...
Lastly we should discuss removal....
I have other suggestions and ideas for cuts should you wish. Be sure to let me know what you think of each suggestion. Looking forward to your response.
2 months ago
I have A LOT of suggestions and questions for this deck. But I'll start off with a few since it's a bit late...
Ancient Tomb > Temple of False

Valakut, the Molten Pinnacle - Value, synergy with thawing glaciers. If you wanted to, you could add a Deserted Temple for thawing glaciers and an Expedition Map to help ensure land drops and get them together (although unnecesary to add temple and expedition map, just an interesting idea)

Where is your card draw? I barely see any. I know thats red's weakness and you have Tome, wheel of fate, hedron, mindstone, Chandra torch, light up the stage, experimental frenzy, outpost siege, chandra fire, and torch. But that doesnt seem like enough? I know what I listed is long, but most of those don't pull too much weight. You should consider adding Endless Atlas, Humble Defector, Solemn Simulacrum and last but not least Skullclamp. Skullclamp works with norin given the new commander ruling, and makes those myrs do more work.

Given you run experimental frenzy, have you considered adding Ugin, the Ineffable + Sensei's Divining Top? Both of those with experimental frenzy lets you draw your entire deck, and each piece is good on it's own. Top for filter and is cheap to cast, Ugin to get rid of enchantments which is red's 2nd weakness, "card draw" and makes 1/5th of your deck cheaper to play.

WTH is chartooth tiger doing in here? Same with Copper Tablet. Both seem misplaced, the tablet I "kind of get" but it doesnt actually interact with the board in any meaningful way. Not looking at anything else, those 2 are RIPE for cutting.

I REALLY like tanglewire, thats good to note. Cool with norin and tanglewire itself, thats given me something to think about.

Curse of Opulence - Politics and ramp with norin. Also see Sword of the Animist, a repeatable rampant growth
Would love to hear your comments on each suggestion. If you want to take a look, here's my Deck
Load more