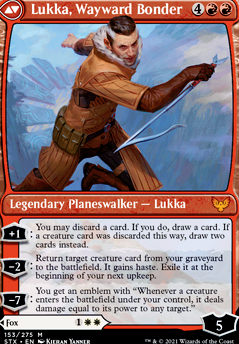 Front:
Mila, Crafty Companion
Flip
Tokens
Legality
Lukka, Wayward Bonder
Legendary Planeswalker — Lukka
+1: You may discard a card. If you do, draw a card. If a creature card was discarded this way, draw two cards instead.
-2: Return target creature card from your graveyard to your battlefield. It gains haste. Exile it at the beginning of your next upkeep.
+7: You get an emblem with "Whenever a creature enters the battlefield under your control, it deals damage equal to its power to any target (creature, player, planeswalker or battle)."
2 years ago
Hail, fellow dwarf lover! Just a few suggestions!
The first one is that while the back of Lukka, Wayward Bonder is red, the whole card is considered to have the color identity of both sides, so white and red. Unfortunately that means that you won't be able to legally run the card in your mono red deck (though honestly it's up to your playgroup on how they want to follow that rule, as long as yall are on the same page!). The same thing goes for Alesha, Who Smiles at Death . That being said, both of those cards are good commanders in their own right, but can't be played in the deck legally :/
As for cards, she's quite a stout dwarf! Some of the interesting cards I've come across when playing against it are Springleaf Drum , any vehicles like Smuggler's Copter . Both can get a lot of value from tapping your commander. A weird but good card would be something like Honor-Worn Shaku . 3cmc mana rock that produces upwards of 3 mana means you can quickly hard cast some of your bigger permenants!
Also I wouldn't overlook some of the changelings! Things like Bloodline Pretender and Taurean Mauler can get pretty big! Changeling Berserker , if fetched from the deck using the commander's ability, is also a cheeky way of getting around a board wipe.
Kindred Charge could also be another wincon, as it either makes a TON of treasure with dwarves, or doubles down on dragon attacks.
And I'm not sure of your budget, but Embercleave can put in a lot of work too!
Hope these suggestions give you some ideas, and may your beard grow ever longer!