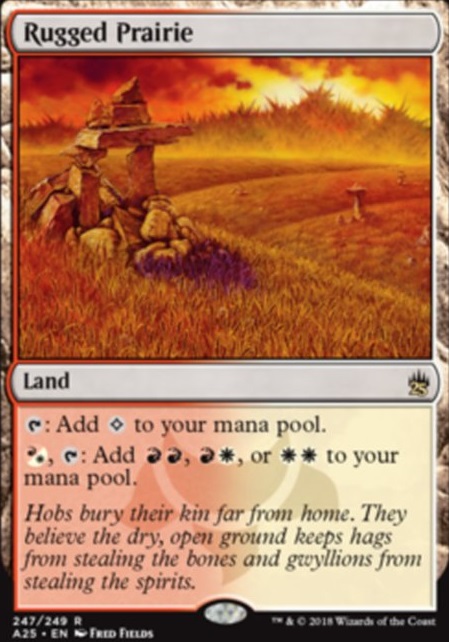 Legality
| | |
| --- | --- |
| Format | Legality |
| Tiny Leaders | Legal |
| Noble | Legal |
| Leviathan | Legal |
| Magic Duels | Legal |
| Canadian Highlander | Legal |
| Vintage | Legal |
| Modern | Legal |
| Penny Dreadful | Legal |
| Pioneer | Legal |
| Vanguard | Legal |
| Legacy | Legal |
| Archenemy | Legal |
| Planechase | Legal |
| 1v1 Commander | Legal |
| Duel Commander | Legal |
| Oathbreaker | Legal |
| Unformat | Legal |
| Casual | Legal |
| Commander / EDH | Legal |
Rugged Prairie
Land
: Add to your mana pool.
, : Add , , or to your mana pool.
Rugged Prairie Discussion
4 weeks ago
Deck Changes:
1 month ago
Hey, saw your forum topic asking for help. I don't have any experience with Licia, never played the card, but I do have experience with Mardu and life gaining/aristocrat strategies with Alesha.
Cards to consider to upgrade your deck are tutors and an aristocrat combo. Cards within the budget to consider adding:
The most important cards to consider adding for upgrades are tutors. If you can afford them they're some of the best investments you can make in Commander because they can be played in all decks you make no matter the strategy. When playing combos then tutors are very helpful to find the combo pieces or Necropotence . Tutors can replace high mana cost cards, redundancy or reduce the amount of win conditions. Which in return creates smoother gameplay, reducing the avg. CMC of your deck, speeding up your deck.
---
Aristocrat strategies can strengthen your deck and give you another avenue to victory using life without needing Licia. Aristocrats are good for gaining life as well as making your opponents lose life which can be a win condition. A combo for Mardu aristocrats is called Razacats. It's Leonin Relic-Warder and Animate Dead with Razaketh, the Foulblooded , but you don't even need Razaketh. He's played with reanimation to tutor for Warder/Animate. Create the loop and then using Warder as repeatable sac to tutor for and assemble other combos. Razaketh's ability to tutor is powerful when you have a lot of life to use.
The two card Leonin Relic-Warder / Animate Dead combo are the cards to consider adding because it creates an infinite dying or creature ETB loop of Warder. If before you create the loop have on the battlefield an aristocrat such as Blood Artist then this combo kills all your opponents and you gain infinite life. The combo has interaction with the overall life gaining strategy. It can be used with Soul Warden / Soul's Attendant . One of them has to be on the battlefield before you create the loop to gain infinite life because Warder is repeatedly ETB and each time you gain 1 life.
When gaining infinite life you can add other cards to win such as Aetherflux Reservoir , Cliffhaven Vampire , Sanguine Bond . Aetherflux is the best option because you can cast it after you have made infinite life and broken the loop to use all the life you gained to kill each opponent. Declare you're gaining infinite life with the combo then break the loop then cast Reservior. Cliffhaven or Bond would have to be along with one of Warden or Attendant on the battlefield before you created the loop.
Sun Titan can reanimate Animate Dead which can be helpful to keep creating the loop as long as Warder is in your graveyard. If you are interested in learning more about this combo then I will explain it further.
---
Cards to consider cutting:
Beacon of Immortality
Storm Herd
Approach of the Second Sun
True Conviction
Minion of the Wastes
Serra Avatar
Sorin, Grim Nemesis
Hide / Seek
Sunbond
Nyx-Fleece Ram
Sun Droplet
Tainted Sigil
Debt to the Deathless
Angel of Vitality
Diabolic Tutor
1x Swamp
1x Plains
Tainted Field
The majority of these suggested cuts are high mana cost cards. This is to reduce the high avg. CMC that's 3.7. To improve your deck cut some these high mana cost cards and replace them with low mana cost tutors which can search for and get the better cards into your hand. Good luck with your deck.
1 month ago
Hey, nice overall version of Kaalia, but I think you can make improvements to cast Kaalia quicker and protect her. Consider cutting some big creatures for more mana rocks, tutors and protection?
Cards to consider cutting:
Akroma, Angel of Fury
Akroma, Angel of Wrath
Angelic Skirmisher
Chancellor of the Annex
Harvester of Souls
Sephara, Sky's Blade
Baneslayer Angel
Archfiend of Depravity
Archangel of Tithes
Kokusho, the Evening Star
Alhammarret's Archive
The Immortal Sun
Liliana's Contract
Mortify
Black Sun's Zenith
Greed
Temple of Silence
Temple of Temple of Malice
Temple of Triumph
Archive, Sun and Contract are high mana cost cards that Kaalia and reanimation can't cheat onto the battlefield and their interactions with the rest of the deck are low.
Cards to consider adding:
Buried, Entomb, Looting can expand on a good backup plan or even first plan with more reanimation. I don't think you need to play Mortify or Zenith as they're lackluster removal compared to the other options. The three Filter lands are better than the three Scry lands.
2 months ago
Wow, thanks realsoupersand, appreciate all the work you put into this review and comment. I have lot's to work on here.
I spent about an hour making a reply earlier today, but when I clicked preview forced me to login and it was gone forever. So I decided to make some updates to the deck before responding again, here it is.
I understand and appreciate your comments about Kaalia of the Vast and cEDH, of course, your correct the play analytics certainly support the position. The meta is fairly narrow on cEDH, however, like most formats (eg: Modern), there are non-meta decks that can be competitive in the format, but perhaps not with a high degree of consistency. I feel that the ability to have T1-T4 win-cons can make it competitive in the cEDH format, and with your help if we can get avg turn win under 4 or improve T1/T2 win %, it certainly can play although being mardu, it doesn't have access to the core strengths of the Tier1 decks.
I reduced my lands count a few. I read an article and ran their statistics through a bunch of models I created based on the raw data. Their conclusion, and my analysis verified, there is a co-relation between playing or missing a T3 land drop and your winning % in commander. At my previous lands, I still miss the T3 land about 20% of the time. I'll see how the reduction in lands impacts those statistics. I removed Rugged Prairie , but the other 2 filter lands, provide additional conversion avenues for a Turn 1 win, so although not the best lands, the higher T1 win % benefits from their inclusion.
I also hate any land that ETB tapped like Hall of the Bandit Lord . The way I was thinking about it was, Dragon Tempest is CMC2 (but active that turn if I have mana to play something), if I play Hall of the Bandit Lord tapped on T2, it is only CMC1 because I still have my T1 land available (although it doesn't do anything that turn). Haste is important for utility, I didn't include it for a long time, then added it back to see if it brought my avg win turn down, will do some testing with it in and out.
Yawgmoth's Will mostly has been beneficial. Although its CMC3 (terrible), assuming I have a Fetch land in the graveyard, and don't have a land drop in hand, it can play the fetch, so in some cases it's a modular ramp. Also, it can cast a Karmic Guide (we'll get to her) to start the Infinite Combo, also, it can cast a Reanimate or Animate Dead to do the same, or be a Demonic Tutor /modular tutor/removal, etc. Also, with the inclusion of Worldgorger Dragon Infinte Mana, going to allow me to play my entire graveyard in a single turn. It helps with improving the T3 and T4 land drops % and provides as good a ramp as mardu is going to get.
Mox Diamond unfortunately I don't have one, I have several decks including this one that need it, but it's not budget friendly either, so going to be a future add whenever I can get my hands on some. I'll see what I can do with artifacts to get to a reasonable consistency on Mox Opal going to take a while to make all the updates and buy some cards. Arcane Signet still shows as Illegal in commander, I assume the Brawl decks will be released soon or else tapped out will update their system. It's the best CMC2 rock, it will be in there whenever legal.
Diabolic Intent has only screwed me once so far, outside of Grand Abolisher there isn't anyone (including Kaalia of the Vast ) that I won't sacrifice to pull my combo piece and go for the win. It usually finds the last piece. Mausoleum Secrets works nicely with Buried Alive and Entomb to pull the Reanimate card. They are not the best, they were includes for testing purposes, I just find I need more tutoring to be consistent so having CMC1 and CMC2 tutors with conditions is still useful, I wish there was better options for mardu. I'll keep evaluating them, if they are unplayable when drawn in too high a % of circumstances they do not add value to the deck.
To replace the Swiftfoot Boots I added Idyllic Tutor , I know you didn't suggest, but with Worldgorger Dragon in, any way to pull Dragon Tempest for haste or Infinite damage or Animate Dead feels right? Steelshaper's Gift with just Lightning Greaves does feel weird. I'm wondering on the Swiftfoot Boots though, the Equip 0 is key certainly on Lightning Greaves , but usually just throw it on Kaalia of the Vast maybe a Grand Abolisher so Steelshaper's Gift + Lightning Greaves is similar CMC to Swiftfoot Boots and equip () but of course not playable on T1 (boo). I'll try with boots out and keep the tutors in, see how consistently I get to haste when I need it to drop a Razaketh, the Foulblooded , would never want to be waiting for haste when I have a win-con in hand.
As you mentioned Sensei's Divining Top works well with Dark Confidant , but mostly I use it to enable same turn Vampiric Tutor / Imperial Seal or to ensure I get the lands I need or try and find an ADD to resolve if Kaalia of the Vast is available and don't really need the mana. Also, if I have nothing else, it's a good random draw chance to stop a win-con or pull a tutor (and shuffle it away! happens so often).
I'm thinking on Tymna the Weaver seems not bad, I don't play to her strengths but still viable as mardu can't draw properly.
About 40% of my wins are my primary win-con of Buried Alive + Reanimate , Karmic Guide is the enabler. Even when I draw her to hand, CMC5 is still playable, or cheat-able with Kaalia of the Vast . She did combo with Reveillark but that wasn't working, Reveillark was too high CMC. She re-pops a Razaketh, the Foulblooded then he sac's her, outside of the primary win-con, its never a dead draw usually. I put Dance of the Dead in, but now, I'm thinking Necromancy is better, because it also works with Kiki-Jiki, Mirror Breaker as well. Might swap the Dance of the Dead to Necromancy if I have one, I'll check tomorrow.
Dismember I like, play it in Modern even, Fire Covenant makes sense, but feel I would rather just Tutor Toxic Deluge which can remove indestructible and not have the duplication. Usually, I just try and win instead of disrupting, just let the Counterspell players stop the others, that opens a windows sometimes for me to try going for combo. I hate how Red Elemental Blast and Pyroblast are potential dead draws, but realistically always of value. Similar to a more generic Silence (wish it had Split Second), probably need them, need to review for more cuts. Path to Exile is a CMC1 exile, so it's good for decks that rely on commander (understanding they often don't care if they are removed because that is too late), I also use it as a modular ramp card, CMC1 to pull a land into play. I haven't found it hurts me most of the time, it's usually stopping a go for the win (like a Laboratory Maniac or something), usually wouldn't play it to enable a win.
Thoughtseize and the like, one of my favorite cards BTW, I found just hurts me and 1 player. Gives a wide opening to the other 2 players to go for the win, and now I'm short on card advantage, draw poorly, and disabled a player potentially that could have stopped the win. If it's pre-emptive (like Silence ) before going for the win, do I really want to increase my Win-Con by CMC1 or wait that extra turn to have the mana, or just go for it now, and maybe win? Tough to tell. Again too, wherever I can would rather go for my win than stop others win.
I'll have to go over creatures responses tomorrow as I'm out of time tonight, my earlier message addressed everything plus a bunch of cards I'm considering putting in and your opinion on those. For another night!
Thanks again for the fantastic input, I'm really working on making the changes. I ordered a bunch more cards on Card Kingdom today, so in 7 days free shipping, should see some more changes coming down the pipe. Also going to continue reviewing your recommendations and deciding on cuts tomorrow and over the upcoming weekend.
Cheers!
2 months ago
Hey, saw your forum topic asking for help. Nice version of Feather.
Some staples that are within the budget to consider adding:
Some good cards for Feather to consider adding:
Some lands to consider adding:
Cards in maybeboard to add if you have them:
---
Cards to consider cutting:
Paradox Engine: is banned in Commander.
Boros Cluestone
Salvage Scout
Tethmos High Priest
Odric, Lunarch Marshal
Archangel of Tithes
Razor Barrier
Spiritual Visit
Hundred-Talon Strike
Justiciar's Portal
Crack the Earth
Unwinding Clock
Sentinel Tower
3 months ago
I would start off by adding check lands: Clifftop Retreat , Rootbound Crag , and Sunpetal Grove . Then, I would add the other fetch lands: Wooded Foothills and Windswept Heath . Then, you should either add the signets ( Boros Signet , Gruul Signet , and Selesnya Signet ) or the Filter lands ( Rugged Prairie , Fire-Lit Thicket , and Wooded Bastion ). And finally, I would add the Boros Horizon land Sunbaked Canyon . But otherwise, nice deck, it's well built. If you found and of these suggestions useful I would appreciate it if you'd upvote my deck: A Deal with the Devil! Good luck on your deck, hope this helps, and have a nice day!
Load more
Rugged Prairie occurrence in decks from the last year
Commander / EDH:
All decks: 0.03%
RW (Boros): 2.57%
RBW (Mardu): 0.58%