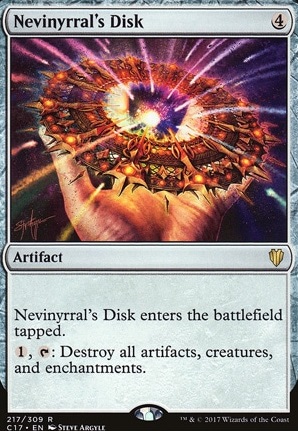 Nevinyrral's Disk
Artifact
Nevinyrral's Disk enters the battlefield tapped.
, : Destroy all artifacts, creatures, and enchantments.
Browse Alters
View at Gatherer
Trade
Legality
| | |
| --- | --- |
| Format | Legality |
| Unformat | Legal |
| Casual | Legal |
| Vintage | Legal |
| Limited | Legal |
| Duel Commander | Legal |
| 1v1 Commander | Legal |
| Canadian Highlander | Legal |
| Leviathan | Legal |
| 2019-10-04 | Legal |
| Oathbreaker | Legal |
| Oldschool 93/94 | Legal |
| Legacy | Legal |
| Commander / EDH | Legal |
| Highlander | Legal |
| Tiny Leaders | Legal |
Latest Decks as Commander
Nevinyrral's Disk Discussion
2 days ago
What is the purpose of Underworld Dreams and Yawgmoth's edict? Meta?
I would swap Grim Tutor with Diabolic tutor. It does cost 1 more mana, but in this build, I would argue life loss hurts a lot, despite all your life gain. Moreover, it would free up funds for more powerful cards that don't have a redundancy.
I know you have the swamp synergy but have you considered
Blast Zone
?
Nevinyrral's Disk - For when everything goes to hell, cheap $. Also see Oblivion Stone since these both deal with artifacts and enchantments as well
Feed the Swarm - Enchantment removal in black is huge, don't underestimate it. While it's sorcery speed and the life loss hurts, it seems you have enough life gain to hopefully mitigate this? I know it's in your mayeboard probably for that reason.
Cabal Stronghold
- It's budget/baby coffers
I've played against this commander deck several times, although each one was slightly different, they were all pretty much the same. The deck is extremely reliant upon it's commander, which most players will notice after a few games. You need more ways of protecting your commander. Whether its the Imp's Mischief sitting your maybeboard begging to be put in as crazy utility - Counters counterspells, redirects targeted removal/draw/extra turns, or good old Swiftfoot Boots as redundancy to greaves while allowing to swing in for hasty life gain, you need to protect your commander. If you were able to run coffers and command beacon with more ramp, it wouldn't be an issue. But given your budget, recasting your commander is gonna hurt (lifeloss or otherwise).
Defile - Cheap $ and to cast and instant speed.
Syphon Mind - Draw 3, each opponent discards 1, pretty good value that doesn't cost life.
Deliver Unto Evil - Get back aetherflux, bolas citadel, politic with an opponent (Ex: 1 combo piece back to your hand if you get a boardwipe to destroy the green player)
Idk if there are a lot of PW's in your meta given your choices of removal spells, but you should definitely consider Oubliette - Given it's new ruling, it's very powerful against other decks that can't interact with enchantments or just don't have the removal in hand. It's cheap $ too
Last but not least, not a serious suggestion but something worth noting is Worst Fears - This card wins games. Taking their turn and using their removal on their own creatures, sending their commander to the grave, wasting their draw spells, etc...
3 weeks ago
Btw, thx for letting me know Nevinyrral's Disk doesn't work like that, but:
Yisan, the Wanderer Bard now can get Quirion Ranger or Scryb Ranger and Priest of Titania or Elvish Archdruid or Beast Whisperer and Ashaya, Soul of the Wild (or a line with Argothian Elder/Ley Weaver for one of the easiest combo lines ever.
This means ashaya at least adds 4 different 2-card combos, and 3 of them go immediately infinite, another closer to Isochron Scepter/Dramatic Reversal that needs some mana.
With that, one-sided sweepers, etc. I'd argue this card is better than Craterhoof Behemoth in green cEDH lists and Casual lists alike, being a wincon through damage, ramp, protection, and tons of combos.
Busted.
3 weeks ago
Thanks again Profet93 for the comments, you make some good points, and even if I don't use every suggested card, it's really good to see what other people are having success with, and shine a light on some unusual cards that might fit this unusual commander!
My budget is usually around $2 a card, unless its a card I can swap between decks. Urborg and Torment of Hailfire came from my past decks, or are on loan.
I've played a few games with Extinction Event on my mind, but there's rarely any points that I think i'd have wanted to cast it. I'd probably rather use Mutilate or Nevinyrral's Disk.
Slaughter Pact is an interesting one. There is juuuuuust enough good nonblack targets in my meta that having 1 card with that clause isn't too bad, but often I use it on a subpar target, just to get a big Toshiro flashback chain started for 0 mana.
Withering Boon is another interesting option. Personally, i'm not a huge fan of the art (which is often a stupid deal breaker for me), although in this case, it's not the reason I don't run it. In my meta, I'd much rather have a 2cmc removal spell. There aren't too many ETB creatures I need to worry about, and having a card that's a dead draw against an already developed board is a dealbreaker. Along with the fact that it's prettyyyy hard to use effectively with Tooshiro flashing it back. I'd have to; have an instant-speed way to kill a creature, have a target to kill, have a good target to counter, and have the mana to do it all at once... and i'd lose 3 life. I'd rather have a removal spell I can easily flash back in response to deaths in combat, or a Sorcery-speed removal spell. If I was up against some good ETD effects, or creature combos, i'd definitely consider adding it. I do love color-pie breaking cards. I'd run Mana Tithe in any white deck just for the giggles.
Using Dark Betrayal looks very very good!... probably too good for me to get away with without it being obvious i'm targeting my meta specifically...
Sudden Spoiling looks like another great one. I might give it a go one day, but there isn't a whole lot of big combat in my meta that this would interact with well. I might keep it in my "back of my mind while playing" list for a while to see how it might play out if I had it in my hand.
I have gotten hold of a Blast Zone, but haven't drawn it in a game yet. It'll be interesting to see how it goes.
I'm seeing a few interesting cards in the Zendikar Rising spoilers that may fit into the deck, namely Feed the Swarm (targeted Creature/Enchantment removal), Soul Shatter (powerful Edict effect) and Malakir Rebirth (creature protection stapled to a land). I'm also looking at making a new EDH deck (Feldon), which might mean i'd be able to make some more expensive upgrades, using cards that fit well into both decks. I might end up swapping Whispersilk Cloak for Lightning Greaves and maybe adding in a Worn Powerstone to help me ramp into my expensive creatures!
3 weeks ago
Ashaya, Soul of the Wild is better than you think. I promise you, it's better.
You think a 5 mana creature variant of mono-green Cryptolith Rite that is massive is all? Nope.
First off it's bigger than massive, like, a lot bigger. It is monstrous in many decks. Ever seen a lot of lands and creatures out? I see a 40/40 Ashaya. I wonder if Selvala, Heart of the Wilds, Soul's Majesty, Rishkar's Expertise, Traverse the Outlands, or Overwhelming Stampede would be good?
But even in a deck where it isn't that big, Ashaya is REAALLLLLLY good.
Worried about Cyclonic Rift, not on your creatures! Grasp of Fate, Abrupt Decay, Utter End, Anguished Unmaking, Oblivion Ring, etc. all are useless against it.
Not to mention... combos. Oh yeah, so... Quirion Ranger is an interesting card. It lets you bounce a forest to untap a creature.
Idk, what can a creature that's untapped do with Ashaya, Soul of the Wild? Oh, tap for mana. I wonder what's a forest that we can bounce? Oh, Quirion Ranger.
Yep, just those two go infinite together, only infinite casts, as you net even, but a Glimpse of Nature, Beast Whisperer, Primordial Sage, or Soul of the Harvest and you'll be just fine. Remember, it's a land that keeps entering, landfall infinitely, with a Lotus Cobra, Tireless Tracker, or similar, and you'll be well on your way to an easy win.
Have a Priest of Titania? Now you have infinite mana.
(Scryb Ranger can do similarly, another super easy combo)
Arbor Elf... yep, infinite untaps of itself, one Krosan Restorer and a medium graveyard, one Ley Weaver, or one Argothian Elder and you have infinite untaps and mana.
Of course, there is more, Nissa, Who Shakes the World, Timber Protector, etc.
Also, remember you can run Oblivion Stone, and all the rest too.
That's a lot of damage. Not to mention:
This card can be both a powerful commander or mana ramp/combo engine in decks.

Nissa, Who Shakes the World, Nissa, Worldwaker, etc. affect forests, and this is easily one of the best ways to get a ton of forests.

Titania, Steward of Argoth and other lands -> creatures style effects (think Rampaging Baloth) allow you to get a to get a ton of value from your creatures, reusing them for 4/4s and 5/3s.

Liege of the Tangle. Easy, clean reason why this card is hilariously fun!

Howl of the Night Pack, Boundless Realms, etc. There are a million of these combos, literally go look. I'm not even trying.

You can Leyline of Abundance for more value too, didn't mention that. Was gonna click start a new thread and just thought of it. Gonna click it now before I think of ten more!
3 weeks ago
Thanks a bunch for the feedback Profet93 and suggestionNemy_Nem! It's great to get some different viewpoints, especially during this time where I can't play with my usual group!
Soul Shatter is 100% getting added when it's released... mainly because it has fantastic art... but also, it's impossible for it to brick on a token, compared to Liliana's Triumph. Check out Feed the Swarm from Zendikar Rising, some targeted Enchantment/Creature removal in Mono-Black, it's a Sorcery, but hey, you take what you can get!
Shizo, Death's Storehouse and Jet Medallion are out of my price range for now, although I agree that Jet Medallion would be amazing in this deck, especially when chaining spells.
Blast Zone looks really good! I don't know how I missed it, maybe I thought it was a Ratchet Bomb effect, taking too long to get online, but with the ability to charge and detonate it in a couple of turns is great.
Oubliette Is really cool, but my meta has loads of Artifact/Enchantment removal, so i'd rather kill a commander to increase its tax.
Nevinyrral's Disk Looks like a good board wipe that doubles as Artifact/Enchantment removal. It's a bit expensive for me, but it does enough that I can probably justify it. I might swap Deathbringer Regent for it as they fit a similar slot in my deck.
Mind Twist and Syphon Mind look cool, but when i'm up against decks that want their graveyard filled, it might be too much of a risk. Along those lines, Tymaret, Chosen from Death has really over performed in my meta. The lifegain is incidental, but being able to clear graveyards of problematic cards repeatably is fantastic, especially on a cheap creature that often has 6+ toughness, so is a good blocker
I do really like Read the Bones, and extra cheap card draw might help compensate for my low land count. It's a shame it's not an Instant, but I might try swapping it out for Ashling, the Extinguisher for a while!
I'll keep an eye on Agent of the Fates and Memorial to Folly, they have seemed ok in the games i've run them, especially Agent of the Fates, which won me a game by itself last night but ill see how they would compare to an Edict spell or basic Swamp when I draw them from now on!
3 weeks ago
Blast Zone - Helps mitigate black's weakness of artifact/enchantment interaction while fitting into the landbase. Cut blighted fen for it (not sure if budget)
Withering Boon - No one expects it, plus it looks cool (not sure if budget)
Shizo, Death's Storehouse - Unblockable (although not budget)
Oubliette - Commander removal that hurts red and black players through new phasing rule. Highly recommended, especially if you face a lot of black in your meta as you say you do (which makes me wonder why you still run slaughter pact)
Extinction Event - Good against all the black in your meta. Not necessary but nice
Nevinyrral's Disk - Cheap way to deal with artifacts and enchantments
Jet Medallion - Ramp, plain and simple, would cut leaden myr despite it being a body, if anything because it's a body I would cut it for this. Plus, this helps you chain multiple spells by making each cost less rather than adding mana. It doesnt fuel artifacts, but its still very powerful
Mind Twist - One of the best discard spells, hands down. It's at random, and while you don't face much blue in the meta, it is counterspell bait at worst, absolutely horrific at best. Do not sleep on this, especially in 1v1.
Card draw is nice, not all of these are needed....
Syphon Mind - Not as good in 1v1, but good in multiplayer
Read the Bones - Scry and draw is very helpful
Sign in Blood/Night's Whisper - Cheap
REPLACE Agent of the Fates with Liliana's Triumph - You use your removal which either could have killed an opposing creature at best. At worst, your removal couldn't have killed an opposing creature so you use this removal on Agent to attempt each opponent to sac a creature of their choice. I suppose with all your removal they don't have many choices, but this seems very, subpar. The deathtouch part might be relevant, but I find you can make better use of this slot. Lili's triumph is cheaper at instant speed without the need of your own removal spell.
Ashling, the Extinguisher - Too much mana to be removal bait at best case. When if they want to kill any of your creatures, they can.
Deathbringer Regent - Too much mana, too many restrictions. Not worth it IMO. Can be replaced with a better wipe, more utility or card draw!
Tymaret, Chosen from Death - You already have better grave hate and lifegain. Lose the redundancy for more card draw or better utility.
grasp of darkness is located under the creature section of your primer FYI
-Memorial to Folly - I disagree, I think coming in tapped and not being a swamp to fuel stronghold, defile and more is not worth the loss in tempo. I feel in black you can/have better recursion.
Load more