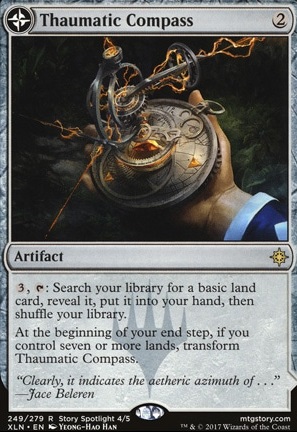 Back:
Spires of Orazca
Thaumatic Compass
Artifact
, : Search your library for a basic land card, reveal it, put it into your hand, then shuffle your library.
At the beginning of your end step, if you control seven or more lands, transform Thaumatic Compass.
Browse Alters
View at Gatherer
Trade
Legality
| | |
| --- | --- |
| Format | Legality |
| Pioneer | Legal |
| Duel Commander | Legal |
| Oathbreaker | Legal |
| Modern | Legal |
| Custom | Legal |
| Legacy | Legal |
| Casual | Legal |
| Commander / EDH | Legal |
| Unformat | Legal |
| Canadian Highlander | Legal |
| Arena | Legal |
| Historic | Legal |
| 2019-10-04 | Legal |
| Block Constructed | Legal |
| Vintage | Legal |
| Limited | Legal |
| Highlander | Legal |
| Leviathan | Legal |
| 1v1 Commander | Legal |
| Tiny Leaders | Legal |
Latest Decks as Commander
Thaumatic Compass Discussion
1 week ago
Thank you for taking the time to comment on my deck. You are correct, this deck prioritizes big mana over interaction. I decided to capitalize on green's strengths for a strong mid-late game rather than focus on super early ramp and interaction. I've found these types of builds more to my liking, even if they aren't 100% optimized so to speak.
Nature's Claim - Very good card, in this build, I'm allowing my opponents to hurt each other while I ramp. Not the best as discussed, but what I prefer.
Scute Swarm - 100% going on, as we discussed prior :)
Allosaurus Shepherd - Blue isn't a huge issue in the meta, but I have Cavern and Boseju with work as land slots to deal with blue. Should blue become more prevalent, shepherd is coming in, hands down!
Worldly Tutor - I just recently added Finale and Green Suns which have been more than enough. Eye of Ugin is my main land target as I use it to continuously tutor for eldrazi despite the interaction in the meta. I might revisit it at a later point as several people have recommended it.
Scapeshift - I've had my eye on this card for a while for all the reasons mentioned, I want to add this in.
Castle Garenbrig - Similar to above, I've been hesitant about adding it due to drawing it without another forest given my low forest count, but I think you're right, the risk of it coming in tapped should be outweighed by the extra mana it can produce. It shall come in the deck soon :)
Idk why but cards like Dryad Arbor and Craterhoof never felt right to me in green (blasphemy, I know!). Dryad doesnt make mana the turn it comes down and is susceptible to removal/wipes which are prevalent in the meta. Moreover, while the interaction between Dryad and GSZ is cool, I would much rather use GSZ on Ramunap, Avenger, Ulvenwald, etc....
Temple of the False God - I wouldn't cut a forest for it, the only nonbasic worth cutting is scavenger grounds but I dont feel the potential extra mana is worth it for the risk it provides in the early game. While I have almost half my deck as lands, I still sometimes have trouble getting lands (crazy no?)
Petrified Field - I already run it, it's a great card for the reasons you listed!
Wasteland - I've tried not to go the LD route unless I really need to, as such, have avoided adding wasteland. I would rather have interaction for the GY decks in my meta, but this will be revisited at a later time.
Cut Seek the Horizon for Scapeshift - Field triggers, landfall triggers, tutor for eye, etc..
Cut Thaumatic Compass  Flip for Scute Swarm - Crazy potential, fuel cradle, etc...
Cut Snow-Covered Forest for Castle Garenbrig - "Upgrade"
Regarding life from the loam, I'm unsure. It has saved me in several instances, others it wasn't needed. Given I'm adding ancient greenwaren with 2 tutors (finale + GSZ), that should remove my need for life from the loam. I am probably cutting it per your suggestion, but am going to wait on commander legends to see if I can slot in a new card in place of it.
Also just fun to note since I have not updated the description yet, Rude Awakening + Deserted Temple + Cradle = Fun Times. I think it's one of my favorite cards in the deck (also biased as I played with it when I was 13), ritual and wincon all in 1.
1 week ago
Awesome stuff here, man. If my Azusa deck was a small child, this would undoubtedly be it's angrier, bigger brother. What I like most is the confidence this build exudes, you're very clearly stating "I am going to ramp, you won't be able to stop me, and then I'm going to cast massive spells." Green is my favorite color in Magic, and this list is Green to a T.
Personally, I'd like to see a little more interaction here, but it's worth noting that I was scarred by Winter Orb and Static Orb early on in my EDH tenure, so I'm usually over-prepared to blow one up. That said, Nature's Claim is (in my humble opinion) one of Green's best spells, and worth consideration here.
Creature Recommendations:
Scute Swarm. We already talked about this little guy, and if you're adamant on the number of lands you run, I'd recommend cutting Seek the Horizon or Thaumatic Compass  Flip (otherwise I'd say cut a Forest).
Allosaurus Shepherd. It makes 90% of your spells uncounterable, and that effect is impactful at nearly any stage of the game. It allows you to play greedily and sink a ton of mana into your spells, which seem important in this build. I'd think about it and consider cutting my above suggestions, or Nissa, Vastwood Seer  Flip.
Spell Recommendations:
You can't go wrong with Worldly Tutor. Tutors = consistency.
Scapeshift is a wonderful spell that will make your friends hate you. It's dangerous in my deck, and I think it'd be even more dangerous here given the number of lands you're running. Sacrifice any number of lands, go pull the best lands out of your deck, and make sure one of them is Field of the Dead. Suddenly, you've got an army of zombies, Gaea's Cradle, Strip Mine, Deserted Temple, Eye of Ugin, etc. I think you'd be fine to cut Life from the Loam, as you've already got plenty ability to play lands from the grave.
Land Recommendations:
Hopefully I provided some decent food for thought. Either way, I think you have a great build here; I'm sure it's a blast to play!
1 month ago
Love it! I'm tired of green landfall decks and was also thinking about all the other color combinations. There's a bunch of cool one's coming with Zendikar rising and a few more that you could consider would be the white creatures (Emeria Angel, Emeria Shepherd, Admonition Angel), the red pingers (Spitfire Lagac, Tunneling Geopede), good ramp/utility creatures (Knight of the White Orchid, Weathered Wayfarer). Useful artifacts include Ghirapur Orrery and Thaumatic Compass  Flip and some more lands that I find useful would be Ghost Town, all the "fetches" (Terramorphic Expanse, Fabled Passage, Evolving Wilds, Arid Mesa etc), the bouncelands e.g. Boros Garrison, Terrain Generator.
keep up the good work!
2 months ago
The curve is pretty darn low and our wheelhouse is resource denial via exiling (our commander isn't a combo in the zone and isn't a formidable threat in play either). Ramping out with no targets doesn't help us terribly much and rocks mid-late game are just poor topdecks and not abusable via recursion
Chromatic Lantern fixes our mana to a tremendous degree, but honestly its not even essential anymore
Commander's Sphere can be repeatedly sacced for cards and looped with Sun Titan
Thaumatic Compass  Flip gets multiple lands and then becomes a Maze of Ith which can be utilized when our landbase is tight. ideal for setting up Emeria, The Sky Ruin
more rocks in the deck will smooth things out but limit resource slots. Ultimately dealer's choice :)
3 months ago
Bafanuga i don't have an extra Solemn Simulacrum or Thaumatic Compass  Flip. I have every card above sleeved, in a card case and ready to mail off Wednesday. There is also a theme for taking things out without killing them. Ice Floe is one of those. Hopefully dangerous creatures will be constantly tapped, goaded, returned to hand etc. Stratus Dancer is a good counter and its flyer. Everything in the deck can fly. Really wish I had another Gravitational Shift
Load more