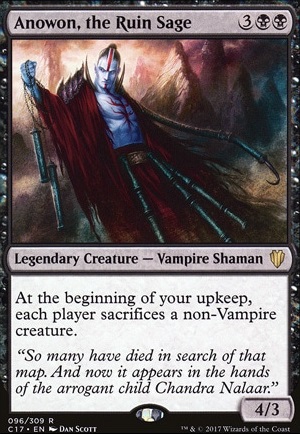 Anowon, the Ruin Sage
Legendary Creature — Vampire Shaman
At the beginning of your upkeep, each player sacrifices a non-Vampire creature.
Start Commander Deck
Browse Alters
Legality
| | |
| --- | --- |
| Format | Legality |
| 1v1 Commander | Legal |
| Block Constructed | Legal |
| Canadian Highlander | Legal |
| Commander / EDH | Legal |
| Duel Commander | Legal |
| Highlander | Legal |
| Legacy | Legal |
| Leviathan | Legal |
| Limited | Legal |
| Modern | Legal |
| Oathbreaker | Legal |
| Unformat | Legal |
| Vintage | Legal |
| Casual | Legal |
| Custom | Legal |
| Quest Magic | Legal |
Latest Decks as Commander
Anowon, the Ruin Sage Discussion
3 weeks ago
I'm looking to build my first Pioneer deck, and of course it's prowess! I have some random cards mostly EDH stuff that I wanna trade for my new deck. If you're interested in cards under $2 you can look through my binder, can't promise everything is up to date though.
All of these should have the correct set listed. Most are NM-LP, if you are interested I can check conditions of specific cards.
Some of these I want specific printings, some do not. I will mark the set specific ones with a *.
Edit: My Binder is now up to date so you can check that out if you wish.
1 month ago
To stay more in black, I would consider some sort of vampire sacrifice, counters, and/or lifedrain strategy. Your black cards that could work well in such a deck would be Ayli, Eternal Pilgrim , Embodiment of Agonies , Kambal, Consul of Allocation , Knight of the Ebon Legion , Mortician Beetle , Souls of the Faultless , Castigate , Disentomb , Gerrard's Verdict , Revival / Revenge , Despark , and Grim Return . Most of the other black cards are at least playable as well. The only two I'd cut in most circumstances are Underworld Dreams and In Garruk's Wake . The former needs more build-around while the latter just costs too much to be a consistent boardwipe.
Cards I'd look at adding for such a build might be Gatekeeper of Malakir , Anowon, the Ruin Sage , Sangromancer , Dictate of Erebos , Kalitas, Traitor of Ghet , Victim of Night , Indulgent Aristocrat , Pawn of Ulamog , Grim Haruspex , Silversmote Ghoul , Yahenni, Undying Partisan , Vampire Nighthawk , Vampire of the Dire Moon , Malakir Cullblade , Blood Artist , Urge to Feed , Feast of Blood , Heliod, Sun-Crowned , Archangel of Thune , Cruel Celebrant , Drana's Emissary , Indulging Patrician , Malakir Bloodwitch , Marauding Blight-Priest , Sanctum Seeker , Vito, Thorn of the Dusk Rose , and Pious Evangel  Flip.
As a side note, to go infinite with Sanguine Bond , Vizkopa Guildmage , or Vito, the card you need is actually Exquisite Blood which is unfortunately quite expensive.
6 months ago
a

b

b

y

3

1

5

Thank you, that was very informative and extensive and i appreciate the effort.
I didn't know cards like Soul Shatter even existed and that will be of great use in the interest of utility, if thats what i need to add to this deck to round it out. I initially passed over Anowon, the Ruin Sage because of both his 5CMC and the fact i have a Meren of Clan Nel Toth deck that is essentially just forcing everyone to sacrifice their valued creatures when i sacrifice my 1/1 tokens, but i see how avoiding him leaves potential on the table. If i'm going to raise my curve (and i will!), Patron of the Vein seems like a strong contender as well.
I particularly liked "...You get outscaled. The changes I outlined above are also similar to what I did to turn Freyalise into a more streamlined Ezuri deck. You have to add a lategame. This is also why I recommend adding ramp to more reliably cast Edgar; he's an extremely powerful finisher with a board full of small vampires, and the deck relies on him for more than just 1/1s!"
It really asks me to change my perspective on how this deck is intended to thrive, and i think that will be key. I also appreciated that you made a specific list of which vampires to drop. Thank you!
King_marchesa Thank you for your input, though i find it odd you say i don't have enough white mana. I thought that would be the least common color in the deck and with Arcane Signet, Command Tower and a smattering of dual color lands, i would be OK. God-Eternal Bontu is a fantastic card, but im hesitant about sacrificing my tokens to reload my hand in this current version, probably because the deck is shaky as is. Hopefully once i raise the curve, and add removal, he will be a welcome addition.

Omniscience_is_life Thank you, that seemed to be a common suggestion. I will keep these cards in mind, especially as i love Burnished Hart and Solemn Simulacrum !

Heliogabale Thank you. your input is particularly interesting because it seems to me like taking out Goblin Bombardment and Impact Tremors for cards like Cover of Darkness, Stensia Masquerade and Berserkers' Onslaught definitely changes the direction of the deck from forcible chip damage to favorable combat damage. I also greatly appreciate you linking your own deck as it not only lets me see a successful version of what i'd like, it also shows me other ways to make edgar markov work, and as an added bonus i get to vicariously get more advice from the suggestions on your own deck!
6 months ago
I have some thoughts about the overall gameplay, but I'll make some easy suggestions first:
Painful Truths > Read the Bones in a 3-color deck. Similarly, Mathas, Fiend Seeker

is a great way to turn all of your removal into 2-for-1s, or can even draw you cards without spending any cards because it incentivizes your other player to remove things for you.
I agree with King_marchesa about cutting some vanilla vampires for ramp and removal. I noticed you said one of your players really likes hexproof creatures; spells like Soul Shatter and Crackling Doom will probably be better than spot removal like Utter End in that case. Anowon, the Ruin Sage is good for that, too, and Patron of the Vein is removal on a big-ol' Vampire stick!
Nighthawk Scavenger and Nullpriest of Oblivion will be good includes that are aggressive but also good in the lategame (this will be a theme in this comment). Olivia Voldaren is cheap and a good mana-sink to use the extra ramp you're putting in.
Bloodline Keeper  Flip is a little on the expensive side at $9 but if you can get a copy, it'll be a great way to upgrade your army from 1/1s to evasive 2/2s, or 4/4s if he flips. Vampire Nocturnus is another good Lord in this vein. (Pun intended!) Vito, Thorn of the Dusk Rose can function as a damage-doubler using his activated ability.
Finally, Forerunner of the Legion is a great tutor that also gives +2/+2 to an attacker whenever you play a vampire, thanks to Eminence.
You'll notice that all of these suggestions will raise your curve. I think that's necessary to address the problems you're having. I started EDH running a Freyalise, Llanowar's Fury Elfball deck that had a similar goal: Make a lot of small Elves and run down one opponent. Ran into the same problems you have: You get outscaled. The changes I outlined above are also similar to what I did to turn Freyalise into a more streamlined Ezuri deck. You have to add a lategame. This is also why I recommend adding ramp to more reliably cast Edgar; he's an extremely powerful finisher with a board full of small vampires, and the deck relies on him for more than just 1/1s!
That's why most of my changes encourage you to add more removal and ways to buff your board with stronger creatures. This is the great thing about Edgar: you don't need to focus on making an army of small vampires, because he does that for you! Instead, you can play vampires that buff and help your other vampire tokens.
So, I'd recommend making swaps for the following low-drop creatures that aren't evasive/strong and don't do anything for your board besides being a vampire to trigger Edgar (which most of the above suggestions also do):
Bloodthrone Vampire
Guul Draz Assassin
Guul Draz Vampire
Pulse Tracker
Quag Vampires
Vampire of the Dire Moon
Duskborne Skymarcher
Ruthless Cullblade
Vampire Interloper
And also Goblin Bombardment, which I don't think is a good rate for what it does.
Add some more Vampire lords where you can get them (many of the above are just $1-2), removal, and ramp. You should find that instead of getting a hand with 2-3 lands and all 1-2 drops, you'll start finding a hand with something to do on every turn as you work up towards Edgar. I hope that helps!
8 months ago
Out: Foreboding Ruins, Swamp, Plains, Anowon, the Ruin Sage, Kheru Mind-Eater, Arguel's Blood Fast  Flip, Vindictive Vampire
In: Path of Ancestry, Sulfurous Springs, Mirrodin's Core, Door of Destinies, Shared Animosity, Unbreakable Formation, Mirror Entity
8 months ago
Building an Anowon, the Ruin Sage deck, as soon as the new cards are available to me. Going for a rogue tribal vibe, with mill to facilitate grave robbing. It has potential to mill-out opponents, but that's not its intended function. Its main directive is to overwhelm with evasion, disrupt, and steal shit.
I'm looking for suggestions on balancing the elements. Like, if you think my creature list needs work, or if the type ratio is solid, or if there are elements I'm neglecting entirely. Remember, this deck mills a lot, but it isn't a mill deck.
Thanks in advance for any input! Here's the link: Always Loot the Bodies
9 months ago
Anowon, the Ruin Sage decided to stop being a nerd, yet ironically picked up in the process. Anyway, a cmc 4 draw engine in the command zone certainly isn't bad, although I'm sure a lot of Robin Hood fans are disappointed that isn't involved
Obuun seems underwhelming, being seemingly linearly beatdown-focused, and it faces competition from Hazezon Tamar in terms of converting lands into P/T. But hey, animated lands could be decent if the deck ("Land's Wrath") contains enough new support for the archetype
11 months ago
Here's some of my thoughts.
Load more