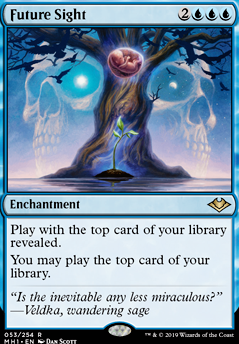 Future Sight
Enchantment
Play with the top card of your library revealed.
You may play the top card of your library.
Latest Decks as Commander
Future Sight Discussion
1 month ago
Part 2
Other Cards that you could consider cutting
Other Cards that you could consider adding
This is where the fun begins and your wallet cries
That is all I can think of at the moment. I'm sure I'll have more la
5 months ago
I think more mana dorks are just better then Tyvar, I just adjusted my version to run the full 12 mana dorks and went up to the full playset of Realmwalker , which btw is another card I would highly recommend giving a try since it's pretty bonkers. Getting to 7 mana is no issue at all without Tyar & with all the mana having a pseudo Future Sight is great flood protection. Maybe have a look at my current list and let me know what you think.
6 months ago
What happens if Gaea's Blessing is cast from the library, by something like Future Sight ?
A. You shuffle three cards from your graveyard into your library, draw a card, then shuffle the rest of your graveyard into your library because Gaea's Blessing was put into your graveyard from your library.
B. You shuffle three cards from your graveyard into your graveyard, draw a card, then put Gaea's Blessing into your graveyard when it finishes resolving.
C. Something else.
6 months ago
Wisdom of Halcyon
Sorcery
Exile target creature. You may have your life total become X and draw X cards, where X is equal to the exiled creature's total power and toughness.
---
There are variations of Future Sight in every colour except white. Create the white version.
7 months ago
In my humble opinion, Kaldheim is looking like an amazing set. We haven't gotten any broken things, but they all look fun. Let's go over some of the future commanders of our hearts! I'm skipping over commanders that use fortell, as we don't have many cards for them. Oh, and the cards that don't interest me. My post, my rules!
Halvar, God of Battle  Flip: While pretty good in Voltron decks, he makes for the first artifact commander we've ever had, and I know my Inner Johnny is tickled at that fact. The Equipment side is also super cool, with being able to pay 4 mana to resuscitate one of your creatures. With some Phyrexian Altar + Ashnod's Altar janks, we can make a fun mono-white combo deck! Oh, and Batterskull says hi.
Lathril, Blade of the Elves: I'm really psyched for this general. She looks like a way to make Golgari Elfball more viable, has a crazy, but not broken, activated ability, and is one of the only generals to make a usually too-competitive strategy fit for more casual tables. She has synergy up the wazoo with cards like Immaculate Magistrate and Timberwatch Elf. Oh, and one card that should be in every one of her decks, but is in zero so far, is Elder of Laurels. This card = broken in this deck, often turning your Lathril, Blade of the Elves into a four-digit power commander. Run it!
Sarulf, Realm Eater: Golgari Control is a thing, I guess? Stack your deck like card:Skullbrair, the Walking Grave does, but instead of going for the voltron combos, instead, you wipe your opponent's board every turn. Evolutionary Escalation is a must. Who cares about an 8/8 on your opponent's side when it's dead?
Tergrid, God of Fright  Flip: I love this card. There. I've said it. I'm done. This goes in so many different decks: Nekusar, the Mindrazer, Tinybones, Trinket Thief, Malfegor, Mazirek, Kraul Death Priest, Nath of the Gilt-Leaf, the list goes on and on! As a commander, she's kill-on-sigh. A single Smallpox just wins you the game.
Vega, the Watcher: I'll say it: This is probably the most powerful uncommon commander ever printed. This triggers off of so many things: Elsha of the Infinite, Flahsback, Cascade, Retrace, Future Sight, Suspend, Adventure, Foretell, Impulse Draw, etc. Need I say more?
Jorn, God of Winter  Flip: ... Sigh. I know this is a fun card, but why is it sultai? Oh wait, it's generic value. EVen from a sultai-loving man as myself, this seems like overkill. Oh, you want me to talk about the commander? Stuff your deck full of snow lands. Attack. Repeat. Etc. So uninspiring.
7 months ago
Azeworai Thank you for your incredibly detailed breakdown! You might be honored to know that I have seen your deck, it helped me a lot in making this one! Because of your deck I was able to get a clear direction and you have also introduced me to my favorite card Vizier of the Menagerie. It is adorable.
Seeing as I have both of you confused of my inclusion of Darksteel Sentinel I will remove it. I saw it on a forum for "best mutate targets" while I was looking for such. No problems, I think I have decided to go with Future Sight as its replacement. The striking accolade of "best card in my deck" really stood out. I also really, really like Momir Vig, Simic Visionary but wow, that is really good - maybe too good.
Thanks for all your help, your deck list is certainly the first I will go to if some of my cards here don't work out according to plan. Have a great day!
7 months ago
Ah, Illuna is a commander that has become a favourite of mine, for manipulation of the top leads to quite a bit of value.
I am notably bereft of much experience with the Mutate mechanic, as my list has only had a Parcelbeast, which was thusly removed, but I may offer insights upon the top of the library.
Momir Vig, Simic Visionary is quite the terrifying engine for this deck. It is a Mutate target if it must be, and it combos with the commander directly. It tutors for a big idiot to cheat upon the field, whilst working with the rest of the deck most splendidly.
I have found Thassa's Oracle to be a fine value card, oft sieving through the top four cards of the library, only to find a cataclysmic ten-drop. Moreover, Illuna may Mutate unto it.
Dream Cache is a card I used to run, yet shall admit to ablating. It does the job quite well, but was insufficient in the wake of Brainstorm.
Whiles being rather expensive, Scroll Rack, Mirri's Guile, Sensei's Divining Top, and Sylvan Library are each some of the greatest engines in the entire deck. Bother not with questioning their inclusion. If you get ahold of one, use it.
Cavalier of Gales is an extremely efficient flyer and put a big imbecile atop the library.
Prognostic Sphinx grants a deep scry each turn and Hexproof, thence being a fantastic card upon all fronts.
One of the most condign secondary win conditions in my list is Lurking Predators. 'Tis as powerful as it reads.
Perhaps the best card in my entire deck is Future Sight, with a worsened version being Magus of the Future. These provide a heaven-high amount of card advantage. Everything cast from the top essentially draws a card, additionally providing information of when to cast Illuna.
Courser of Kruphix is just a fantastically efficient creature, attributing defensive value and information.
Long-Term Plans grant an instant-speed tutor for the most devasting card in the entire deck. Try it and love it.
Lastly, Dream Eater has become a favourite of mine, being a splendid combat trick and top-of-the-library aid, whereupon always bringing a sense of dint and defense.
That shall be all from me, sire, but I do hope that you would deign to peer upon my list, being as such:
I have become most pleased with it.
Fare thee well, and might the best of fortune betide.
Load more