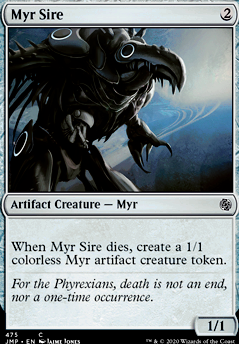 Myr Sire
Artifact Creature — Phyrexian Myr
When Myr Sire is put into the graveyard from the battlefield, create a 1/1 colorless Myr artifact creature token.
Latest Decks as Commander
Myr Sire Discussion
1 year ago
Yoyoyo ThatOneGuyAI!
I'd start by cutting the low-impact creatures such as:
Tattered Mummy, Shambling Goblin, Serrated Scorpion, Orzhov Enforcer, Myr Sire, Festering Goblin, Doomed Dissenter, and Deathgreeter.
I like your sac-outlets that can protect themselves through Shirei (e.g. Viscera Seer/Thoughtpicker Witch/Fume Spitter), and I'd try to avoid the ones that don't have that particular interaction: Nantuko Husk/Carrion Feeder.
Cards I would add in: Altar of Dementia, Plagued Rusalka, Dark Ritual, Feed the Swarm (enchantment removal in black), Agadeem's Awakening  Flip, Kaervek, the Spiteful (allows you to protect Shirei), and Liliana's Steward.
1 year ago
It seems like your Thopter Foundry, Salvage Titan, and your other artifacts clash. The artifacts you have require sacrificed to be used. So you could be in a game waiting to sacrifice them until you get a Thopter Foundry or Salvage Titan that may or may not come. Or the opposite happens where you sacrifice your artifacts for their effects and then you can't take advantage of the 2 cards your really want out. I would look getting out artifacts like equipments or maybe some cheap Myrs.
Look into Myr Propagator, Alloy Myr, Gold Myr, Hovermyr, Leaden Myr, Myr Battlesphere, Myr Moonvessel, Myr Retriever, Myr Sire, Myr Turbine, and Palladium Myr. These all serve as a quick creatrue to get out, supply more mana for the big creatrues, or even supply you with plenty of endless artifacts for Thopter Foundry and Salvage Titan.
2 years ago
Thanks! I hadn't thought of those cards when making the deck. I misread Grim Haruspex and Midnight Reaper when I put Myr Sire in the deck. you should check out my newest version of the deck and let me know how to improve it. I spliced it with hardened scales because I realized that a lot of the cards overlap between the decks. it doesn't work perfectly yet but I think it has potential. here it is. Hardened Summoning
2 years ago
Really nice deck. I don't see the use in Myr Sire , however, as all of your death triggers wants non-tokens. ( Hangarback Walker would just be a better version of the same card anyways)
Maybe run Necropede instead, would help you clear out troublesome creatures if you can't go off.
Or Walking Ballista for the same reason. It, of course, doesn't work as removal while you're comboing, but it's a much way to deal with stuff like Eidolon of the Great Revel .
Epochrasite is also an option, it's very slow, but it gives you an angle for a fair win of you're disrupted halfway through your combo for some reason.
2 years ago
Several cards for you to consider from my own Yawg decklist:
Coffin Queen . It doesn't survive Demon of Dark Schemes , unfortunately, so it may be a one or the other kind of thing there. But it scales well with your opponents. I run both.

Aetherworks Marvel . Uses the same energy counters you'll be getting for Demon of the Dark Schemes, and provides some slower card advantage for doing what you're going to be doing anyway: sacrificing stuff. It's easy to fill up on counters and the activation is instant speed, allowing you to pull off surprising, wonky stuff sometimes.

Liliana, Death's Majesty is a versatile planeswalkers for a reanimator build of Yawgmoth: she creates fodder, she reanimates, and she mills you cards to potentially reanimate. In a pinch you could resolve her and proliferate twice to wipe the board.
For cuts, I'm not huge on the following:
Load more