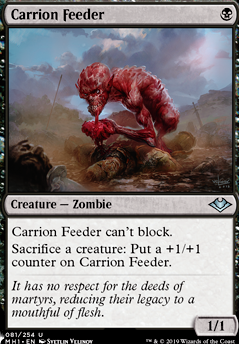 Carrion Feeder
Creature — Zombie
Carrion Feeder can't block.
Sacrifice a creature: Put a +1/+1 counter on Carrion Feeder.
Browse Alters
Trade
Legality
| | |
| --- | --- |
| Format | Legality |
| Block Constructed | Legal |
| Pauper | Legal |
| Duel Commander | Legal |
| Canadian Highlander | Legal |
| Vintage | Legal |
| Casual | Legal |
| Highlander | Legal |
| 1v1 Commander | Legal |
| Pauper EDH | Legal |
| Modern | Legal |
| Oathbreaker | Legal |
| 2019-10-04 | Legal |
| Unformat | Legal |
| Magic Duels | Legal |
| Noble | Legal |
| Commander / EDH | Legal |
| Legacy | Legal |
| Tiny Leaders | Legal |
| Leviathan | Legal |
Carrion Feeder occurrence in decks from the last year
Commander / EDH:
All decks: 0.04%
Black: 0.25%
Golgari: 0.18%
Carrion Feeder Discussion
21 hours ago
This deck is not going to be the fastest out the gate lets get that clear right away and nor is it going to be drawing nervous glances around the table early on as you turn your vast army sideways, but what Basic this can do is put some ever so slight pressure on someone who has decided to play creature-less or is just playing mana dorks as this deck does run a few token creators and can get some beats in on an unprepared opponent...But lets be real most of the time early game we are gonna try and get into a stable mid game, try and not look like the weakest or the strongest at the table and start setting up some of engine pieces and mana to begin looping for value. This means finding sac outlets, mana reducers, mana rocks and draw cards are gonna be part of this phase of the game.
Now once we have enough mana and/or mana reducers to play something from our hand and Garna with a sac out let we are in business next stop value town, we play the card from hand and Sac it then play Garna, responding to Garna's ETB by sac'ing her while her ability is on the stack, then Garna's ETB will resolve and put back to hand both the first card you played from hand ( and any other cards that hit your graveyard this turn) and Garna and that is a basic loop ( What I will refer to as Looping). So now the question is what is the point of all of this Looping?
Here is were I will explain what we can do with the basic loop premise to gain value: Is the creature we are casting from hand a token generator? like
Weaponcraft Enthusiast
or
Goblin Instigator
or even
Doomed Dissenter
if we can keep looping these cards then we will end up with more and more tokens to play with.
Is the creature we are Looping creating mana via treasures or Eldrazi Scions? Dire Fleet Hoarder,Wily Goblin,Carrier Thrall then everytime we loop we are building a stockpile of mana for our future turns.
How about more cards? Dusk Legion Zealot,Phyrexian Rager
But we can get more than just value from the creature we are sac'ing oh much much more, how about value from the sac outlet it self? Viscera Seer Start scrying through your deck for your combo pieces ThermopodAshnod's Altar Help you generate more mana for more cards to be cast from hand for multiple card loops Carrion Feeder Keep adding +1/+1's to make a threat that needs to be dealt with before it spirals out of control Spawning Pit why not add more tokens to this to create a potential army of 2/2's that can snap into existence at instant speed? Greater Gargadon How about ticking down a clock to a 9/7 coming to smash your enemies into small digestible pieces?
You think we are done with what value we can get from Looping? not even close, what about other effects that occur when they see cards getting sac'd for greater good of value? Zulaport Cutthroat,Falkenrath Noble,Syr Konrad, the Grim This will start putting pressure on opponent's life totals whenever you sac a creature, or cast in the case of Bontu's and special mention to Syr Konrad as he also does damage when they go back to hand from your yard...oooh that value.
You want card draw? we got it,now its not as clean as blue draw and it does have a distinct smell of decomposing flesh but hey we will take it. Smothering AbominationGrim HaruspexMidnight Reaper even Hazoret's Monument as you do cast in a loop and remember all discard cards will be put back to hand via Garna's ETB.
Mana? Sifter of Skulls,Pitiless Plunderer we got you covered
You might be wondering with all this value being gained from sac'ing creatures what could we do to sac more of our own creatures per turn? I like your thinking and that's why we have multiple creatures that replace themselves mana wise. Cards like
Priest of Gix
or
Priest of Urabrask
or
Cathodion
even
Overeager Apprentice
and
Bog Witch
( remember we will get the discarded card back via Garna's ETB) the fact that Garna gives haste also allows
Basal Thrull
and
Generator Servant
to be able to activate their abilities the turn they come down as long as you do it when Garna is in play and therefore you are probably doing it in response to her ETB as your about to sac her to get her to go to your hand.
What all this mana positive and mana neutral creature casts lets us do is frankly more of the same, play multiple creatures a turn to make multiple treasures or make multiple tokens or scry multiple times it all depends on the set up you have at the board at the time but the more creatures to sac the more effects, the more the merrier the bigger the better.
So its gotten to the later stages of the game, hopefully we find our selves in value town but how do we actually win? Well this deck has a few options for you to choose depending on what cards end up in your hand.
Deathrender
This is the Big daddy of the combo's we have, so big in fact that
Hoarding Dragon
is here mainly just to get this card in our hand and to be honest so is
Dimir House Guard
. The combo starts like this: Deathrender on the field and attached to any creature, a sac outlet and enough mana to cast Garna we start by sac'ing the creature attached to Deathrender and then we put another creature from our hand onto it, repeat until all creatures are out of hand, then sac the last creature and flash in Garna in response to the deathrender trigger on the stack, and then respond to this by sac'ing Garna, now Garna's ability will be on the stack and resolve and get back every card that hit your graveyard this turn, including herself. Now resolve the Deathrenders ability and well now you have a full hand of creatures ready to be sac'ed so pick one of them to be attached and begin the deathrender sac fest all over again and this is an infinite loop since you can keep getting Garna's ETB from deathrender. An important thing to note is that when getting Garna to the battlefield via the Deathrender ability is to make sure there is allays at least one other creature in hand when you put Garna to the battlefeild, since the way the ability's will stack is that the deathrender ability will pull something out ( that being Garna in this case) then that will trigger any ETB's and we will respond to that by sac'ing Garna, this will trigger the deathrender trigger and this will occur BEFORE we can refill our hand with Garna's ETB, so we just need one creature in hand to be pulled onto Deathrender and then everything will go back to hand and we can keep sac'ing and looping infinity.
We now have an infinite loop going and this deck can use this in multiple ways to end the game. Refer to the infinite loops section to see all the options
You have seen the best now lets get on to the rest, another combo that has far more hoops for the same payoff. It begins with
Zombie Infestation
in play and at least 4 creature cards in hand, with a
Pitiless Plunderer
in play, and just a smidge of mana reduction in play, actually you need at least 3 total mana cost reduction for specifically Garna, oh and a sac outlet, got all that? good then lets gooo So now we discard all 4 creatures with zombie infestation, creating 2 zombie tokens, don't get too attached as we immediately sack them via our sac outlet and create a black and a red mana via
Pitiless Plunderer
now with a black and a red mana and our mana cost reducerd Garna is free to cast! so we play her and sac her as her ETB is on the stack and get all 4 creatures that we discarded and Garna back to hand to begin the Loop again.
6 days ago
Nice, I like it! I'm also building a Sidisi zombie tribal deck (though in a much lower price category, more grindy and I haven't done much playing with it).
First, any deck of mine that has Golgari in it and cares about the graveyard is running Grisly Salvage. Is it ground breaking? Not even close. Does it win you games? Not really. Does it ever disappoint you? Definitely not. I know people aren't too high on card selection cards, but between selecting from five cards, being instant, hitting both lands and creatures, and effectively milling yourself, I find the good old Salvage very reliable. Then again, blue gets this effect in great variety, so maybe I'm just biased.
Next, I do think that you should consider Rooftop Storm. It is very high CMC, so it doesn't slot in automatically but if you can drop it relatively early, it pays for itself in the long run. It also combos very nicely with Liliana, Untouched By Death, which is a possible addition too. I also run an alternative win con (except my sac outlet is Carrion Feeder) and these two play a part in it. (I admit, it is a bit clunky, but I also play three different Lab Man effects - and Mortal Combat, that's even clunkier - so I think I can afford it.)
Furthermore, if you ever feel like you need more zombies, I have these few cheap ones to recommend: Undead Augur is a great card card draw zombie, but very black intensive. If that is too much, Midnight Reaper achieves a similar effect, though he sadly does not trigger from tokens. Stitcher's Supplier is an amazing self-mill one drop zombie, while Shambling Shell is a zombie with dredge that you can easily put into graveyard once in play, so what's not to love. If you have any kind of zombie anthem effect, Unbreathing Horde is an immortal blocker if you need that - arguably that's not very often, but the option is there. And if not for that, it can still become a very big zombie for Altar of Dementia. I already mentioned Carrion Feeder, so that's about it from the top of my head I think.
Lastly, as Kholan95 before me mentioned, you want some back up plan in a self mill deck. You said you don't want to run Lab Man effects, so in that case maybe you should consider graveyard shufflers? Loaming Shaman is probably the classical option, but I do have a soft spot for Wand of Vertebrae. It's nothing amazing, but it can drop very early and repeatably mill you (though not as well as Embalmer's Tools would in this deck obviously), which is great for a deck like Sidisi, and in a pinch, you can shuffle at least five cards into your deck, which should save you from decking and give you those few more turns to try and finish the game.
1 week ago
Alright. I am not too fond of graveyard strategies myself, though I have tinkered vehemently with Alesha, Muldrotha Adun Oakenshield, so I'll see where that gets me.
I see a strong value engine in the command zone, but far too much late-game in the ninety-nine. I would highly recommend cutting much of the seven drops, lest the deck be too slow betime on, thusly being trampled.
Furthermore, the deck needs more sacrifice outlets. With many death triggers comes a dire need to control when they go off, thence you should probably have at least seven.
Ideally, the gameplan is turn one or two ramp and cheap creature, then turn three Meren to return it to your hand.
Now, onto my suggestions.
Upon what I would ablate:
Okay, now unto thee I provide sacrifice outlets.
Altar of Dementia is literally perfect for a deck like this. Mill and death, all in one! Viscera Seer is a classic, Carrion Feeder can become massive, Goat Thing comes back by itself and offers caprine fodder, Yawgmoth, Thran Physician is oft the best card in my aristocrats deck though is expensive, and High Market or Phyrexian Tower are always fine.
Blood Artist or Bastion of Remembrance are fine in strategies such as this.
Fauna Shaman seems absolutely great; Discard a dork, fetch a monstrosity, return aforesaid dork with Meren, celebrate.
Victimize is never lacking as it cheats out giants whilst providing sacrifice, Dread Return fills a very similar role, Eternal Witness is always great, Blood for Bones loops with the Witness, and Animate Dead is always great.
Now, cantrips: Grisly Salvage, Winding Way, Grapple with the Past, Ransack the Lab, and Once Upon a Time all filter through the deck, fill the graveyard, save for Once Upon a Time, and find lands or creatures. Furthermore, they are great with Meren, as creatures are to be disinterred.
For ramp, mana dorks are great. Birds of Paradise, Llanowar Elves, Elvish Mystic, Fyndhorn Elves, and Elves of Deep Shadow offer fodder and acceleration. The best is probably Skull Prophet. Mill, fodder, and ramp in one.
Reassembling Skeleton just seems great, Bloodghast grants much, and Bitterblossom can be sacrificed a meiny of times.
Importantly, I add some more draw. Phyrexian Arena, Underworld Connections, Liliana's Standard Bearer, Erebos, Bleak-Hearted, Dark Prophecy, Moldervine Reclamation, and Rankle, Master of Pranks do this deed.
That shall be all from me. Good luck!
1 week ago
Sup Lhurgyof ya said to peep on over here and here I am!
Alright so I see that ya going for more of an aristocrat route with a side theme of some eggs. Hmm, I would actually forego the eggs route tbh and go straight aristocrats as it gives it more synergy than just tapping out for rocks that can net you more cards only if Korvold is out on the battlefield. Ya can do some cool things with eggs like Scrap Mastery + Krark-Clan Ironworks + Codex Shredder and do some funny shenanigans, but it kinda takes away from the theme but that's imo.
Now for the aristocrats that's more of my forte lol, here are some cards you can add in that can possibly help ya:
There are a lot of things ya can do with aristocrat theme, but the ones I listed above are some suggestions that you can add in. Feel free to ask if ya want more help or anything!
1 week ago
Hey Valengeta, nice job! I like your build and write up.
Here are some suggestions that you may like - first of all, Nantuko Husk is a great way to sac zombies. It's expensive as compared to the Carrion Feeder, but it can block. I've found that not being able to block with 1 drops can be tough. Cryptbreaker and Stitcher's Supplier are options, the former generates zombies for you. Or you could run both Feeder and Husk for extra sac'ing.
Also, this deck could benefit from a splash of white. With 4-8 fetchlands plus a couple of Godless Shrine, plus an Isolated Chapel or two, you can run Tidehollow Sculler, Wayward Servant, and Path to Exile, plus artifact/enchantment hate in the sideboard. Otherwise, you may have a hard time against those match ups :)
Load more