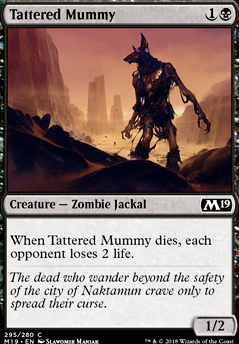 Tattered Mummy
Creature — Zombie Jackal
When Tattered Mummy is put into the graveyard from the battlefield, each opponent loses 2 life.
Latest Decks as Commander
Tattered Mummy Discussion
1 year ago
I love Zombies! Probably one of the first tribes that got me interested in tribal decks, after I saw the power of my friend's Zombie deck. +1 from me just for Zombies!
Question 0: Before we can offer any meaningful help, we need to know if you truly mean this to be a deck for the Modern format? Or will it be casual and you won't care about format that much?
(As an aside, when I first started Magic and joined T/O, I didn't really understand that Modern was a competitive format and I just labeled any deck that could be legal in Modern as Modern. LoL. Pretty sure some of my decks on T/O still mistakenly have Modern set when really they should be Casual!)
I'm going to offer my advice assuming you want it to be Modern, but if you're going more for a casual build, then feel free to ignore some of this.
First, the deck is trying to do too many things — zombie tribal, self-mill, graveyard recursion, graveyard exiling, "swamps matter", tokens, devotion — some of which don't really complement each other. If you want to streamline it for Modern, you'll have to choose a more focused direction.
I would remove the "swamps matter" subtheme, as you don't really have ways to dump extra swamps onto the battlefield nor do you take full advantage of it (where is Defile for example?). Korlash might be worth keeping, since he's a zombie, but get rid of both Nightmare and Squelching Leeches, as they're not even zombies and they're on the higher end of CMC. Personally, I'd get rid of Lashwrithe as well, but if you really love the card and want to keep it, at least you can equip that to a zombie.
Then I would choose between full-on zombie tribal including tokens, or devotion and recursion. Neither of the latter play nicely with tokens, which don't have mana costs for devotion or stay in the graveyard for recursion. A few incidental tokens are fine, but cards like Moan of the Unhallowed and Shamble Back are not synergistic at all with devotion/recursion.
Next, are you more interested in recurring your graveyard or exiling it for tokens? I.e. do you want to do Ghoulraiser, Gravecrawler, Lord of the Undead, etc., or do you want to do Cemetery Reaper, Graveyard Marshal, Tymaret, etc.? You can't do both. Personally, I'd go the recursion route, add more ways to sac your zombies for value, and cycle them in and out of the graveyard at will.
So in summary, I would go with 1) zombie aggro including tokens, or 2) zombie recursion, with a subtheme of devotion for Gray Merchant. Going either route, I'd cut Nightmare, Leeches, Lashwrithe, and Tymaret (he's not a zombie, and provides only inefficient graveyard hate). If you go route 2, I'd also cut the sorceries Moan and Shamble. That's at minimum 8 cards out. What you add depends on which game plan you choose.
You're missing some other great zombie lords:
Death Baron
,
Lord of the Accursed
,
Undead Warchief
, and even
Risen Executioner
. While not a creature,
Graf Harvest
gives them all menace.
Relentless Dead and Unbreathing Horde are difficult to get rid of, the former because it can easily come back to hand (and bring a friend), the latter because of his damage prevention clause.
Graveborn Muse can provide some serious card advantage. Geralf's Messenger is amazing for devotion, he drains a little himself, and he's hard to get rid of.
If you go the route of cycling your zombies in and out of your graveyard, consider Undead Augur, Plague Belcher, and Quest for the Gravelord.
In place of Cemetery Recruitment, I'd run
Ghoulcaller's Chant
or
Unearth
. The latter is particularly good if you cut all your 4+ CMC creatures except for Gray Merchant (so aside from the cards I said to cut under "Game Plan", you'd also cut Korlash and Sidisi, which I think are good cuts anyways).
You didn't label this deck as "budget", so if you can afford it, Cavern of Souls is a must-include land in any tribal deck.
I don't like Sands of Delirium. It's only function is self-mill and there's more efficient ways to do self-mill. You also currently don't take full advantage of self-mill, with things like Dredge or Flashback-style effects. If you go full force into graveyard synergies, then self-mill is important, but even then, I'd play Stitcher's Supplier over Sands. For 1 mana, you can easily get 6 cards into your graveyard, and you can easily recur him, and he's a zombie that can attack. That would take 9 mana with Sands, which is just a dead artifact.
Lastly, some sacrifice options: Gnawing Zombie isn't amazing, but the effect is relevant. I would replace Sign in Blood with Village Rites — same card draw, but one less mana, instant speed, and no life loss. You also have cards that like to die, like Festering Mummy, Black Cat, Tattered Mummy, and the above-mentioned Stitcher's Supplier.
Sorry for the wall of text. I just love zombies! So I hope at least something in there was useful.
1 year ago
Yoyoyo ThatOneGuyAI!
I'd start by cutting the low-impact creatures such as:
Tattered Mummy, Shambling Goblin, Serrated Scorpion, Orzhov Enforcer, Myr Sire, Festering Goblin, Doomed Dissenter, and Deathgreeter.
I like your sac-outlets that can protect themselves through Shirei (e.g. Viscera Seer/Thoughtpicker Witch/Fume Spitter), and I'd try to avoid the ones that don't have that particular interaction: Nantuko Husk/Carrion Feeder.
Cards I would add in: Altar of Dementia, Plagued Rusalka, Dark Ritual, Feed the Swarm (enchantment removal in black), Agadeem's Awakening  Flip, Kaervek, the Spiteful (allows you to protect Shirei), and Liliana's Steward.
1 year ago
Hey Sauwse, +1
You want cards that, unless they ramp or draw, do at least two things (like sacrifice themselves and trigger). Also, I found death triggers to be more useful than ETBs with Shirei and the stack.
I'd say you can cut the following:
Tree of Perdition... I love it too, but... it paints huge target on your head. I almost never get this to go off without boots, etc. Anything that has to tap is going to be clunky.
Piper of the Swarm... also clunky.
Tattered Mummy / Cauldron Familiar... compared to Sling-Gang Lieutenant? or Qarsi Sadist?
Deathgreeter... I'm not sure if I like this more than Bottle Gnomes, and I like that Deathgreeter costs 1, but I think you have enough lifegain as is.
Macabre Waltz... one of the weakest cards for sure.
Hope that helps! Good luck.
1 year ago
Cool deck! You might like these: Disciple of the Vault, Blood Pet, Serrated Scorpion, Cauldron Familiar, Tattered Mummy, Dusk Legion Zealot, Abyssal Gatekeeper, Orzhov Enforcer, Noxious Toad (the errata on this card says "each opponent discards"), Ayara, First of Locthwain, Syr Konrad, the Grim, Krav, the Unredeemed, Grim Haruspex, Heartless Summoning, Black Market, Kormus Bell
1 year ago
Hey, you're welcome.
To start, cards to consider cutting are lands since you don't need 41 lands in an Orzhov Commander deck especially since there's so many basic lands. Consider 36 lands? Next are creatures who don't have flying or other evasion.
You want to make some choices of the kind of creatures/theme you want to play. There's a small Vampire theme here with Captivating Vampire, Malakir Bloodwitch, etc. For these Vamps to be worth playing you need a lot more Vampires because without Vamps they don't really do much. There's many Vampires who have evasion therefore if you choose you could increase the Vamps a lot and make your deck more Vampire tribal then anything else.
A reason to cut the Vamps is there's many more nonVamp creatures that are better. Neither Tymna or Ravos are Vamps which makes the tribe overall less good, no tribal synergy with your Generals. If you choose to keep the Vamps then include a lot more of them or if not then cut them.
Cards to consider cutting:
I would cut all these cards, doesn't matter what direction for your deck you choose to go. There's better budget options for each one of these cards. Some cards such as Corpse Knight are good, but it doesn't go with the current strategy therefore I would cut it.
I don't recommend the Vampire direction, but if you want to play Vamps then I do offer advice for that direction.
1 year ago
Suggestions for removal / maybeboard:
Suggestions for additions:
Worldgorger Dragon + Animate Dead / Dance of the Dead forms an infinite loop that you can cancel at any time. The loop blinks all of your lands into exile temporarily, allowing you to tap them before they blink out. This can be used to create infinite mana. Worldgorger Dragon isn't a good card on it's own, but it combos well with Buried Alive and your Gravebreaker Lamia. Animate Dead and Dance of the Dead are great any time because they can target creatures in anyone's GY.
Load more