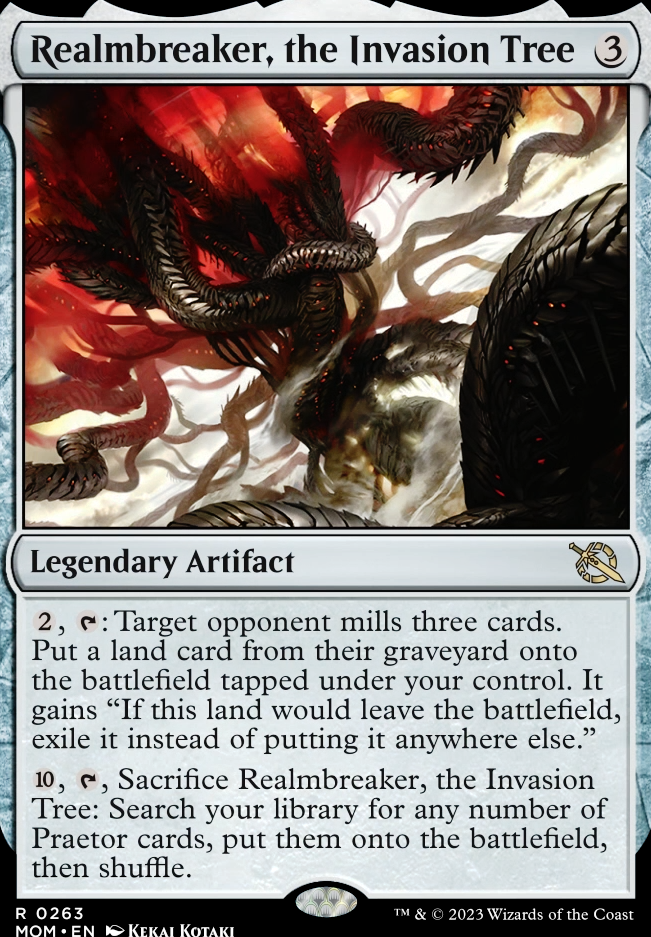 Legality
Realmbreaker, the Invasion Tree
Legendary Artifact
, : Target opponent mills three cards. Put a land card from their graveyard onto the battlefield tapped under your control. It gains "If this land would leave the battlefield, exile it instead of putting it anywhere else." (To mill a card, put the top card of your library into your graveyard.)
, , Sacrifice Realmbreaker, the Invasion Tree: Search your library for any number of Praetor cards, put them onto the battlefield, then shuffle your library.
1 week ago
During play-testing, I noticed this deck is relatively slow. In most tests, I couldn't cast anything meaningful before turn five. Not sure if this is an issue in your meta, but it would be in mine.
My advice would be to:
Reduce the average CMC of your card-base. More than half of the cards you're using is CMC4 or more. Here are some nice mill-ideas that have a relatively low CMC (and are also cheap to obtain at vendors): Fractured Sanity, Glimpse the Unthinkable, Memory Erosion, Mind Funeral, Mind Grind, Psychic Corrosion, Sphinx's Tutelage.
Include some more mana sources. Some ideas would include Dark Ritual, Dimir Signet, Realmbreaker, the Invasion Tree, Talisman of Dominance.
Include some more zombie cards instead of most of your current creature base so that you can increase the synergy with regard to Scarab God's primary ability.
Good luck with the build.
2 months ago
Hi, looks good! Lots of similarities between our Phenax decks. Here are some cards I would recommend:
Have fun with the deck!
7 months ago
My suggestions are based on not spending an arm and a leg to make improvements but maybe a finger or toe.
At a quick glance the first comment I have is lands seem a little low. I personally lean towards 36 if the deck isn't mono colored.
I know they are a bit slower but I would suggest using the tri colored lands as you are already using fetches. These lands add some real good color fixing early on and if they do become dead in hand cycle them away. Spara's Headquarters, Zagoth Triome, Indatha Triome and Raffine's Tower. I would replace your lands that reference the opponent count to come in untapped.
A land that goes on theme is Mirrex since it can get you mites as the game drags on. A second land I recommend since your land base is so varied is Field of the Dead, the zombies can add up and are nice little chumps if need be.
With the above changes I would say Crucible of Worlds but if you find sometimes you struggle to have something to play Conduit of Worlds is an extra mana but has the ability to give you the chance to cast something when you might not have anything else to work with.
I would personally go full Praetor and run each variation if possible for the big flavor. The added benefit is each one of them is practically game warping, but be warned it can attract a lot of attention. The newest Vorinclex is probably the odd man out though since he only finds basic forests and Dominaria Sheoldred simply because of price. Added benefits of the new praetors is you can accelrate their saga. Realmbreaker, the Invasion Tree would then make a very nice inclusion if you go that way.
Cards to consider dumping for them from what I can at a first glance are Flesh-Eater Imp, Plague Stinger, Septic Rats and Slaughter Singer. I chose these because I don't feel once they hit the board they are something that people say "this needs to die".
Norn's Choirmaster is a recent card that gives your commander even more of a presence on the board.
On the sorcery since the only card that I don't like the look of is Nature's Lore, sure it is a cheap way to get you your colors especially if you have dual typed lands but if we are upping the land count I would switch it to a Skyshroud Claim since it can find you the same lands but untapped if the land can come in untapped for mana efficiency.
The biggest suggestion on the instant side would be to add Krosan Grip over Infectious Bite. Sure the bite is a form of removal and poison generation but I find having one of the best artifact/enchantment removals is the better option.
I understand the suggestion fromm KongMing as a strong one but I don't think it works the way he intended it Temporal Distortion does put counters on their lands but it removes ALL of them not just one so even if you proliferate it doesn't keep the lands tapped down longer unless you destroy your own enchantment.
Astral Cornucopia is nice with since you can keep building it but getting only one color out of it can be problematic at times. I suggest replacing with a Crystalline Crawler if you are find being a little off theme.
I would find a home for Chromatic Lantern, having one artifact to fix all of your mana problems is very nice especially when in more than two colors.
Overall there are a couple of other cards I would recommend to consider but unsure of an exact home without taking apart every step. Grafted Exoskeleton, Tainted Strike, if you go the praetor route Geth's Summons is a great reanimation spell of you have the corrupted. Yawgmoth's Vile Offering is also a very strong spell for reanimation and removal. Inexorable Tide should probably have a home somewhere, it is a bit high CMC but it gets the job done. As Foretold also helps a lot of mana problems, do keep in mind it can also be used off turns if you have instant speed spells.