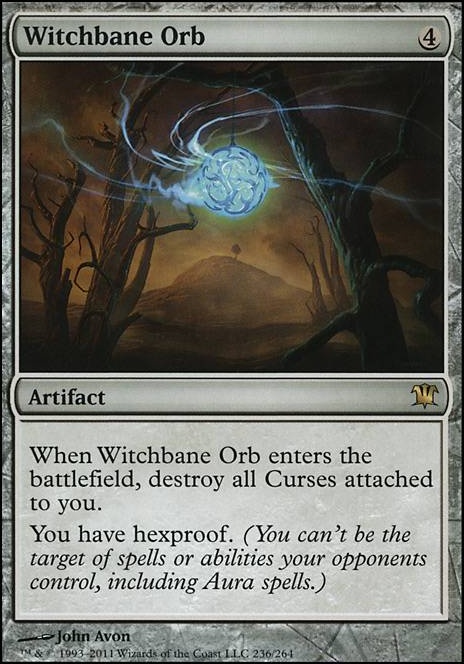 Witchbane Orb
Artifact
When Witchbane Orb enters the battlefield, destroy all Curses attached to you.
You have hexproof. (You can't be the target of spells or abilities your opponents control, including Aura spells.)
Latest Decks as Commander
Witchbane Orb Discussion
1 month ago
Wabbajacke a typical Lanturn control list would look something like this:
So, if you're wanting to keep to just blue and black, and include Circu, Dimir Lobotomist, then I would suggest a list that looks something like this (you'll note the deck can be a lot more tool-boxy than the above because Whir of Invention lets us search for whatever we want, so for example we only need 2 bridges):
3 months ago
Keep going strong, you're almost finished!
Try adding: Volrath's Curse, Witchbane Orb, Curse of the Cabal, Raze the Effigy, Prince of Thralls, Cursed Mirror, Cursecatcher, Burn the Accursed, Demon's Herald, Electric Revelation, Geistwave
7 months ago
I am by no means a group hug expert, but some cards to de-incentivize people from targeting you probably isn't a bad idea. Ghostly Prison, Propaganda , Norn's Annex , maybe even a Witchbane Orb . I think there is also a cycle of enchantments out of the ikoria commanders that makes creatures attack players other than you.
9 months ago
You caught me at a good time.
Rereading my suggestions, some of them are a little higher budget than I remember, so skip over those. Also, I glossed over Thwart the Enemy preventing noncombat damage, but I still suggest taking it out. I'm changing my recommendation there to Riot Control .
The biggest advantage of Leyline of Sanctity is its turn zero play. If you just want 1-2, or plan on pulling it mostly with Mastermind's Acquisition from the sideboard, Witchbane Orb is a pretty safe replacement, especially in three colors with a good chunk of basics.
Batwing Brume can either give you all the time you need to win, or you just spent for a Darkness plus gain 2 life. I'd sideboard it.
How did Rampant Growth end up so expensive? It's had a million prints, it's a Core Set common, and it's been in a ton of Commander sets. Anyway, maybe a couple of those to help you get up to the critical 5-7 mana.
How much difference does the split between Final Parting , Mastermind's Acquisition , and Dark Petition make? Does one get used more than another?
9 months ago
legendofa: Wow, that was fast. Thanks for the comment, these suggestions are great. I'll have to think about which of the cards I'll incorporate, I'll let you know when I have results. Can't wait for more comments.
One question: What do you think about Witchbane Orb instead of Leyline of Sanctity?
1 year ago
Hello, you deck looks really nice. I have some suggestions of cards for you to think about:
First, as mentioned before Leyline of the Void, Anguished Unmaking, Despark are good cards to consider, and I also think you should lose the Lingering Souls for something more useful to you. For the same 3 mana you could drop Phyrexian Arena, Grim Tutor, Crypt Incursion, a third Wrath of God or you could lower your curve and play Surgical Extraction, Extirpate, Smallpox, Inquisition of Kozilek, Castigate, Dark Confidant
Secondly I would like to recommend some artifact and enchantment removal, mostly for sideboard, since you are within the color range of dealing with those easily: Revoke Existence, Fragmentize, Heliod's Intervention, Demystify
Next I have some cards that protect you from Discard and Burn decks: Leyline of Sanctity, Witchbane Orb, Teyo, the Shieldmage or The Wanderer
Lastly, if you're looking for more finishers, I'd also lose Sorin, Grim Nemesis for things like Necromancer's Covenant, Gideon of the Trials or a fourth Fall of the Thran and a Kaya, Orzhov Usurper
Load more