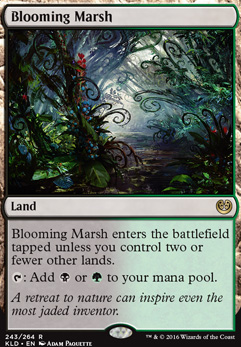 Legality
| | |
| --- | --- |
| Format | Legality |
| Tiny Leaders | Legal |
| 1v1 Commander | Legal |
| Magic Duels | Legal |
| Canadian Highlander | Legal |
| Vintage | Legal |
| Modern | Legal |
| Custom | Legal |
| Leviathan | Legal |
| Legacy | Legal |
| Frontier | Legal |
| Duel Commander | Legal |
| Oathbreaker | Legal |
| Unformat | Legal |
| Casual | Legal |
| Commander / EDH | Legal |
Blooming Marsh
Land
Blooming Marsh enters the battlefield tapped unless you control two or fewer other lands.
: Add or to your mana pool.
Blooming Marsh Discussion
1 month ago
Hey, nice start, well made first version.
I think it's a mistake to play more Forests and Islands than Swamps because you need Swamps more than any other lands to play Zombies. Consider less Forests, less Islands replacing with more Swamps and dual lands? Lands within the deck's budget to consider adding:
Undead Augur and Cryptbreaker are great tribal Zombie cards. I especially like the interaction of these Zombies with Gravecrawler . Cryptbreaker is an engine for Zombie tribal which is busted for a one drop. Carrion Feeder is another one drop Zombie who has good interaction with Gravecrawler and Augur. Plague Belcher has a good Zombie tribal ability. Wonder is powerful when you have discard outlets, good with Island dual lands (Watery, Breeding, Sunken and Fetid). Buried Alive can tutor for Gravecrawler and Wonder and put them into your graveyard. Having another way to tutor for Gravecrawler and other Zombies and get them into the graveyard is helpful to play them with Muldrotha. Deathrite Shaman is not a Zombie, but its a great versatile card in multiplayer Commander. Mystic Remora and Animate Dead are excellent cards to replay with Muldrotha.
Some cards that are within the deck's budget that are upgrades:
---
Cards to consider cutting:
4x Forest
4x Island
Rampant Growth
Murder
Razaketh's Rite
Diabolic Tutor
Gilded Lotus
Liliana, Untouched By Death
Risen Executioner
Soulless One
Curse of the Bloody Tome
Dread Summons
Graf Harvest
Kindred Dominance
Havengul Lich
Noosegraf Mob
Kodama's Reach
Consider cutting Ashnod's Altar , Altar of Dementia and Door of Destinies to clear enough price to add Phyrexian Altar ? Because of having Gravecrawler then Phyrexian Altar is a big upgrade since it can make colored mana which can combo with Gravecrawler and another Zombie. Good luck with your deck.
1 month ago
Hi Kumaisteri
About those of your suggestions. I have been testing Narset, Parter of Veils by cutting Coercive Portal and she has been amazing and is here to stay but I don't know what is right to cut. I have also been testing Treasure Cruise by cutting Tasigur, the Golden Fang because Karakas has been showing its head.
And now to your maybeboard.
Otherwise your deck seems solid more controlling sultai that will win games.
I hope that I answered your question well enough. Also remember that these are just suggestions and not absolute do things and some cards may be better in different meta games.
2 months ago
Flourishing Defenses is too expensive at 5 mana, maybe swap it out for a pair of Hapatra, Vizier of Poisons . Foul Orchard is too slow as it enters the battlefield tapped.
If you're going for a budget deck, either Llanowar Wastes or Woodland Cemetery is great. If you're on an tighter budget, Jungle Hollow 's a bit better than Foul Orchard. If you aren't building a budget deck, Overgrown Tomb and Blooming Marsh are great options. Also four dual lands is a bit small, eight would probably be the minimum.
Diabolic Tutor is pretty expensive at four mana, and so is Harmonize . Most decks in modern can win on turn four, so trying to find your pieces on turn four is not a good way to utilize your turn. There aren't many tutors in modern, so I'd suggest coming up with a plan B in case you don't have the pieces of the combo.
I'd also suggest running some additional removal with some of these cards: Assassin's Trophy , Abrupt Decay , Fatal Push , and Maelstrom Pulse . Doom Blade is a bit risky if your opponent has a ton of black creatures, and if so will be a dead card in your hand.
Victim of Night and Go for the Throat are great removal cards that are not very good in certain situations. If you are in one of those situations, and if you have a sideboard ready, you can swap them out for the necessary cards.
Hand disruption is also key to make nothing disrupts your combo. 1-2 Collective Brutality , Two-Four Inquisition of Kozilek s and a pair of Thoughtseize s makes for a great discard package. In the sideboard you could also run Duress against noncreature-spell-heavy decks.
3 months ago
I agree with you in some sense SynergyBuild but on the other side of things I disagree. Legacy lands I don't think would have too much room for uping on Grove of the Burnwillows type lands without cutting into other utility slots. A more efficient engine for Punishing Fire or less utility? If anything even if it ups the power of the deck I think it atleast offers a chance to think about things rather than a strict power up. Also Kavu Predator would be sick.
Overall I'm torn on this topic. I think all the cycles where only half of the ten color pairs have been released should be followed up with. It was really nice when they finished the fastland cycle like Blooming Marsh in Kaladesh. It's frustrating but also interesting for deck building to not flat out having a Horizon Canopy in every color etc. Also I would love other Flagstones of Trokair to mess around with smallpox. With that said I will end with, when are we getting a Cabal Coffers and Urborg, Tomb of Yawgmoth in 4 other colors? :)
4 months ago
Okay I get the point :) Didn't know you really want to win only through combat damage :P Greaves and Boots also have the benefit of giving haste, which synergizes with the combat plan. Verdurous Gearhulk done lots of work, even in decks that only have +1/+1 theme and no counters. I don't know exactly if there are that many lands in this colors
Llanowar Wastes comes untap, is under 2 bucks i think and can make both colors if needed.
Woodland Cemetery Very often Untapped Dual
Buried Ruin should be cheap too, untapped, can get back a card
Twilight Mire don't know how much $ but kind of untapped that can (95%+) make both colors :) and even make green into blackblack
Blooming Marsh most times tapland but better than Guildgate
Inventors' Fair not sure if it is expensive now, but maybe is. So on the Land side there are really some cards that aren't expensive and better than E-Wilds/ T-Expanse I'm not sure why Cranial Plating is too Voltron, since you want to win through combat damage, you just can insta equip it to other creatures than Glissa, making it really good. I understand that spending much on single cards may not worth it. Thats fine :)
PS: I did read the Sorcerers Wand wrong, it doesn't even allow to ping creatures :( sorry for that
Keep going with making decks! :)
4 months ago
Deck seems like fun!
Here are a few suggestions:
If you are looking to make this deck do its thing more often, I would recommend playing more 1-cost mana creatures like Birds of Paradise . These let you cast your spells a turn earlier which is really good!

Even though I really like Sadistic Sacrament , the fact that it costs 3 black mana and doesn't make a direct impact to the battlefield makes it a little bit awkward.

I would also play more dual lands like the Blooming Marsh you have so that you can have the right colors of mana more often. I see you have a Hissing Quagmire in the side and it would be fine to just have it in the main board in my opinion.

It never hurts to have a full 15-card sideboard, so might as well throw in 3 more random cards to fill it up! If you want ideas on specific options, try putting cards into the sideboard that are really good against some decks but not necessarily very good against others, like ways to exile the graveyard, more ways to destroy enchantments and artifacts, ways to take cards away from your opponent's hand or ways to kill creatures.

Lastly, since there are many different one-of creatures in the deck, a few copies of Chord of Calling can help you get the ones you need when you need them.
Of course, since this is a casual deck, no need to make changes if you don't want to. These changes could help make the deck more powerful though if that is what you are looking for :)
Load more
Blooming Marsh occurrence in decks from the last year
Modern:
All decks: 0.23%
Golgari: 5.32%
Commander / EDH:
All decks: 0.03%
Golgari: 0.52%