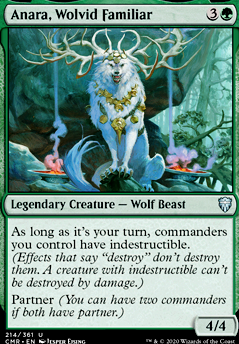 Anara, Wolvid Familiar
Legendary Creature — Wolf Beast
As long as it's your turn, commanders you control have indestructible. (Effects that say "destroy" don't destroy them. A creature with indestructible can't be destroyed by damage.)
Partner (You can have two commanders if both have partner.)
Browse Alters
Legality
| | |
| --- | --- |
| Format | Legality |
| Commander / EDH | Legal |
| Leviathan | Legal |
| 2019-10-04 | Legal |
| Duel Commander | Legal |
| 1v1 Commander | Legal |
| Oathbreaker | Legal |
| Custom | Legal |
| Tiny Leaders | Legal |
| Limited | Legal |
| Casual | Legal |
Anara, Wolvid Familiar Discussion
1 month ago
This issue I see here is the "fizzle". This deck will be explosive for turns 1-3, but then will likely flail spasmodically the rest of the game unless the board is reset. God forbid the group have one or two moderate control decks in the pod. The Rograkh, Son of Rohgahh Voltron Aggro Equipment deck you have here would work best if you splashed with another color or two:
Mono Partners:
Ardenn, Intrepid Archaeologist
Dual Partners:
These outside colors grant more sustainability to your deck, draw, tutoring, power increase for commander damage, and evasion tactics.
Kediss, Emberclaw Familiar is a fantastic card that I also use in my Uril Voltron, but offers nothing more than a 99 slot.