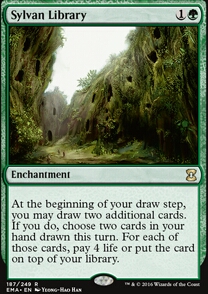 Sylvan Library
Enchantment
At the beginning of your draw step, you may draw two additional cards. If you do, choose two cards in your hand drawn this turn. For each of those cards, pay 4 life or put the card on top of your library.
Latest Decks as Commander
Sylvan Library Discussion
1 day ago
Hey! Kinda late, but I would like to suggest some stuff:
(Disclaimer: I have a budget way lower than yours, but I've been tinkering with Ghired for almost two years - he's my favorite commander. I'll break the suggested upgrades down into categories for better organization.)
Haste enablers:
Ramp: Run at least 15 ramp cards to make your deck flow smoother and faster.
As an aggressive deck, speed is fundamental. Fellwar Stone, Nature's Lore, Three Visits, Skyshroud Elf, Bloom Tender, Faeburrow Elder, Chromatic Lantern, Coalition Relic, Wood Elves, Skyshroud Claim and Mirari's Wake can ramp and heavily fix your mana, taking the place of Gyre Sage, Solemn Simulacrum, Rampant Growth, Sakura-Tribe Elder and Xenagos, the Reveler - the latter is a win-more ramp, and his 2/2 token is not large enough to synergize with the power-based card draw, while the other four fix for a single color of mana (Ghired decks can sometimes be color-hungry), and this deck can't abuse the sad robot for value.

In the land department, Krosan Verge and Blighted Woodland pull their weight, and synergize greatly with Avenger of Zendikar and Rampaging Baloths. Maybe remove Cascading Cataracts? (Your spells are not THAT color hungry.)
Direct damage:
Extra combats: You don't have to worry about your opponents' answers if they never get to their turn, so...
Boardwipes:
Card draw: Alongside ramp, it is my main concern with Ghired. I want to be able to rebuild my board after a boardwipe.
Some cards I suggest you to remove:
Some cool lands for you to try out: (landbase is my favorite part of deckbuilding)
I hope I've been of some help to you. I didn't suggest many token-related cards because I believe that, as long as you have decent ramp, draw and removal in your deck, you can win to your heart's content. Wanna throw in a Godsire? Do it. Prefer to clone your opponents' creatures with Hate Mirage? Go ahead. But the fundamentals of the deck is what makes it flow consistently. Have fun and smash 'em all (and run Doubling Season for extra fun) ;-)
3 days ago
Last_Laugh Actually yes I had been having some card draw issues. I used to have Sylvan Library in the deck, it was originally built with it. I had taken it out since I was theorizing about how much one card was worth to this build for 4 life, and even the benefit of "digging" 2 cards deeper.
But I have other green decks with the library and I have huge results from it. And even if the library might draw me into some cheapy unblockable creature, I have missed being able to dig and draw in the early game for ramp or a colored land I need for Marisi.
I've also had multiple occurrences where I was seriously bummed and slowed down by drawing Worldly Tutor & Enlightened Tutor. These two tutors slow this build down with their inherent card disadvantage and let me search for cards that I'm not even using for big combos.
So in summary, I put Sylvan Library back and took out the 1 drop tutors for Eladamri's.
The deck could use more draw but I also accept the fact that I can Eladamri's or Green Sun's into a Toski, Bearer of Secrets or Ohran Frostfang and in fact I often do. Those two creatures have such a beneficial impact to this unblockable goading build that I have to be picky with the "smaller" draw engines available. Same goes for my Rishkar's Expertise & Return of the Wildspeaker. I'm not a fan at all of traditional red card draw of discard then draw. I'd rather have something more useful to this tempo aggro than that, thus enters the Grenzo and Ragavan. Just my preference.
4 days ago
I would cut Skemfar Shadowsage for Shamanic Revelation - While "winmore," it does provide a substantial amount of draw unlike Skemfar.
I would cut Elfhame Druid for Heart Warden - Unless I missed a kicked spell, I think draw would be preferred.
Sylvan Library - Top deck manipulation and draw in a pinch. I would suggest mox diamond to be cut given your low land count, but I don't know enough about cEDH to seriously recommend that swap. But its worth considering. I notice an above user has recommended it as well.
Heroic Intervention - Given you go wide, is there a particular reason this card is not included or am I missing something?
IS tranquility due to your meta? I usually find artifacts to be much more problematic and commonly encountered than enchantments. I personally like Collector Ouphe, albeit he does "oof" with your own artifacts. Given your primarily use dorks and only 10% of your deck is artifacts, it might be worth considering. Especially if Mox Diamond isn't pulling it's weight in your games.
Why do you run Golgari Findbroker over Eternal Witness? I get that witness isn't an elf, but its cheaper to play, easier to cast, and gives you any card, not just a permanent. Imagine casting E-wit targetting finale of devastation. They destroy e-wit. Cast finale for e-wit, e-wit brings back finale. Not strong, but a fun synergy
I would cut Wellwisher for Devoted Druid/Incubation Druid - Lifegain is rarely relevant, more mana earlier on would be much more helpful.
Beast Within - Maybe this isn't needed because you run black, but I find instant speed permanent removal useful at most points in the game.
Glimpse of Nature - Can storm off if you have enough mana. I'm not sure if this is the best fit for this deck, but thought it worth mentioning given your creature count
Pendelhaven - Simple swap for a forest
Wirewood Lodge - While this probably won't go in due to your landbase setup, thought it was worth mentioning (Ex: Selvala, Priest of Titania, etc...)
Elvish Guidance - I see you dislike aura's, but with arbor elf or even stand-alone, this card has put in work in my elf deck.
Would love to know what you think of each suggestion
1 week ago
If you're looking to speed the deck up, I'd consider adding: Elves of Deep Shadow, Birds of Paradise, Wild Growth, Utopia Sprawl, Boreal Druid, Elvish Pioneer and the all-mighty Deathrite Shaman. For those, I'd look at cutting: Kodama's Reach, Rampant Growth, Elfhame Druid, Farhaven Elf, Jaspera Sentinel, Llanowar Visionary, and Springbloom Druid. Selvala, Heart of the Wilds is an amazing card, just not sure if it belongs here, maybe replace it with Elvish Guidance. There's also always Heritage Druid,
And hey, if you've got a Gaea's Cradle, Crop Rotation is a must (and its slower cousin, Sylvan Scrying, which also makes Nykthos, Shrine to Nyx a good add. More ($$$$) lands to consider would be: Cavern of Souls and Yavimaya Hollow. Other utility lands you might want to check out would be: Emergence Zone, Nurturing Peatland, Castle Garenbrig, and Wirewood Lodge.
If you've got the funds and are looking to get those last few % points in your ramp package, take a look at: Carpet of Flowers and Jeweled Lotus.
For card advantage, yeah I agree that Glimpse of Nature and Oakhame Adversary are good options, along with Sylvan Library, Necropotence, and Dark Confidant if you've got the $$ and looking to get as close to 100% as possible. Regal Force is a non-elf that's essential in elf decks. Some other options would be: Pact of the Serpent and Elvish Visionary. In terms of tutors, definitely consider: Chord of Calling, Eldritch Evolution, and maybe even Woodland Bellower and Fauna Shaman. Decks closer to CEDH would probably include: Vampiric Tutor, Diabolic Intent, and Survival of the Fittest. Also, Eternal Witness might be too good to not include, along with Noxious Revival. Patriarch's Bidding is a cheaper Haunting Voyage.
Card advantage cards you could consider cutting would be: Twinblade Assassins and Silhana Wayfinder.
In terms of removal, I think you'd want: Assassin's Trophy, Abrupt Decay, Nature's Claim and/or Force of Vigor, and Deadly Rollick. I also like Golgari Charm in more casual metas.
For elf synergy, along with Elvish Champion, I'd take a look at: Ezuri, Renegade Leader, Immaculate Magistrate
For utility, consider: Autumn's Veil, Veil of Summer, Vitalize, and the non-elves Scryb Ranger and Temur Sabertooth. Concordant Crossroads seems really good with Lathril too.
Hope this helps! Happy brewing
1 week ago
Very nice, +1 from me. If I wasn't already running mono green elf ball and attempting a Golgari lands deck I would definitely build around this commander. Feel free to take a look at my own elf deck on my page if you're looking for some more inspiration.
Some suggestions if I may, feel free to take em or leave em: Glimpse of Nature / Guardian Project / Oakhame Adversary / Dark Confidant / Ohran Frostfang / Necropotence / Sylvan Library would all be excellent draw options in a deck like this and hopefully wouldn't slow you down too much. Highly recommend the last two since you'll most likely have the life for it.
Genesis Wave can be very powerful in the right deck. You might have too many instants/ sorceries for this to be viable, but it looks like you'd be able to generate plenty of mana to get some value out of it.
Elvish Champion would help get damage through and would pair nicely with your Yavimaya, Cradle of Growth.
Cover of Darkness would do much the same as Elvish Champion
Stoneforge Masterwork would be a huge pump for Lathril, Blade of the Elves and give you a burst of tokens.
Urza's Saga something that I've been working into almost all my decks since it tutors for fast mana or things like Stoneforge Masterwork / Skullclamp. Could speed up the deck quite a bit.
Not sure how you feel about infinites, but it looks like you're already running some infinite mana combos? For some additional infinite mana combos you could add Staff of Domination / Sword of the Paruns. Again my own elf deck would be a great resource for this since there's close to 100 different infinite mana combos in the deck.
Anyway, hope this helps. Cheers.
2 weeks ago
How has you card draw suite panned out for you? I'm counting 7 sources, 2 of which are pseudo draw from your opponents libraries. I personally try to hit 10-12 draw sources (preferably repeatable) in all of my decks unless I have someone like Tymna in the Command zone.
A few I run that you don't include Sylvan Library, Welcoming Vampire, Jared Carthalion, True Heir, and Lifecrafter's Bestiary. The Great Henge is another I'd suggest but haven't tried because I don't own one.
2 weeks ago
@DemonDragonJ - Teferi's Protection, Academy Rector, Consecrated Sphinx, Deadeye Navigator, Temur Sabertooth, Elesh Norn, Grand Cenobite, Survival of the Fittest, Food Chain, Cloudstone Curio, Ashnod's Altar, Phyrexian Altar, Seedborn Muse, Loyal Retainers, Mikaeus, the Unhallowed, Palinchron, Force of Will, Mana Drain, Cavern of Souls, Nykthos, Shrine to Nyx, Grave Pact, Dictate of Erebos, Sylvan Library, Fierce Guardianship, etc. etc. etc.
3 weeks ago
Hi,
This is a very likeable deck, but I have a few questions:
How is it keeping up with the decks in your play-group, in terms of speed? My playgroup is very fond of casting cheap card-draw resources early in the game. I've noticed that your deck has a lot of ramp options and some mana-dorks, but very little in terms of early draw resources like Mystic Remora, Sylvan Library, Rhystic Study, etc. Just wondering whether this is ever an issue for you.
The deck includes almost no protection for Jodah. I'm not sure how instrumental he is to you in obtaining victory (your deck does have abundant mana resources and ramping options), but in my playgroup he usually doesn't get to live very long for one stretch at a time. Just interested to hear what your thoughts are on this.
How do you feel about adding Ramos, Dragon Engine into this deck? His activated ability pairs so well with Jodah's passive.
Hope to see you post more builds like these. Thanks.
Regards,
NV_1980
Load more