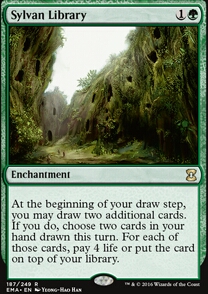 Sylvan Library
Enchantment
At the beginning of your draw step, you may draw two additional cards. If you do, choose two cards in your hand drawn this turn. For each of those cards, pay 4 life or put the card on top of your library.
Browse Alters
View at Gatherer
Trade
Legality
| | |
| --- | --- |
| Format | Legality |
| Duel Commander | Legal |
| Oathbreaker | Legal |
| Custom | Legal |
| Legacy | Legal |
| Casual | Legal |
| Commander / EDH | Legal |
| Unformat | Legal |
| Canadian Highlander | Legal |
| 2019-10-04 | Legal |
| Oldschool 93/94 | Legal |
| Vintage | Legal |
| Limited | Legal |
| Highlander | Legal |
| Leviathan | Legal |
| 1v1 Commander | Legal |
| Tiny Leaders | Legal |
Latest Decks as Commander
Sylvan Library Discussion
1 day ago
There are other cuts to consider as well, but I feel these are the more noteworthy ones....
Ashaya, Soul of the Wild - No direct synergy with Xenagos, you want a beater with evasion or protection
Beast Whisperer - Better in decks that are lower to the ground that can better use it's ability
Brash Taunter - "No synergy with Xenagos"
God-Eternal Rhonas - Better in decks that go wide, this gets easily chump blocked. You rarely have more than 1 creature out at a time
Klothys, God of Destiny - "No synergy with Xenagos"
Leyline Tyrant - Better in red decks, while not recomending it, glorybringer would be better IMO as it acts as removal as well
Phylath, World Sculptor - No synergy with....
Ulamog, the Ceaseless Hunger - Not enough ramp to hard cast, no cheating effects (which wont even give you a cast trigger)
Ulamog, the Infinite Gyre - See above
Shadowspear - Meta call? Better to have creatures with trample or more ramp and card draw in this slow
Triumph of the Hordes - Hit or miss. Playing a beater, hoping it survives, casting this next turn and hoping they dont have removal. Ignoring the feelbad of infect
Berserkers' Onslaught - Winmore
Vernal Bloom - Symmetrical ramp which you can't even take full advantage of
Nissa, Who Shakes the World - This is ok, I like the vigilance and getting essentially a 6/6. Rather have something more impactful.
Atarka, World Render - Beater with evasion
Balefire Dragon - Beater with evasion that also destroys decks that go wide
Carnage Tyrant - Beater with protection, evasion and anti-blue. Nice to use a mass draw spell knowing they can't remove the creature in response
Etali, Primal Storm - Not needed, but fun! Lots of value, doesn't require combat damage
Farhaven Elf - Ramp for T4 Xenagos
Fierce Empath - Tutor
Inferno Titan - Removal
Kogla, the Titan Ape - Removal
Malignus - GG target player
Savage Ventmaw - Beater with evasion and helps build tempo
Scourge of the Throne - Destroy people's lifetotal
Shaman of Forgotten Ways - Ramp and potential wincon
Siege Behemoth - Beater with evasion
Somberwald Sage - Ramp
Springbloom Druid - Ramp for T4 Xenagos
Yavimaya Hollow - Protection
Turntimber, Serpentine Wood - Land when you need it, beater when you don't
Dread Statuary - Manland to be used as potential beater or for draw spell
Rishkar's Expertise - Draw + Tempo. Powerful!
Life's Legacy - Draw
Momentous Fall - Similar to above, to be used in response to removal
Berserk - Use on selvala, malignus or even an opposing creature attacking one of your opponents!
Sylvan Library - Nice but not needed
1 day ago
Lowering the curve is definitely a good idea. Usually, this comes at a cost of how much the creatures do on their own. However, some of the cards you mention are quite good.
Mire Triton is a great, cheap Deathtouch creature that both provides defense as well as filling up the graveyard. In the early game, players usually only need a very tiny reason to not attack you to direct their aggression elsewhere. An argument to not run it would be that it only has one keyword itself, but it's additional utility makes it a decent inclusion.
Nullpriest of Oblivion is a card I haven't gotten to experiment much with yet, but it seems really good. Menace is indeed rare, especially in combination with other keywords. It may be added in the future simply on the back of having Menace. It also providing a decent mana sink in the late game is nothing to scoff at either.
When it comes to Winding Constrictor, I think theres some merit in considering it. It has some really nice synergy with Kathril, seeing at it increases the number of both keyword counters and +1/+1 counters. Conclave Mentor, on the other hand, I think do too little to warrant a place in the deck. On its own, it has no keyword abilities and simply increase the number of +1/+1 counters by one.
Danitha Capashen, Paragon provides great value for the cost. I second the decision to swap out Aerial Responder for her. Flying is the most common keyword, at least in my list.
Regarding my land count, 34 is definitely pushing it, and I should probably be running at least 35. That being said, I have yet to be properly mana screwed with this version. I run about 15 ramp- and card draw spells, so my mana usually smoothes out. Running 37 lands, like you are, is not a bad idea at all. If you find yourself often shifting between getting flooded and screwed, may I ask what ramp and card draw you're running?
Cards like Sylvan Library, Underrealm Lich, Doom Whisperer and Phyrexian Arena are all great for slowly accruing value. Library, Lich and Whisperer are particularly great because they let you look at cards ahead of time and arrange your deck after what you need. I don't know your budget though. Many of the best card draw and filtering spells are expensive, but there are some budget options too, like Lifecrafter's Bestiary, Crystal Ball and Read the Bones. :)
1 week ago
I have been doing some more thinking about Explore. Could Explore be Dryad of the Ilysian Grove? It gets you another land drop every turn and as a small bonus turns on every land in the deck for Earthcraft.
Growth Spiral seems too limited. It could be a continuous and much better draw effect with Sylvan Library. Three Visits is a better ramp spell. I can get another major combat buff in Shared Animosity. Or another piece of interaction in the form of Mana Drain or Swan Song could be added.
I count 27 spells which produce mana. This is not counting Pir's Whim but is counting Uro, Titan of Nature's Wrath, Thieving Skydiver, Sword of Feast and Famine, Explore and Growth Spiral. The decks plays 39 lands which seems high given the massive amount of mana this deck can produce. Has there been any thought to cutting down to 37 or 38 lands?
Counting the interaction in this deck is a little tricky. Let me ask this. How often does Thieving Skydiver steal a mana artifact as opposed to a stax or hate bear artifact?
Including Thieving Skydiver, Sword of Feast and Famine, and Commit / Memory I count 12 interaction spells. Has this been sufficient? Could an argument be made to cut one of the mana generating spells for something like Force of Vigor. Let's say Explore and Growth Spiral had already been cut. What is your worse mana producing spells left?
What wheel gets cut for Timetwister?
Has Pir's Whim been an effective removal spell? I assume you only choose yourself as friend.
1 week ago
So, here are my thoughts about the deck:
Manawise, your landbase should rather consist of lands that come into play untapped. It's important to have your mana available asap. I would suggest replacing karoo lands like Orzhov Basilica and also Opulent Palace with battlelands like Sea of Clouds and painlands Adarkar Wastes. The storage lands are also not ideal (e.g. Dreadship Reef), because they do not provide colored mana at start. And of course the more fetchlands you can add the better, missing Scalding Tarn, Arid Mesa, Verdant Catacombs, Windswept Heath, Wooded Foothills, Flooded Strand, Bloodstained Mire.
I would suggest you to cut even the three remaining creatures and add additional card advantage and lock pieces. Im missing Sylvan Library, Rhystic Study and Mystic Remora... all important ways to get extra cards.
Since your main wincon is the Consultation combos, I suggest you definitely run Thassa's Oracle as a main, cheap combo piece.
Lightning Greaves, boots and Helm are not necessary, since protecting Atraxa should not be such a priority to warrant extra cards for it. Also Mana Tithe, Mana Leak and Opt are not that relevant in a multiplayer format. I would advise to replace them with general, cheap countermagic, for better utility. Dovin's Veto, Delay, Swan Song, Tale's End can serve both to protect your cards and your combo, but also disrupt your opponents from winning.
From cheap, but relevant planeswalkers (besides Oko ofc), I would add Vraska, Golgari Queen and Kaya, Ghost Assassin. They generate a lot of card advantage over time.
Also with the amount of manarocks, you could play Winter Orb to stall and buy bit more time for your 'walkers.
3 weeks ago
At first glance here are some recommendations I have that would fit right in: Avenger of Zendikar, Dryad of the Ilysian Grove, Dockside Extortionist, Parcelbeast, Purphoros, God of the Forge, Risen Reef, Tireless Tracker, Sakashima the Impostor, Spark Double, Wayward Swordtooth, Burgeoning, Sylvan Library, Valakut Exploration, Finale of Devastation, Finale of Revelation, Farseek, Nature's Lore, Amulet of Vigor, Ketria Triome, Raugrin Triome, Oboro, Palace in the Clouds a few bounce lands such as Gruul Turf, Selesnya Sanctuary, Simic Growth Chamber. I also would agree with DemMeowsephs and multimedia. Fetch lands and shock lands are crucial to have in this build, as well as having the tutors that have been recommended.
I feel like you are very light on draw, so a lot of my recommendations point to that. Mutate Parcelbeast on Scute Swarm with Risen Reef in play = insane draw. Play more land cards are always great to have in landfall decks. I didn't suggest this, but you could add a sub theme of flicker effects to abuse Omnath, Locus of Creation landfall triggers. Clone cards that can copy Omnath and ignore legendary rule to use as a triggered ability doubler can have overwhelming results.
If I can provide anymore assistance, feel free to let me know. Good luck with your brew!
Load more