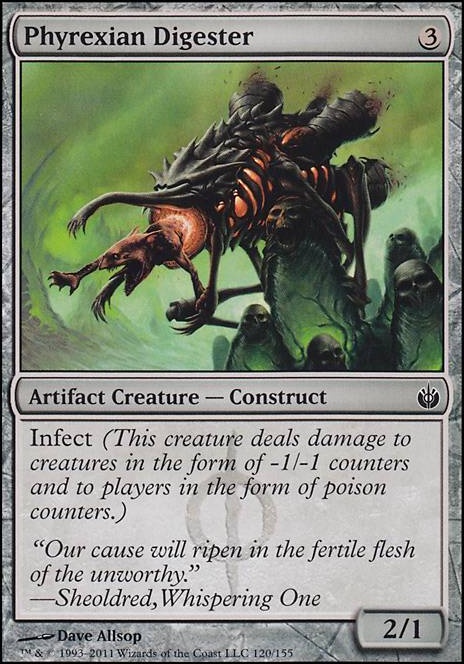 Phyrexian Digester
Artifact Creature — Phyrexian Construct
Infect
Latest Decks as Commander
Phyrexian Digester Discussion
3 years ago
OK, consider the following changes. Obviously you'll need to consider the budget you want to keep with this deck. I'm looking at options to bring up the kill speed for this deck. If you really want to hit hard and hit fast, then you need not worry about you own life total early in the game. I know what you're going for in this deck and I think you should look at this dekc from a different perspective. I'm not talking about play styles. I'm working with your aggressive beatdown style. I'm talking about shifting strategies in mid-game. In the early game you go all-out and hit as hard and fast as possible. Get the kill by turn 4 or 5. Once you've taken out the primary threat, you shift strategies. Change your approach and work on recovery and defense, shift to a midrange gameplay.

Ditch that crappy Putrefax. The "sacrifice at the end step" is too much of a hinderance for 5 mana. It it were cheaper, maybe, but nope it is just crap.
I really like Elesh Norn, Grand Cenobite but the mana cost is too high for the early game. Not sure on this one.
I also think you should reconsider keeping the Lost Leonin since he's cheap and hits the field early. He's also a great pump target.

Better infect creatures:
Contagious Nim
Cystbearer
Ichorclaw Myr
Mycosynth Fiend
Necropede
Phyrexian Digester
Relic Putrescence - screw your mana rock.
Skithiryx, the Blight Dragon
Whispering Specter

Pump for the kill:
Invigorate - Because we don't care what their life total is.
Tainted Strike - Surprise!
Snake Cult Initiation - 3 poison counters at once.
Glistening Oil
Giant Growth, Mutagenic Growth, Titanic Growth, Might of Old Krosa - The classic pump tactic.

Let's consider toolbox utility cards:
Azorius Guildmage - Because screw your activated ability. Counter a planeswalker ability and watch the looks on their face.
Simic Guildmage - Imagine moving the Rancor or Phyresis after blockers have been declared but before the damage phase.
Prowling Serpopard - Nope, I'm gonna get my creatures.
Melira, Sylvok Outcast - Make the game one-sided.
Lightning Greaves - An additional set of Swiftfoot Boots. Yeah, I know shroud means that you can't pump, but there are ways around that.
Unburial Rites - Here it comes again.
Virulent Wound - Poison and removal.
Pistus Strike - Poison and removal.

There are some -1/-1 counters decks based around Hapatra or Atraxa. Since the infect creatures deal combat damage as whither, we can use that to our advantage.
Hapatra, Vizier of Poisons - Put those -1 counters on opponent's creatures to work making tokens.
Phyrexian Hydra - This gets just stupid with Hapatra, Vizier of Poisons.

Lands you may have missed:
I know we've talked about this in the past, but I think you should really consider getting the shock lands. A quick check of the card prices on TCGPlayer puts the shocks at about @10-15 each. Totally worth it.
Gavony Township - Proliferate!
Vault of the Archangel - Need to stay in the game a bit longer.
Boseiju, Who Shelters All - Screw your counterspell.

3 years ago
I was just wondering what purpose Raven Guild Master serves. Is it a mill strategy? Because when I compare this card to something like Phyrexian Digester, it seems like digester puts an opponent on a 5 turn clock to infect. To mill someone out, guild master would almost certainly take a couple turns longer. What purpose does he serve? It's a cool card that I'd like to run, it's just hard for me to justify the slot over a different card. Really liking the deck so far!
4 years ago
First thing, your deck is in standard, but you're not playing standard legal cards. I assume you meant modern? You should change it.
your deck has some really expensive cards for an infect deck. Black gets access to a few proliferate cards.
Replace Spread the Sickness with 4x Grim Affliction. You put on the counter, then proliferate, killing anything with toughness 2 or less for 3 mana. The prolif effect is cheaper, and thus faster. Since you're playing mono-black, which doesn't have access to the same type of pump, you want more prolif. Also, if one of your infect creatures gets blocked, you can prolif the counters on what they blocked. I think 99% of the time it's a better card. Replace the Phyrexian Digester and the Guardians of Meletis with Core Prowler. It's another infect creature, and if it dies, then you get to prolif. Replace the Blackcleave Goblins with 2 more Ichor Rats, since they have a better etb trigger. Replace the Dark Favor and Deviant Glee with 4x Unholy Strength. 1 for 2 on 4 cards is better than one card being 2 for 3, and 3 cards at 1 for 2. Unholy Strength is also cheaper in dollar amounts.
Finally, remove the Virulent Wound for 2x Throne of Geth (2 mana to add a poison counter), and 2x Hand of the Praetors.
Even more finally, replace Untamed Hunger with Snake Cult Initiation. Use the Snake Cult on a flier since it stacks with infect. Yeah. Okay. Make the changes and I'll help you again after.
5 years ago
I love the idea of mono black infect, but i think you might want the rest of the black infectors haha Vector Asp , Plague Stinger , Phyrexian Crusader , Plague Myr , Ichorclaw Myr , Blackcleave Goblin , Flensermite , Septic Rats , and Phyrexian Digester are all pretty sweet in the early game. Necropede is both an infector and removal
your big finishers are cards like Skithiryx, the Blight Dragon , Reaper of Sheoldred , and Phyrexian Juggernaut
Plus theres some ways to give your non infectors infect with cards like Phyresis , Tainted Strike , and Grafted Exoskeleton
Virulent Wound is pretty great early removal and a free poison counter if the creature dies Spread the Sickness is a bit expensive, but proliferating is pretty damn good Relic Putrescence is actually hilarious in commander, especially if you hit like their Sol Ring or something
but yeah, hope you continue with the noble path of infecting people
5 years ago
Hello again, I would take out Phyrexian Digester, Silver Myr, and Iron Myr because you have a very low curve and phyrexian ingestor doesn't really do much. Inexorable Tide is a good proliferate card. I would also take out some of the diamonds if you need more space because they are probably uneeded ramp. Any unblockable or double strike you can get would be worth putting in here to make the poison counters increase faster. Also if you need more proliferate Contagion Clasp and Contagion Engine are good and provide some removal.