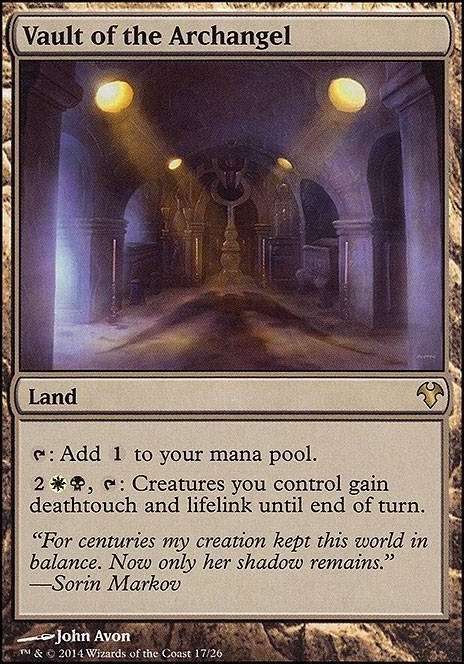 Vault of the Archangel
Land
: Add to your mana pool.
, : Creatures you control gain deathtouch and lifelink until end of turn.
Browse Alters
View at Gatherer
Trade
Legality
| | |
| --- | --- |
| Format | Legality |
| Block Constructed | Legal |
| Duel Commander | Legal |
| Penny Dreadful | Legal |
| Vintage | Legal |
| Casual | Legal |
| Highlander | Legal |
| 1v1 Commander | Legal |
| Canadian Highlander | Legal |
| Modern | Legal |
| Oathbreaker | Legal |
| 2019-10-04 | Legal |
| Unformat | Legal |
| Magic Duels | Legal |
| Noble | Legal |
| Commander / EDH | Legal |
| Legacy | Legal |
| Tiny Leaders | Legal |
| Leviathan | Legal |
Vault of the Archangel occurrence in decks from the last year
Commander / EDH:
All decks: 0.04%
WB (Orzhov): 0.97%
RBW (Mardu): 0.5%
Vault of the Archangel Discussion
1 month ago
Dear Kronhamilton
Golos, Tireless Pilgrim is my favorite commander, and I've been brewing around him ever since he was teased. Let me just say you've chosen an excellent commander.
(I've written quite a lot in an attempt to make a sort of guide for you, so if you want the short version, check out the Suggestions panel)
Golos can be tricky to build around since he can do literally anything pretty well. The easiest way to make an effective Golos deck is to lean into Golos's 7 Mana Rainbow Wheel Of Death. Before getting into that though, we need to cover some EDH deckbuilding basics.
I think the most useful advice I can give someone who is just beginning to explore the deck-building territory of EDH is to structure your deck and mind your Ratios. By this I mean it is useful to categorize the cards in your deck according to the role they fulfill.
We'll begin by looking at some core categories that you'll want to make your deck function effectively. Then I'll present the Ratios (how many of each category of card) you will want to make a generic Golos deck function effectively. Next, I'll include a detailed (but not totally complete, because I'd be here all day) catalogue of cards within some of those categories. I'll also offer up some suggestions and input about some of your specific card choices. Lastly, since I'm about to unpack a lot of information, I will include a brief list of suggestions (see the bottom) for a generically good Golos 'Shell' that should be able to support most Golos strategies.
Categories
Draw

Ramp

Removal

Sweepers

Threats

Support

Land
The art of Ratios is all about determining what combination of cards from each category makes your deck run the most smoothly.
Please note that these Ratios will not total to 99 cards. This is because you will invariably have extra flexibility to choose how your deck behaves even after establishing functional Ratios. Also keep in mind that although these Ratios do recommend you adhere to the minimum number of cards in each category, you still can choose which cards will fill those slots. The point is not to restrict your options, but instead to create a 'Shell' that is reliable enough to power your Threats cards, Support cards, and other cards. Whatever you do, make sure you have at least the minimum number of Draw and Ramp cards. THE MOST IMPORTANT CARDS IN THE DECK ARE DRAW AND RAMP!!!
While I ultimately suggest Ratios resembling the Basic Golos Shell, I will lay out the Ratios for several different Shells;
Template: a sort of baseline beginner's guide which is commonly promoted as a place to start.

Basic Golos: a modified version of the Template that suites most Golos decks.

Control: a version tailored for a slower game with many Sweepers.

Aggro: a version designed to act quickly and deploy Threats before the opponents are prepared.

Big Mana: a version invested heavily into Ramp with the goal of deploying many end-game Threats.

Mega Mana: an even more extreme version of Big Mana with extremely expensive Threats.
Please remember that any suggestions I make are because I am trying to help. Ultimately, the choices you make with your deck are up to you, and I can only provide constructive criticism based on my own experience and opinions.
Good luck :)
Ratio Fixing
The most effective change to your deck would probably be adjusting the Ratios, especially with regard to your Draw cards. Applying the most basic Template Shell, you want to have at least these three quantities nailed down for a smoother and reasonably powerful deck;
Lands – 36 --> You have 40 Lands (Cut 4 Lands)

Ramp – 10 --> You have 5 true Ramp cards (Add 5 to 8 Ramp cards)

Draw – 10 --> You have 3 true Draw cards (Add 7 to 10 Draw cards)
Ramp & Draw Additions Show
What I counted in your deck Show
Mutate
Depending on how strong your Mutate subtheme is, some of your Mutate inclusions may act as engines. However, I must state that Mutate is a VERY risky and even fragile strategy since your Mutate 'Pile' of creatures will all be destroyed at once if your opponent uses a Removal spell or a Sweeper. For that reason, I recommend leaning out of the Mutate theme (unless the Mutate card is just straight-up insane, as in the example of Nethroi, Apex of Death).
With that said, playing a Mutate theme is your decision and I totally respect that and if you want to stick to a Mutate theme then by all means do so. I just want to be sure you know that Mutate is a risky strategy that you cannot depend on to fulfill your Ramp and Draw slots (so you'll just need to supplement it with other cards).
Cut or Include?
At a glance your deck seems like something you have created using just your collection – and that's great! However, if you want to incrementally upgrade your deck, then I recommend replacing most of the cards in your deck with more powerful options over time.
Here is a list of cards you should probably keep playing: - Barrier Breach (Removal, because exiling 3 enchantments is helpful in some situations)
In my opinion, there are other, better options for all of the other nonland cards in the deck, however it is up to you to decide on how you would like to proceed so I won't intrude.
I strongly recommend cutting the Planeswalkers though – Calix, Destiny's Hand doesn't seem to synergize much with the deck and I feel that Lukka, Coppercoat Outcast is not very potent.
Lands
Just as a recommendation, I would suggest the following spread of Basic Lands;
8 Basic Forests

3 of each other Basic Land
The remainder of your lands could be either more basics (which is really, really, risky if you don't have tons of Ramp – think like 15 Ramp cards and about 12 Basic Forests) or Color Fixing Lands (see the Catalogue for more options). It is rough to have your lands enter the battlefield tapped, but unless you want to either lean into Green or spend a lot of money on lands, you will just have to live with it (I play around 5-10 tapped lands in a normal Golos deck and it isn't really that bad).
In this section, I will list out an example of the Basic Golos Shell complete with the necessary Ratios and some examples of good/fun cards in each category. I'll try to keep it relatively Budget sensitive and most of these cards will be relatively random – this won't be based on any particular theme so don't expect it to be optimal.
As a reminder:
The Shell
Ramp – 12
Draw – 13
Removal – 7
Sweepers – 2
Threats – 12
Support – 7
Land – 36
Good Luck :)
-Slashdotdash
2 months ago
Vault of the Archangel would be a good add if you plan to go wide. For planeswalkers, the B/W Sorins are usually a good fit for token decks, just pick what you feel is fit. Additional sac engines are usually good for Teysa such as Phyrexian Altar and Ashnod's Altar it gives you free sacs with mana which just snowballs out of control especially with a skullclamp or a pitiless plunderer out. If you want further removal, Dictate of Erebos is a must for a deck like this. Martyr's Bond is a bit expensive to cast but has an overall better effect. If you really want to focus on "death" triggers, add more zulaport-like cards such as Blood Artist, Falkenrath Noble, Vindictive Vampire. Divinity of Pride seems out of place and doesn't really do the deck any good. You're deck will be too slow and inconsistent you need to up your mana rocks to around 8-12 to ensure to at least draw it in your opening hand or to at least have two in the early game asap to get you going. I also see no early draw engine or draw cards so maybe you could try cards such as Altar's Reap for cheap draw and sac trigger in one.
2 months ago
I love creatures that can ping for damage, and the only thing that makes them better is giving them deathtouch so that damage is lethal.
Archetype of Finality is a bit costly, but it does remove deathtouch from your opponents' creatures which can be handy.
Ankle Shanker isn't as great, but at least it shouldn't die since you can clear all the blockers.
Death Pits of Rath can definitely backfire, but it can also cause a lot of havoc depending on the board state and what you're facing.
Shriveling Rot is just amazing. You either get deathtouch, have it and now make your opponents lose life, or entwine for both.
Vault of the Archangel is nice since it's a land and harder to get rid of. IT also gives you lifelink which can be handy (though, you won't be gaining that much life).
Vraska, Scheming Gorgon

is a good way to get ganged up on. If you ever use the ult, enjoy the win, but it's also a sure fire way to make everyone target you.
4 months ago
If you decide to go with Atraxa, Praetors' Voice

, you could add Wanderer's Strike, Huatli's Raptor, Priests of Norn, and Valor.
It would also give you access to Gavony Township, True Conviction, and Vault of the Archangel.
4 months ago
Most of this you already realize but figured a reminder/ card ideas might be helpful.
You need more lands. With the CMC and goal of the deck at a minimum it should be running 36 lands, assuming you have a strong ramp package. So I would suggest 2 more lands at a minimum to better the odds of drawing land especially early game. Most likely plains with the amount of white cmc costs you have.
I am going to guess without running any fetch lands, and or shuffle effects that your probably going to have a problem with seeing your basic mountains and swamps most games if you do not get Sword of the Animist out early. Just something to think about if you have color fixing issues early game while play testing.
Also might want to take a look at your ramp package. You are running roughly 6 pieces of ramp which is not bad but adding some more will help the consistency and speed of the deck as well as hopefully patching any color fixing issues early game, and provide much needed mana to both play creatures and equip them in the same turn in case the commander is not out (which will probably be often depending on your play group). The deck wants to be closer to 8 or 9 pieces of ramp especially when running 36 lands.
I would suggest the Talisman of Conviction and Talisman of Hierarchy as well as a Chromatic Lantern.
Next card draw is going to be important especially when your commander costs too much or you need to recover from a board wipe. Around 10 draw spells should keep your hand full most of the time.
I would suggest Syphon Mind, Altar's Reap, Read the Bones, Night's Whisper, Succumb to Temptation, and Mask of Memory which are all good calls but loot effects (Basically all red draw spells) and wheels (I.E. Magus of the Wheel) are not bad choices either. Just definitely add more card draw than what you are running currently.
While lands and ramp are usually first to go when making room for "better" cards it is a fine balance between having a bunch of badass cards and having enough mana to play them, or card draw to keep refilling your hand mid to late game after a wraith or 2. Just making the changes I mentioned above will do wonders for how smooth your decks game experience is overall.
Some cards to pull-
Cathars' Crusade- Not running enough cratures or token producers to really trigger it. Plus anthem effects (Benalish Marshal) and Lords (Inspiring Veteran) will be more than enough to pump your creatures, and they also make good targets for some of your equipment helping the Knights tribal with equipment sub-theme the deck is looking for.
True Conviction- More expensive Vault of the Archangel, not bad redundancy but not worth the CMC.
Nahiri, the Lithomancer- Good card in most equip decks. But she makes soldier tokens losing the main theme and there are cheaper options for her neg ability.
Blackblade Reforged- A great card...for a green deck. It relies on Sword of the Animist too much but can work. Usually though not worth the slot.
Sword of Vengeance- Great for voltron but it costs a total of 6 to cast and equip the same turn. There are better equipment out there that cost a total of 3 mana to cast and equip, (Mask of Memory) letting the deck play a creature and the equipment in the same turn helping with early game as well as speeding up board state recovery after a board wipe.
Loxodon Warhammer- Same as above
These are just a few ideas from looking over your current list. I actually built a Syr Gyn deck yesterday out of the brawl precon and cards I already owned. I was going for a midish tier power level (Can hold it's own with precons and slightly tuned decks) so to finally have a deck for each power level roughly. (Jank/theme power level all the way to CEDH level Basically 1-10) After play testing it for about 6 or so games last night I have made some changes and think the deck is in a decent spot. Once the cards come in I will play test it some more but I think the majority of the deck is set now. Here is the updated list I am running.
Don't Mind the Title this is my play test list
I went a Knight theme with an equip sub theme as well. Basically I wanted my creatures to be fairly cheap, (Mainly 2 Drop) with the higher CMC curve holding game finishers/ best value cards, as well as my equipment to be cheap CMC wise to allow me to cast both a creature and equip it on the same turn without relying on outside cost reduction effects, such as the commanders free equip cost. The deck runs 18 creatures too 12 Equipment but I think the ratio might be off. Probably would run better at 17/13 but need to test out the 18/12 ratio first. As such most of the cards cost 2-3 CMC for a better early game and recovery mid game. IT runs one alternate wincon cause games at this power level tend to drag out at times, and all the card draw helps with that wincon as well. The Knights all have keyword abilities of their own to augment equipment or they provide pump or other strong utility. The deck can switch between full voltron if need be to kill one player or if board wipes are heavy, and going wide while equipping multiple knights to ensure different combat triggers and varied play/strategy.
Feel free to let me know if you have any questions about my deck list or the cards I suggested. Deck building for EDH can be like trying to swim in the deep end of the pool, especially at higher power levels. Hope this helped and gave you some ideas. I would say it gets easier but it never does. LOL
5 months ago
Liliana of the Dark Realms is really not worth the slot in a deck with only seven basic Swamps. You'd be better off with something that actually ramps you, like Kor Cartographer, or something that can fetch nonbasics, like Expedition Map.
In general, I think the land count should be higher anyway so that your Dakkon has a better chance of getting bigger than 6/6 or 7/7 (which isn't that impressive on an otherwise vanilla creature). Korlash, Heir to Blackblade is mediocre in Commander and terrible in this deck due to your relatively low Swamp count. I'd cut it and some of your lower-impact land fetchers (e.g., Traveler's Amulet) for more lands, perhaps utility lands like Vault of the Archangel and Homeward Path or multicolored lands like the scry lands from Theros block.
8 months ago
You can swap Voltaic Key out for Manifold Key . The only benefit theat voltaic gives is that it can target itself (for stuff like Rings of Brighthearth ). Manifold can give you an unblockable beater in a pinch.
I have also found that Vault of the Archangel is decnet as well. Granted you don't have a high creature count however stuff like Saheeli can abuse it. You could also consider Retrofitter Foundry - it's just good value.
Load more