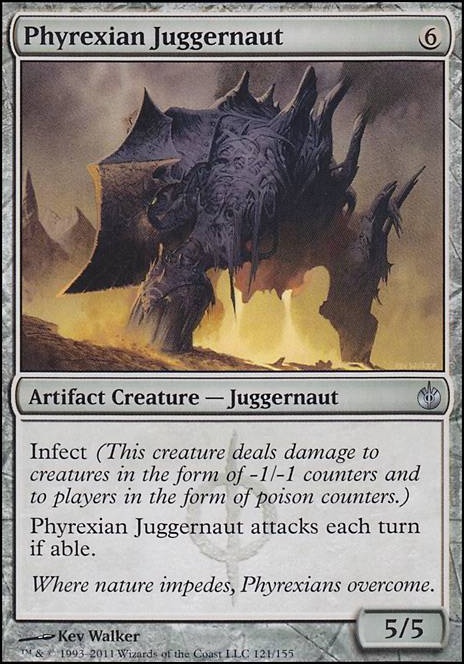 Phyrexian Juggernaut
Artifact Creature — Juggernaut
Infect (This creature deals damage to creatures in the form of -1/-1 counters and to players in the form of poison counters.) Phyrexian Juggernaut attacks each turn if able.
Latest Decks as Commander
Phyrexian Juggernaut Discussion
4 months ago
THE SHOW BUTTON DOESN'T WORK OMG HERE IT IS TYPED OUT LIKE A LOSER.
Budget -2 Plains +2 Forest +1 Gemstone Mine -1 Temple of Silence -1 Zagoth Crystal +1 Astral Cornucopia -1 Gyre Sage +1 Fynn, the Fangbearer -1 (3 total) more Plains for a Blight Mamba . I think we are good w/ 38 lands.
Non-Budget Not sure what to cut in this section, but if yo' wallet is feelin' like a pimp, go on brush yo' shoulders off. Vorinclex, Monstrous Raider Once you add the fetches + shocks, Become Immense becomes...immensely better. Usually will cast for G.
Personal Choices - Prairie Stream - Sunken Hollow + Vivid Grove + Vivid Creek Prairie and sunken will come into play tapped most of the time anyway, so might as well make rainbow colors and get some counters back on them late game.
-1 Render Silent (casting cost is prohibitive). +1 Fuel for the Cause -1 Fathom Mage +1 Steady Progress . Fathom Mage seems iffy for card draw. Steady progress feels more stable, instant speed, and proliferates. -1 Despark +1 Inexorable Tide . Ups your CMC aka mana value by a bit, but I'd rather go the proactive than reactive game plan. -1 Lazav, the Multifarious . He will appear as one of your infecty boiz from the yard, but at that point you're already behind, and he has no forms of evasion. Maybe +1 Sword of Truth and Justice instead. (It's slow) -1 Supreme Verdict (prohibitive casting cost, you're probably the one with the most valuable creatures). +1 Contentious Plan for more draw and more dirty HIV. -1 Phyrexian Juggernaut . Too slow, probably a dead card in your hand, chances of it not getting blocked are small. I imagine best-case scenario is that it goes unblocked and you pump it, but wait...how 'bout Roalesk, Apex Hybrid . Ain't nobody gonna attack you when they get proliferate juices on their shirt.
But wait, do you want to make the deck WORSE? Contagion Engine + Magistrate's Scepter . Take all the turns. 7 mana + a boardstate is a steep setup, but do you want to be a winner, or a JANK-ASS BISS?
I'm not really sure if these are good or not. So this section is useless. Strionic Resonator . Seems kinda win-more. But meh. Idk.
Let's f* with Hop -1 Generous Gift +1 Teferi's Protection . I am a terrible human being.
I most definitely could be wrong in this section. -1 Ancient Tomb . You'll take a heavy amount of damage, and your color requirements are strong. I'd replace with +1 Inkmoth Nexus
Aight baby gurl, bedtime. May your infectious love for infect cause infectious hate upon you. Love, Jake Stremers
4 months ago
This whatcha boi be thinkin' to improve dat' dirty poison build. CMDR next to Atraxa (on the input section) will make her appear as the commander rather than as a creature.
Aight baby gurl, bedtime. May your infectious love for infect cause infectious hate upon you. Love, Jake Stremers
1 year ago
Some good infect cards: Contagion Clasp, Contagion Engine, Grafted Exoskeleton, Phyrexian Juggernaut, Blightwidow, Skithiryx, the Blight Dragon (if you're not on a budget), Inkmoth Nexus, Corpse Cur, Core Prowler, Virulent Wound, and Crumbling Ashes.
If you'd like a common green wincon, that'd be Triumph of the Hordes. A more budget-friendly option is Predatory Focus.
I hope you have fun having no friends! ;]
1 year ago
Hey, interesting version of Aminatou. I don't think DC/Oracle and Infect are causal strategies, but if that's what you want to play then more power too you. Be careful with Infect in a causal setting as you will become the archenemy until you stop playing it.
Your deck is missing two cards to give you 100. I suggest adding Sol Ring and Wishclaw Talisman. Sol is a staple card in Commander, one of the best cards for ramp. Wishclaw is very good with Aminatou since you own Wishclaw. Activate Wishclaw, tutor for any card. An opponent gains control of Wishclaw, but that opponent doesn't own Wishclaw and can't activate it because it will be tapped as well as it's not your opponent's turn. -1 Aminatou to blink Wishclaw, you gain back control of it untapped with three new wish counters on it.
28 lands is not enough land for a 99 card Commander deck. Consider 36 lands? 36 lands I've found to be the sweet spot for most Commander decks as it makes it so you consistently are not land screwed as well as not land flooded.
Lands to consider adding:
2x more of each basic land
Cards to consider cutting for more lands:
Good luck with your deck.
1 year ago
that makes sense and is generally true but with infect you won't have enough creatures or board presence to keep it competitive in the late game unless you get lucky with near perfect draws. If you want to add in a few late game cards, you could splash black to throw in a Spinebiter Phyrexian Swarmlord or Phyrexian Juggernaut, and add a few more blight mambas plus a Plague Stinger to get you to the late game, but you would have to sacrifice a few buff cards. this would give you a late game threat but you would be less likely to get an early win. In my opinion not the best tradeoff for infect, a shell that succeeds by being fast.
1 year ago
JoeLossYo Thanks for the suggestions! I'm not a big fan of the smaller infect guys from fear of things like Elesh Norn or just chumpblocking them, but Phyrexian Juggernaut seems very solid and I think it would fit much better. I'll definitely be on the lookout for that one. :)
Load more