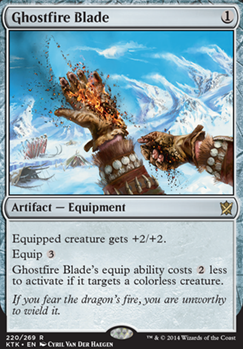 Legality
Ghostfire Blade
Artifact — Equipment
Equipped creature gets +2/+2.
Equip (: Attach this to target creature you control. Equip only as a sorcery. This enters the battlefield unattached and stays on the battlefield if the creature this card is attached to leaves the battlefield.)
Ghostfire Blade's equip ability costs less to activate if it targets a colourless creature.