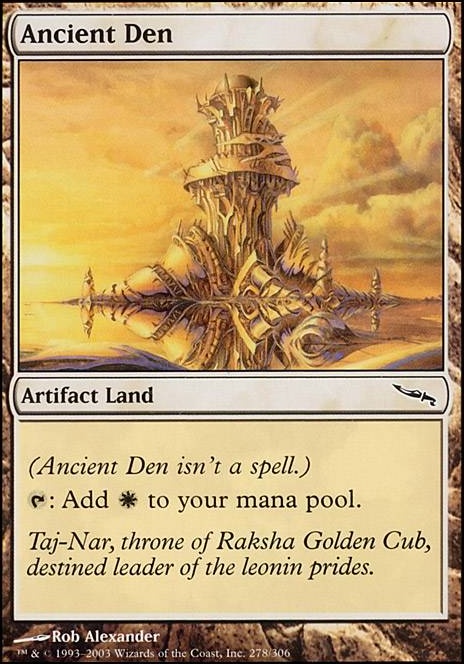 Legality
| | |
| --- | --- |
| Format | Legality |
| Noble | Legal |
| 1v1 Commander | Legal |
| Vintage | Legal |
| Casual | Legal |
| Vanguard | Legal |
| Legacy | Legal |
| Archenemy | Legal |
| Planechase | Legal |
| Duel Commander | Legal |
| Unformat | Legal |
| Pauper | Legal |
| Commander / EDH | Legal |
Related Questions
Ancient Den
Artifact Land
(Ancient Den isn't a spell.)
: Add to your mana pool.
Have (13)
ZombieFood , NorthernCrow , xXThormentXx , Friedrice24 , rhinoloupe , mziter501 , jtaddeo ,

r

o

c

k

l

e

e

m

y

h

e

r

o

, sonnet666 , buildingadeck , Mousemke ,

T

h

e

R

e

a

l

P

e

a

c

h

e

s

, iurxos
Want (3)
Dr.Jackel , Pylioz , Wolfebladeelite
Ancient Den Discussion
2 weeks ago
This is just a start FYI
Note: Add more lands as you should have at least 30+ and "Cycling" is not doing anything for this deck other than spending your manna and slowing you down, cards like Diabolic Tutor and Fabricate or Kuldotha Forgemaster will cost you close to the same and get you exactly what you want.
1 month ago
I'm not usually one to comment but I saw your post on r/edh and am also building Brago in paper. Looking at your list the following stood out:
-It's weird you don't have Lightning Greaves or Whispersilk Cloak. The shroud from either means your counterspells can be used for other things besides protecting Brago. The added benefits of haste or unblockable also play well with the blinking Brago is built for. Swiftfoot Boots may be a more budget option for granting haste but you should definitely grab a cloak since it's also searchable with Trophy Mage.
-On the topic of being searchable, I noticed you only have two targets for Trinket Mage so I would suggest swapping out 1 Island for Seat of the Synod and 1 Plains for Ancient Den since they are lands with CMC 0 making them searchable.
-I'd also recommend some graveyard hate. Relic of Progenitus is great as it's searchable by Trinket Mage and draws a card. Angel of Finality may be worth adding as blinking it repeatedly can suppress graveyard shenanigans. Stonecloaker may be another good inclusion for more instant speed protection for your creatures and getting more ETB triggers by recasting the bounced creature.
-Some alternatives you might want to try would be using Prophetic Prism in place of Tsabo's Web. I'm not sure how relevant the web is for you in locking down your opponents' lands but the mana fixing of the Prism may be preferrable. Also, I'm unsure if the indestructible on the Darksteel Ingot is that useful and if you'd get more mileage out of using Commander's Sphere in the case where you need an extra draw when mana flooded.
That's all I have for now and the above recommendations should be fairly budget. The most important piece of advice I would give would be to understand the way your deck works and what rules interactions you may encounter and/or exploit. For instance, know that you can blink an Angel of Serenity with Cloudshift with the ETB trigger on the stack to permanently remove 3 threats. (This ruling is on the Gatherer page for Angel of Serenity) Another weird rules exploit you may encounter is using Sun Titan to get back Reality Acid an attaching it to a permanent with shroud or hexproof because ruling 303.4f doesn't use the word 'target'. Other than that, have fun with the deck and don't Peregrine Drake loop your opponents too many times.
1 month ago
Also, If you don't care about budget at all, then 4 Ancient Den keep your land draw the same and add more stacking potential to cranial plating and potentially make metalcraft happen sooner... not that that part is a problem at all.
1 month ago
No problem!
The equipping cost on Cranial Plating can be done at instant speed. Most equipments can only be equipped at sorcery speed, so when you see an equipment that says Equip, it means you have to pay 1 of anything to equip at sorcery speed. On Cranial Plating however it has another activated ability that can be done at instant speed for . The advantage here is that you can instant equip to another creature that isn't being blocked before damage. In Modern Affinity decks, they use cards like Glimmervoid, Spire of Industry, and Springleaf Drum to help pay the difficult . If you make your deck casual to keep Counterspell instead of making it modern legal, you can add the artifact lands too to add to your artifact count and help mana fixing, Seat of the Synod, Vault of Whispers, Great Furnace, Ancient Den, and Tree of Tales.
2 months ago
Looks pretty good... I would consider making room for Reliquary Tower & Thought Vessel among your mana sources, seeing as Sram will net you a lot of draws. Also, Ancient Den... helps you attain metalcraft sooner.
Dispatch is 1cc removal with zero drawbacks, once you've got metalcraft. Not to be missed.
Leonin Abunas is a great choice for protecting your stuff.
Cranial Plating would be amazing here, as well as Batterskull.
And possibly even a Metalwork Colossus. With enough equipments on the field, you'll pitch him onto the field for free.
Load more