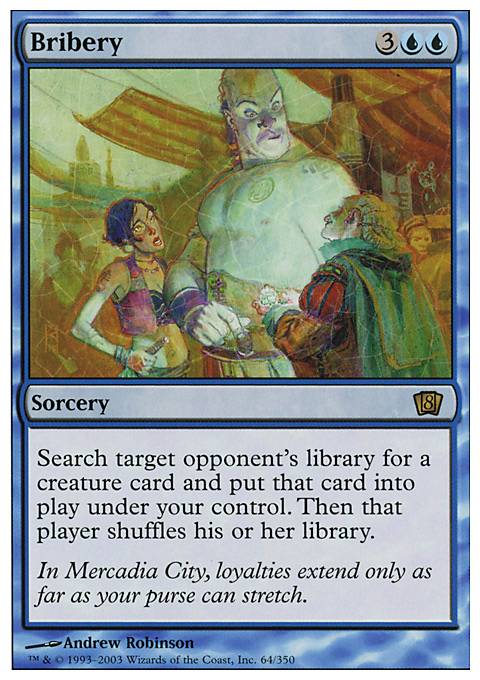 Legality
| | |
| --- | --- |
| Format | Legality |
| Tiny Leaders | Legal |
| Noble | Legal |
| Leviathan | Legal |
| Magic Duels | Legal |
| Canadian Highlander | Legal |
| Vintage | Legal |
| Modern | Legal |
| Custom | Legal |
| Vanguard | Legal |
| Legacy | Legal |
| Archenemy | Legal |
| Planechase | Legal |
| 1v1 Commander | Legal |
| Duel Commander | Legal |
| Oathbreaker | Legal |
| Unformat | Legal |
| Casual | Legal |
| Commander / EDH | Legal |
Bribery
Sorcery
Search target opponent's library for a creature card and put that card onto the battlefield under your control. Then that player shuffles his or her library.
Bribery Discussion
2 days ago
Maybe you could do an +1/+1 counters version of aristocrats with Undying and cards like Epochrasite ... basically sacrifice them into a powerful engine before the end of everyone's turn.
Or... (here's one): Insurrection , Gonti, Lord of Luxury and Diluvian Primordial could be a "I play your cards" betrayal theme:
3 weeks ago
I am not sure about Soulherder . It is one of those value engines that draws removal and the cool part ist that this deck is somewhat resistant against removal. However, it is cheap and a good beater later. Maybe I will put it in the flex-spot where I play Toothy, Imaginary Friend now. From a competitive perspective that slot is Consecrated Sphinx or Bribery anyway.
I will add Ephemerate , Spellseeker is still getting better. :)
1 month ago
The first effect, for cards like Act of Treason , is used when Player A originally controlled the creature and Player B took it. Think of it this way--if they lose the game, the effect that gave them power over that object goes away, so the control reverts back to the object's prior controller.
Cards like Bribery do not change control of the creature. Player A might be the owner of the card, but they never controlled it. So, when Player B, who controls the object, loses the game, there is no other controller for the object to return to.
For Nightveil Specter , whoever controls Nightveil Specter can cast any of the cards exiled by it, regardless of who controlled Nightveil Specter when the card was exiled.
Also, important to note, Xantcha, Sleeper Agent has a control changing effect ("an opponent of your choice gains control of it.") So, when her controller loses the game, if that controller is not her owner, she will revert to her owner's control. That's one that trips up a lot of people, so I like to specifically mention it.
1 month ago
Hello everyone!
I play a lot of multiplayer casual games with my friends and I always have problems when a player who had steal other player's stuff leaves the game.
As I am one of the most experienced players (altought I have always been playing casually and barely enter a FNM), usually I am asked rules questions, and I need help memorizing this.
What exactly happens with permanents owned by other players under control of a player who has left the game?
I read rule 800.4a and it states some examples:
- If I control some permanent via Act of Treason -like effects or Control Magic -like effects, as I leave the game that permanent reverts back to its controller
- If I control some permenent via Bribery -like effects, as I leave the game that permanent is exiled.
How exactly does this happen? What is the difference? How can I memorize that to apply to different cards with similar abilities (like Nightveil Specter )?
Thanks in advance everyone, I hope I made myself clear and made the question in the right place
Lil Cheez
1 month ago
I highly suggest running Rishadan Brigand , Rishadan Footpad and Rishadan Cutpurse . They're all pirates, but their surprise 'tax' abilities make them really powerful.
I also notice you're running a lot of 1-for-1s. It's important to remember that in EDH you're frequently playing against at least 2 opponents, and more frequently than not you're facing 3. Thus, you're already facing 3x as many cards as you have on your side. (Alliances being discounted as they only work when you're trying not to lose, as opposed to when you're trying to win.) In this sort of situation, 1-for-1s aren't where you want to be. I suggest Ashes to Ashes over Contract Killing and Toxic Deluge over Walk the Plank . (I realize this may remove some of the flavor.) Cast Down is worth reconsidering as well. Perhaps Pyroclasm or Volcanic Fallout would be better.
Cavern of Souls is expensive and ranges from very effective to irrelevant. If you have money and your meta is like mine and filled with countermagic, investing in it is a good idea.
I usually suggest Slate of Ancestry only for decks heavy on the 'spam little dudes' plan, but this deck strikes me as often having a sizable army on the field. You should consider running it.
I'm not sure how good Angrath, Captain of Chaos is. I advise either Pithing Needle or Sorcerous Spyglass instead. They deal with walkers, but more importantly they also deal with ANYthing with a non-mana activated ability. You may be partial to Sorcerous Spyglass if only because it depicts a pirate in the art; I also think it is slightly better, as you can strand a fetch land in the opponent's hand before s/he has a chance to even play it.
Bribery is a good card in EDH if your meta is filled with fatties and the like. I advise maindecking it.
Ancient Tomb is an almost strictly-better Temple of the False God . If you have access to it, you should run it.
I would run Daring Saboteur over Storm Fleet Sprinter . EDH games are often decided by card advantage/card selection, and the Saboteur gives you the ability to loot, at least a little. Similarly, you might consider running Faithless Looting .
Control Magic is a better Abduction , and you may have luck with it in the maindeck. That is probably a meta call though.
Notion Thief isn't a pirate, but he steals things... Same goes for Dack Fayden , and they're both superb in EDH. You should at least consider running them. (Note that together, if you target an opponent with Dack's +1, you draw two and that opponent discards two.)
Syphon Mind is a good draw spell, if you like the idea of 'stealing' things from your opponents.
Silent Gravestone is on-flavor and provides a level of graveyard hate. It stops most reanimation spells, and cycles as a worst-case scenario. I prefer Grafdigger's Cage , but the Silent Gravestone is likely more on-flavor.
Role Reversal is another card to consider, as it allows you to swap a treasure for a more powerful artifact or a dorky creature for a fatter one.
Good luck with deck building!
1 month ago
There are a whole lot of cards like Bribery that would be really fitting and on-theme.
Though, if you really want the full GoT experience, I suggest you focus on making your deck really strong in the early game, then just completely fall apart in the later game.
1 month ago
Yo! Ik zet mijn suggesties hier neer, kan ik makkelijker de kaarten linken enzo
-2x
Cackling Counterpart
deze kan je niet op turn 3 spelen op 1 van je creatures, wat volgens mij de grootste kracht is van deze kaart. plus je creatures zijn niet heel kopieerbaar - enige op wie je het écht wil casten (denk ik) is thief of sanity.
-4x Psychic Spiral erg duur, en er is geen manier om je eigen graveyard te vullen, waardoor het effect grotendeels wegvalt. Goedkopere mill lijkt me daarom beter. werkt ook niet samen met Cast Through Time
-4x Beguiler of Wills dit is geen creature-spam deck, waardoor ie een hoop kracht verliest. Is ook 5 mana, wat best veel is. Je kan haar er 1x instoppen omdat het een erg leuke kaart is. Maar ik denk dat je hier heel vaak van teleurgesteld raakt, omdat jeniet de beste creature van de tegenstander mee kan overnemen. Je hebt waarschijnlijk gemiddeld 2-4 creatures op het veld, en de 5+ power creatures zijn dan buiten bereik
-2x Dark Petition beetje overkill, vind Mastermind's Acquisition leuker. deze is ook 5 mana, en je hebt erg veel 5 mana kaarten al.
-2x Cast Through Time Je hoeft er geen 4 te hebben in principe. Je hebt genoeg manieren om je library door te zoeken voor deze kaart. Daarom zou ik zeggen dat je deze maximaal 1 of 2 keer er in stopt. 7 mana is erg veel, en het effect stacked niet.
-4x Swamp - dan heb je 24 landjes
goedkopere mill dan psychic spiral:
Thought Scour
instant speed, 1 mana, vervangt zichzelf door een kaart te drawn. En millt de opponent een beetje!
Mind Sculpt
,
Glimpse the Unthinkable
(wel dure kaart),
Mind Funeral
kaarten uit graveyard roven: Rise of the Dark Realms , Beacon of Unrest , Mnemonic Betrayal
kaarten uit enemy's hand roven: Silent-Blade Oni
kaarten uit deck roven: Bribery wel een ernstig dure kaart, Talent of the Telepath werkt ook als mill kaart, naast het stelen van instants/sorceries
kaarten exilen en vanuit exile spelen: Praetor's Grasp , Nightveil Specter , Exotic Orchard helpt bij het casten van kaarten van de tegenstander, omdat je automatisch hun mana kan pakken, Gonti, Lord of Luxury , Psychic Intrusion
goedkopere manier om creatures in de graveyard te krijgen: Doom Blade en andere goedkope destroy kaarten
gewoon overnemen van andermans creatures: Control Magic , Soul Ransom , Evil Twin
Load more
Bribery occurrence in decks from the last year
Commander / EDH:
All decks: 0.02%
Blue: 0.19%