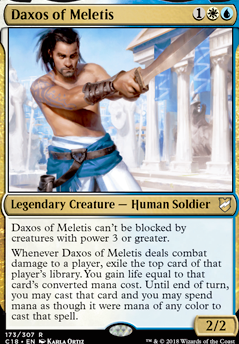 Legality
| | |
| --- | --- |
| Format | Legality |
| Tiny Leaders | Legal |
| Noble | Legal |
| Leviathan | Legal |
| Hero | Legal |
| Magic Duels | Legal |
| Canadian Highlander | Legal |
| Vintage | Legal |
| Modern | Legal |
| Penny Dreadful | Legal |
| MTGO | Legal |
| Vanguard | Legal |
| Legacy | Legal |
| Archenemy | Legal |
| Planechase | Legal |
| 1v1 Commander | Legal |
| Duel Commander | Legal |
| Unformat | Legal |
| Casual | Legal |
| Commander / EDH | Legal |
Daxos of Meletis
Legendary Creature — Human Soldier
Daxos of Meletis can't be blocked by creatures with power 3 or greater.
Whenever Daxos of Meletis deals combat damage to a player, exile the top card of that player's library. You gain life equal to that card's converted mana cost. Until end of turn, you may cast that card and you may spend mana as though it were mana of any colour to cast it.
Have (52)
JAT0 , tahavin , Supremespeed , Yawkcorb , gildan_bladeborn , Pelli , jstn.mrrtt ,

D

r

_

J

a

y

,

s

h

i

n

o

b

i

g

a

r

t

h

, nakni , marcus638 ,

E

p

i

d

i

l

i

u

s

,

T

h

e

_

M

u

n

c

h

k

i

n

, Fineontheoutside , mziter501 ,

m

i

r

a

c

l

e

H

a

t

, Cazaz0816 ,

W

o

l

f

e

b

l

a

d

e

e

l

i

t

e

,

s

a

j

0

2

1

9

,

i

t

h

e

o

r

y

z

, Lander , 7vennum7 , webdokkeren ,

C

a

m

p

b

e

l

l

S

t

e

v

, bakeraj4 , Mortiferus_Rosa ,

D

E

E

R

, bradyofportdetroit , redlegs_17 , warcry02 , REV666 , ZombieFood , Lindough , carsickpanda273 , switchkill65 ,

L

o

n

e

C

r

u

s

a

d

e

r

3

9

9

,

B

l

u

e

M

a

g

e

B

r

a

n

d

o

n

, Antiat , Friedrice24 , joshw335 , frederiklw ,

T

h

e

D

u

g

g

e

r

n

a

u

g

h

t

, thetechzombie , Famicomania , Myco ,

F

A

L

L

E

N

-

X

-

A

N

G

E

L

, Xunfor6iv3nX , rmnevarez93 , rdean14 ,

s

o

n

n

e

t

6

6

6

, AlbinoLion , No1HanSolo
Want (23)

m

i

n

i

r

a

m

l

o

k

, timmyb , Bluewolf_Sun , Wex , Dwarfenax496 , afeuling , Juggernate , gmale9000 , marsp44 , kovellen , Nissa_Is_Best , SlenderShadow1 , sleepy104 ,

E

r

a

t

o

s

t

h

e

n

e

s

, Liquicitizen , ricardokloss , DarkAngelsBlood1 , Talonisnthavingit , fast313 , MasterRoach117 , yuchunchang , Buscky , ExultantCultist94
Daxos of Meletis Discussion
2 weeks ago
I'll preface this post by saying I love commander. I love the complexity and interactions of the decks, I love the long social and political games, I love it all. That being said, my problem comes from obsessive deck-dreaming, and I'm wondering what everyone's opinion on the matter is.
What I mean by obsessive deck-dreaming is I never feel satisfied with the decks I have. Currently I have 11 commander decks, 4 of which are somewhat modified precons, 1 of which is playgroup jank meme, and the other 6 are of my design.
Edited Precons
Ezuri, Renegade Leader
Ob Nixilis of the Black Oath
Estrid, the Masked
Breya, Etherium Shaper
Personal Design

Ulamog, the Ceaseless Hunger (this is the meme one)
Daxos of Meletis
Ezuri, Claw of Progress
Melek, Izzet Paragon
Krenko, Mob Boss
Jalira, Master Polymorphist
Zndrsplt, Eye of Wisdom + Okaun, Eye of Chaos

The decks I have are, from at least what I can tell, not terrible decks. They all have their interactions, complexities, and enjoyment factors to them. Yet, everytime I'm bored I end up on EDHREC or TappedOut, looking at commanders and thinking "Man, wouldnt they be fun to play?". I have a mental list of at least 6 different commanders I would like to attempt to build, and a couple I've already designed that I havent the will or wallet to purchase yet. (Neheb, the Worthy I'll buy you one day, pal!)
Not to mention I'm still a lowly high-school peasant, with a near-minimum wage job and college fees to start paying. This means the money I have to spend on MtG is severely limited.
Another issue is I always feel like my decks are lesser than everyone around me. I don't know for certain if this is grounded in fact or if it's just a mindset of anxiety, but that also leaves me split between deciding if I want to upgrade my decks or just try to build brand new ones that may be better, in an effort to impress others and, ya know, claim a few wins.
So therein lies my question. Do I work on these sudden whims of commander brainstorming and continue to create and acquire new decks, or should I try and focus on what I have and improving those so they can be the best they possibly can? Do you prefer to have one or two decks that are your poster children, your heart and soul and major investment, or do you like to spread your money out and invest in a myriad of ideas? I'd love to know your thoughts!
3 weeks ago
I'd start by looking at these creatures: Archon of Valor's Reach, Celestial Ancient, Daxos of Meletis, Elderwood Scion, Emeria Shepherd, Hydra Omnivore, Loyal Drake, Loyal Guardian, Nylea's Colossus.
Then I'd look at your auras, you probably don't need a ton to get a lot of value from your commander: Empyrial Storm, Phyrexian Rebirth, Angelic Chorus, Epic Proportions, Ground Seal, Myth Unbound, Octopus Umbra, Spawning Grounds, Vow of Flight.
3 weeks ago
Olá xóvem!
Primeiramente parabéns pela seleção das cartas, ficou muito bom!
Pelas cartas que estão aí, acho que você está tendendo para a estratégia de ganho de vida mesmo, apesar de ter algumas coisas de pillowfort como Sphere of Safety, Ghostly Prison e Teysa, Envoy of Ghosts.
Adições
Vou separar as sugestões de adições por mecânicas que considero importantes num deck de commander, mas senti falta no deck principal. E vou explicar o motivo de considerá-las importantes.
Draw engines
Num formato em que os jogos podem demorar bastante, é muito importante ter maneiras de manter sempre a sua mão com cartas. Se essas engines não estiverem presentes, vai acontecer (sim, estou afirmando que vai acontecer) que você está com 0 cartas em sua mão, chega o seu turno, você compra um terreno, desce o terreno e passa o turno sem ter feito nada...
Dawn of Hope e Drogskol Reaver são SENSACIONAIS por permitirem que todo fucking turno você compre pelo menos uma carta a mais (por no caso do Dawn of Hope e de graça no Drogskol Reaver).Fountain of Renewal tem uma sinergia muito boa com essas duas cartas e permite um draw sozinha.
Seguindo um pouco a linha do Greed, em que você se aproveita do fato de ter muita vida para usar como recurso para comprar cartas, Underworld Connections, Ob Nixilis Reignited certamente mercem um lugar no seu deck! Se estiver disposto a gastar um pouco mais, Erebos, God of the Dead também é uma boa pedida.
Menções honrosas para: - Azor, the Lawbringer, que é um bicho grande que voa que permite vc usar uma Sphinx's Revelation todo turno - Lich's Mastery, que te permite comprar pelo menos 3 cartas todo turno, e é divertido pra caramba hahaha
Point removals
O The Ur-Dragon do oponente incomoda né? Mas é pra isso que você colocou Mortify e Swords to Plowshares! Muito bom!
E tem um outro oponente com Blind Obedience que está te atrasando tudo em um turno. Mortify resolve!
Mas o último oponente tem um Nevinyrral's Disk que vai destruir tudo que você construiu até agora! Return to Dust resolveria não só o Nevinyrral's Disk como o Blind Obedience também!
Por fim, Utter End é mais versátil que todos que mencionei, acho que merece um lugar no seu deck :)
Versatilidade nas cartas é muito importante em commander pois fazer um deck que possa responder às mais variadas situações é muito difícil quando o deck tem 99 cartas, ainda mais quando se tem que lidar com mais de um oponente.
Boardwipes
Nem sempre as coisas acontecem como queremos... As vezes nós estamos humildemente com nossas 3 criaturas 1/1 enquanto nossos oponentes tem Avenger of Zendikar, Emrakul, the Aeons Torn e The Ur-Dragon na mesa.
Nessas situações, você precisaria de muitas remoções pontuais para se salvar. Nessas horas Fumigate, Merciless Eviction, Cleansing Nova, Decree of Pain e Terminus são as cartas que salvam sua vida. Acho que é importante ter pelo menos 3 cartas com essa função no deck. Eu escolheria:
Fumigate é a que tem melhor sinergia com o resto do deck;
Merciless Eviction é a mais versátil (nem sempre serão as criaturas que vão te matar);
Terminus se livra de qualquer criatura praticamente, não importa se é indestrutível, se quando morre faz algo e não as deixa no cemitério (num deck de reanimação isso é muito importante).
Win conditions
Jogar é muito legal, mas perder sempre não é legal! Então precisamos de meios que nos permitam ganhar o jogo, ou pelo menos nos dão uma boa chance disso.
Crested Sunmare pode não parecer grande coisa, mas quando você ganha vida pelo menos em todos os seus turnos e pode ganhar vida no turno dos seus oponentes, um exército de cavalos 5/5 indestrutíveis não parece ser tão difícil de fazer... E um exército de cavalos 5/5 indestrtíveis pode pesar muito pra você ganhar o jogo (além de ser beeem legal). Angelic Accord e Resplendent Angel seguem a mesma ideia!
Approach of the Second Sun é uma win condition que eu acho interessante, afinal quando você jogar isso, todos os oponentes vão querer de matar imediatamente, mas como você tem 1249845 de vida, isso não vai ser tão fácil, muahahaha.
Sunbond é uma carta que quando as pessoas vem a primeira vez não costumam dar muita importância, mas quando o bicho 20/20 vem bater, aí vê o estrago que esse encantamento faz. Imagina esse 20/20 quando True Conviction está na mesa!
Geralmente, 50 de dano mata alguém... mas não você! Então o Aetherflux Reservoir é excelente!
Removíveis
Agora vamos falar sobre as cartas que eu acho que podem sair da lista (tanto da principal quanto do maybeboard).
Opt e Brainstorm, acho que podem ser substituidos por qualquer uma das sugestões que dei acima. Mesmo que Opt e Brainstorm permitam manipular o topo do deck, acho mais importante ter draws constantes do que um draw muito bom.
Crypt Ghast acho que é muito caro ($$) pelo baixo valor que traz ao deck. Baixo valor pelo fato do deck ter 3 cores, então acho que seria bem comum no turno 5 você ter de uma dois pântanos.
Daxos of Meletis, é uma carta muito boa! Mas acho que ela precisa de um pouco mais de foco para funcionar bem. Por exemplo, seria interessante ter meios de deixá-lo imbloqueável, ou aumentar sua resistência.
Fog Bank ta aí pra segurar qualquer bicho grande, eu imagino, mas qualquer atropelar nesse bicho grande e ele passa a segurar só dois de dano. Pensando em ter coisas com voar que bloqueiam, Regal Bloodlord, que você já colocou, faz isso muito bem!
Phyrexian Delver, é beeeeeeeeem específico. Digo isso pois é necessário que você tenha uma criatura no cemitério que valha tanto quanto uma possível win condition que estaria no lugar do Phyrexian Delver.
Psychosis Crawler não sinergiza muito bem com o resto do deck. A não ser que você aceite as sugestões que dei para ter draws mais constantes.
Serra Ascendant não sei se um 6/6 voar e lifelink valem $7. É um carta boa, mas acho que em custo benefício não vale muito a pena.
Aqueous Form, seu deck não é muito focado em atacar, e acho que só o Daxos of Meletis não seria motivo o suficiente para adicionar essa carta, afinal, ele é 1 em 99. O mesmo vale para Slip Through Space e Whispersilk Cloak, apesar do shroud poder ser útil para proteger uma criatura importante.
Bitterblossom é uma carta muito boa, mas nesse caso ela realmente só te dá bichinhos 1/1 com voar por 1 de vida, enquanto Resplendent Angel te dá anjos 4/4 voar e vigilância.
A não ser que você sinta que o seu deck esteja lento demais em relação aos decks que você usualmente joga, Blind Obedience pode ser substituido por qualquer coisa te deixe mais perto de ganhar o jogo ou que te dê mais consistência no deck.
Path of Bravery parece que tem uma boa sinergia com o deck, mas ela depende que suas criaturas ataquem para tirar todo valor dela.
Crystal Ball é bom por te permitir manipular o topo do deck constantemente, mas se estiver precisando de mais slots para terrenos, acredito que você não vá sentir tanta falta, pois essa manipulação ainda não garante um bom draw.
Toxic Deluge é um boardwipe muito bom por matar até criaturas indestrutíveis, mas isso Terminus faz muito bem também e é mais barata.
1 month ago
@Chasmolinker, thanks for the suggestion. I wasn't even thinking about Reality Shift, but the main reason I have Expel from Orazca, granted it would only be used after I have ten permanents on board, is to play it before combat damage resolves to then exile that permanent with Daxos of Meletis(Hopefully equipped with Whispersilk Cloak) after combat damage to gain life and/or cast that card.
2 months ago
Adds: Satyr Enchanter, Mesa Enchantress, Courser of Kruphix, Sunpetal Grove, Glacial Fortress, Hinterland Harbor, Kor Spiritdancer, Canopy Vista, Eidolon of Countless Battles, Shalai, Voice of Plenty, Prairie Stream, Market Festival, Irrigated Farmland, Corrupted Conscience, Aegis of the Gods, Plea for Guidance, Flooded Strand, Windswept Heath, Gift of Paradise, New Horizons, Abundant Growth, Eidolon of Blossoms, Solemnity, Sigil of the Empty Throne, Unbridled Growth, Omniscience,
Removed: Spawning Grounds. Daxos of Meletis, Loyal Drake, Eel Umbra,
2 months ago
In your maybeboard I like:
Giltspire Avenger Exalted and can deter attackers, but 3 colors and $1+ makes sense to be a cut.
I would make room for Battlegrace Angel, has exalted and gives your Exalted Attacker lifelink. $0.56!
Cathedral of War was the land I was thinking about Friday, but it's $1.50! Can't include.
Sovereigns of Lost Alara is very powerful, tutors the exact aura you need for any situation, and probably makes them unblockable or lifelink in the process. With every strike it becomes lethal. $5 hard to account for but might be a way.
Rhox Charger is exalted and he has built in Trample, 3/3 Exalted for CMC4 isn't too bad for $0.25.
Stoic Angel would be an auto-include for me, especially with all of your guys making creatures come into play tapped. Swing with your Vigilance (Flying) Angel alone, and avoid any type of counter-strike from opponents. No going to find a better card for $0.50.
Grunn, the Lonely King is another option, he's CMC6 for 5/5 no Trample, but when he attacks, Stack his triggered ability, and then layer on all the Exalted, after the exalted get added, he doubles himself. If you have the kicker 3 a 10/10 for 9 is still ok. Needs a Rancor but he's pretty reasonable, especially with all the built in evasion effects.
Suprised you don't have Knotvine Paladin, he gets +1 from the Exalted ability, and stacks a second +1 for each "untapped" creature, which they all are, so doubles the Exalted when he attacks, another good finisher like Grunn, the Lonely King when evasion is available.
Cold-Eyed Selkie can draw some cards, since your not using blue much you don't have as much draw, since he's still works. Also if you can Exalted and Islandwalk someone, can repopulate your hand.
Swords to Plowshares is the best removal in Budget for $1.
Open the Armory is another Swiftfoot Boots, very important.
Farseek is good, can pull that Island for you.
Sigil of Valor is the exalted equipment because it doubles the Exalted effects!.
Behemoth Sledge is another (slightly worse) Loxodon Warhammer.
Simic Signet/Azorius Signet might be good for getting the as well.
Sigil of the Nayan Gods not bad, because if it useless, it has Cycling.
I'll continue further review later, off the top of my head,
Reciprocate generally bad, once it's hit your life it's too late, someone (situational) it will be good, but most creatures you NEED to remove aren't attacking, and if they are, the specifically have to attack you, and you have to choose to let them hit your life. Condemn is better because it can attack anyone, and doesn't have to connect to your life specifically.
Skarrg Goliath is too high CMC to be useful, and his bloodlust is also too high CMC.
More to come later, I used to have a Daxos of Meletis deck, so I have some ideas, but I utilized the quite a bit more. Fun Selesnya build. +1.
4 months ago
Daxos of Meletis, Memory Lapse, Reflector Mage, Blink of an Eye, Eye of Nowhere, Into the Roil, Vendilion Clique are all options!
Cut all equipment except Sword of FI, FF, Jitte, Skullclamp, and Batterskull. Clone is too expensive. Phantasmal Image doesn't work with equipment but you cast it on your opponent's stuff mostly.
5 months ago
Daxos of Meletis would probably be a more functional/flavorful Commander since he's a soldier.
Load more
Latest Commander