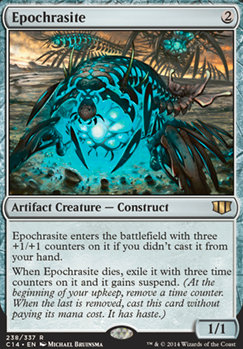 Legality
| | |
| --- | --- |
| Format | Legality |
| Tiny Leaders | Legal |
| Noble | Legal |
| Leviathan | Legal |
| Magic Duels | Legal |
| Canadian Highlander | Legal |
| Vintage | Legal |
| Modern | Legal |
| Penny Dreadful | Legal |
| Custom | Legal |
| Vanguard | Legal |
| Legacy | Legal |
| Archenemy | Legal |
| Planechase | Legal |
| 1v1 Commander | Legal |
| Duel Commander | Legal |
| Oathbreaker | Legal |
| Unformat | Legal |
| Casual | Legal |
| Commander / EDH | Legal |
Related Questions
Epochrasite
Artifact Creature — Construct
Epochrasite enters the battlefield with three +1/+1 counters on it if you didn't cast it from your hand.
When Epochrasite is put into the graveyard from the battlefield, exile it with three time counters on it and it gains suspend. (At the beginning of your upkeep, remove a time counter. When the last is removed, cast this card without paying its mana cost. It has haste.)
---
CM2
C14
MMA
CM2
C14
MMA
FUT
Latest as Commander
Epochrasite Discussion
3 weeks ago
Maybe you could do an +1/+1 counters version of aristocrats with Undying and cards like Epochrasite ... basically sacrifice them into a powerful engine before the end of everyone's turn.
Or... (here's one): Insurrection , Gonti, Lord of Luxury and Diluvian Primordial could be a "I play your cards" betrayal theme:
1 month ago
Nah. Goblin Engineer would be more helpful in some kind of artifact aggro or prison deck. Not combo. It's too slow for the Pala combo.
In aggro you could go nuts with Claim , Myr Superion , and Epochrasite . Prison builds itself.
6 months ago
I've been wondering how many creatures there are in modern that require a certain condition to be met in order to cast them. I have found Myr Superion and Talara's Battalion that strictly follow this rule, while Epochrasite and Bone Picker can still be cast without having to meet their conditions.
6 months ago
Playing with Temur and Cascade, a couple of legendary creatures come to mind; Jori En, Ruin Diver and Rashmi, Eternities Crafter, this interaction might be more fun than competitive though. Another creature that comes to mind is Epochrasite (also an artifact for Tarmogoyf), you also might want an additional cascade enabler like Violent Outburst. Tarfire is in your deck to give you a tribal card for Tarmogoyf, I get that, but it is less efficient than Lava Spike, Skullcrack or Searing Blaze.
For all this is a cascade deck, it seems to be constructed in a way which is reasonably fair. That might be it's biggest weakness, well that and the removal available in modern. In any event this is an interesting brew, I hope you have fun and my suggestions are of some help.
11 months ago
Proposed changes:
Load more
No data for this card yet.