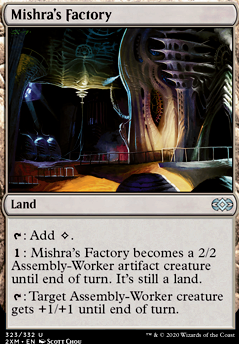 Mishra's Factory
Land
: Gain
: Mishra's Factory becomes a 2/2 Assembly-Worker artifact creature until end of turn. It's still a land.
: Target Assembly-Worker creature gets +1/+1 until end of turn.
Browse Alters
Trade
Legality
| | |
| --- | --- |
| Format | Legality |
| Oathbreaker | Legal |
| 1v1 Commander | Legal |
| Legacy | Legal |
| Canadian Highlander | Legal |
| Commander / EDH | Legal |
| Highlander | Legal |
| Tiny Leaders | Legal |
| 2019-10-04 | Legal |
| Custom | Legal |
| Unformat | Legal |
| Duel Commander | Legal |
| Casual | Legal |
| Oldschool 93/94 | Legal |
| Leviathan | Legal |
| Vintage | Legal |
| Limited | Legal |
Mishra's Factory occurrence in decks from the last year
Latest Decks as Commander
Mishra's Factory Discussion
1 week ago
Changelog (22/11/2020)
White
Blue
Black
Red
Green
Multicolored
Colorless
Mana Fixing
1 month ago
Hey there! As asked for on my page, I will most certainly do my best to give you as many suggestions as I can, though aristocrats is, again, not exactly my area of expertise. I hope this helps, and before I continue, I wish you the best of luck on your deck.
Let's start off with the lands/ramp. The lands seem pretty great choices for a budget deck, couldn't really have done it better myself, but there are a couple cards you may want to consider that you might have missed. Brightclimb Pathway  Flip is probably one of the biggest ones, and it is only around 2-3 bucks. It's very valuable to have a choice like that in the game, and neither would come in tapped which is super good. Salt Flats is also a great card, and while it comes in tapped, you can always rely on it for a good source of colored mana, or simply use the colorless part of its ability. It is also less than 50 cents, making it a great include for a budget deck. Blighted Fen might also contribute to the theme, but is absolutely unnecessary unless you like its ability. Now, we get into a whole set of cards that could be interesting to think about, though whether you think you should include them or not are entirely up to you. Teysa is all about sacrificing and having sac outlets, so what if you had lands that had the option to act as creatures? This would let you tap for mana, and have the option to sac a creature if you needed it! Here are some of the better ones you may want to consider:
Now you may not like most of those, but possibly even just having one or two of the better ones like Blinkmoth and Mishra might be pretty beneficial, as it's always good to have things to sac in the worst-case scenario. In addition to that, all of the cards above are less than a dollar if not a small bit more, meaning they could most likely work price wise. To wrap up all the land part, Crystal Vein is also something good to consider, giving you a turn extra in mana at the price of the land, as well as Field of Ruin, which is just a overall not bad card in general for harming your opponents.
Now, what about ramp? While your ramp looks pretty good, here are a couple sweet ones you may have missed: Dark Ritual!!! This guy is amazing, for one mana you can pretty much cast teysa turn 2 with another land out, or it can just give you a huge leg up in general! Certaintly worth considering. Talisman of Hierarchy is also a super cheap great card I would definitely recommend for the deck, and it will surely benefit you more than the Prismatic Lens, though having both is simply better. Commander's Sphere obviously isn't as good as arcane signet, but it is still pretty great due to the draw ability and is also definitely worth considering. Cabal Ritual is also great with teysa since you'll be sacrificing a lot. To top that all off, Knight of the White Orchid and Gift of Estates are pretty good and definitely worth looking into.
Altogether, for your mana base, there isn't anything too dire, it all looks pretty good, though there are certainly a few budget cards I mentioned there you should definitely consider. I'm now going to give some recommendations on some all-around good cards to include, and save the specifically aristocrats stuff for last. Swords to Plowshares is pretty cheap and yet an amazing staple in all decks, I would definitely consider that, especially since in your case you can play it on one of your own things to get extra triggers, while also gaining the life. Generous Gift is also an amazing removal card that I have in my best deck and it's pretty good too! Same as for swords, you even have the option to play it on yourself and get the elephant token that you can sacrifice again! Fumigate and Cleansing Nova are pretty cheap but good board wipes that I would definitely try including too, to top of all the removal. In black, Read the Bones, Sign in Blood, and Night's Whisper are pretty good for draw that you may want to think about.
Now sorry if this is a bit rushed, I am short on time, but you may want to think about some of the following cards, with graveyard recursion, tutors to graveyards, and good sac cards!
1 month ago
Could depend of the shipping price, but I will check out what it would cost me to ship it. I have never checked the prices of card kingdom, but I could give it a try next time I'll buy some cards. For Mishra's Factory, it could be a thing to use against planeswalker focused deck, and for early game it could be really useful to block some of those annoying creatures focused deck (and I have looked at my store, it would cost me only 2 euros to actually have a full playset), I will add it in the list for now and buy it the next month to try it irl
1 month ago
https://www.cardkingdom.com/mtg/fallen-empires/hymn-to-tourach-hoover This is 35 cents here? TCG player isn't always the cheapest for me, but I don't live in Europe, I live in Canada, so technically it's still international shipping for me to order from them. I have had essentially no problems of note for quite a bit of business with them, and their prices end up being competitive with TCG usually, since most TCG player stuff won't ship to Canada (or ends up way more expensive to ship).
I know the pain of store hassles, since until last year, I'd never bought any cards online, and even staples people take for granted weren't available, or were hilariously overpriced.
Hmm... Would you be able to get Mishra's Factory for a reasonable price? It was reprinted in Double Masters even, and it's a very convenient land for a deck that already has lots of basic swamps, yet wants to have a higher land count. I would expect you'd use them to block, but if they can swing for 2 here and there, that can add some pressure. They'd be handy vs decks with lots of smaller creatures, which you mentioned, while still blanking any sorcery speed Creature answers.
3 months ago
Thanks again! Awesome that you take the time out of your day to really give such an insightful comment.
I have been working on the deck after I posted it and even upgraded it a bit between your comment and me posting the deck, two of them are even cards you recommended! Bonders' Enclave and Gruul Signet. I also added Rogue's Passage to maybe sneak an attacker in.
I did actually buy quite a few cards a few days ago that just arrived and some of them are also cards you mentioned :D
The ones you mentioned that I added are Siege Behemoth, Rishkar's Expertise, Rancor, Lifecrafter's Bestiary and Greater Good!
I also added these ones, maybe you have some comments about them?
The things I will be cutting is the Scorpion and
Let me know what you think about the cuts and if I could have made better ones!
Now for your recommendations!
Enchantments
Added!
Lurking Predators Sounds like a great idea, would love to hear what you think should be cut from the deck too.
Added!
Artifacts
The Great Henge Yeah I want a few of these, to go into some decks. Have on my "buy it on a bargain" list. Hopefully I can pick it up soon.
Added!
Added!
Sorceries
Instants
Beast Within Great card, will be adding this at one point
Berserk Never been a fan of killing my own creatures, but I guess the added benefit of being able to use it on an enemy is nice. I could also Berserk it and then sac it myself with any of the card draw cards. Will be looking out for one if I can find a really cheap one.
Momentous Fall Nice one! Will pick this one up for sure
Return of the Wildspeaker Will add this one too, bought a few of them already a week back but they are taking their sweet time arriving.
Lands I have already added the Bonder's Enclave and will be adding a Myriad Landscape as I have an extra one. I will also look to acquire the other ones. I am thinking of also adding Reliquary Tower as it's likely I will get more than 7 cards in hand after a sacrifice, Mishra's Factory as it's one of the only good manlands I have (doubt Kher Keep will do much here) I am also thinking of adding a Tectonic Edge to deal with other people's lands.
Creatures
Most of the dragons you mention was about to go into the deck, but then I bought a Secret Lair and built a dragon deck instead. Will be looking into getting most of the dragons you mention here.
There's so many here, hard to pick and choose which to add! I will start with the ones I know I want in Eternal Witness because there is always something that's worth casting twice, Kogla, the Titan Ape can remove a lot of stuff in one go as I can give it haste too, Ilharg, the Raze-Boar been looking to add this guy since day one! But they have always been so over priced in my local market about 7-8$! I managed to find one yesterday for $5! So hopefully it will find it's way to me tomorrow :) Reclamation Sage need more removal so this on should be a given, Sakura-Tribe Elder need a bit more ramp so I can get it out more reliable so this one a good one. Was going to add a Fierce Empath when I opened 2020, must have forgotten!
I am also looking to add Goreclaw, Terror of Qal Sisma and Lifeblood Hydra but they are hard to find in my local market. The other ones I will add to my list and pick them up if I can get them cheap, to at least switch out for some others and see what fits my play style the best!
Would love a Deflecting Swat (in Norin too), but my local market have it quite high, and I think I can find more impactful cards for cheaper. Oh I will definitely upgrade for a Vines of Vastwood and look for a Blossoming Defense, right now my biggest defense against spot removal is Archetype of Endurance but it's so expensive to cast!
There are a lot of cards here that you have mentioned that I have both already added and want to add now that you have brought them to my attention, so I will have to do a lot of cuts and would love to here your thoughts on what should be removed (and if the cuts I already did where good ones) would also love why you think I should remove some cards over others.
Thanks a lot for yet another deep look at my deck! Really appreciate it :)
4 months ago
While supply & demand is the universal law governing the price point, there is a bit more to the story of Golos than first meets the eye. First, the supply of Core 2020 is high, all the print runs from the last few years have been much bigger than the print runs from 10-20 years ago, because the game has been burgeoning with new players. Second, the demand is actually lower than you would anticipate too. Golos was used alongside Field of the Dead in Standard and Pioneer, and after the card was banned, Golos decks disappeared and many of those players are actually selling their copies of Golos. Golos hasn't and doesn't see play in Modern, but funnily enough it does actually get slotted into workshop decks for Vintage as a way to find the all important The Tabernacle at Pendrell Vale for board lockdown, or a Mishra's Workshop to get ahead on the prison/stax components, or even a Mishra's Factory to further beatdown pressure. Most of these decks don't even use a full playset of Golos, 1 or 2 at the most. Vintage is also a relatively small sized format population wise which means those 1-2 copies of Golos are sought by a small group of buyers. The only format with real demand for Golos at the moment is Commander, in which a single copy of Golos will probably do the trick. The color identity of WUBRG means you can't just toss it casually into your mono/dual color deck so it doesn't really get played in the 99 either.
You are 100% spot on about evaluating Golos though, he's a very nice body with a strong active ability that can win games, and the unconditional land tutor is hugely powerful, and means you only need to generate more mana to recast Golos each time. I think interest in him will continue to rise as we see more big/flashy spell effects, and we get more land printings with abilities.
Large supply, not a whole lot of demand except for 1-2 copies from a small % of the total MTG players, comes from a very recent set. That's how I'd sum it all up.
Load more