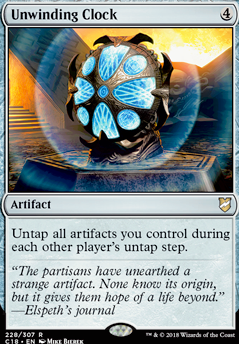 Unwinding Clock
Artifact
Untap all artifacts you control during each other player's untap step.
Browse Alters
View at Gatherer
Trade
Legality
| | |
| --- | --- |
| Format | Legality |
| Tiny Leaders | Legal |
| Noble | Legal |
| Magic Duels | Legal |
| Canadian Highlander | Legal |
| Vintage | Legal |
| Modern | Legal |
| Highlander | Legal |
| 2019-10-04 | Legal |
| Block Constructed | Legal |
| Leviathan | Legal |
| Legacy | Legal |
| 1v1 Commander | Legal |
| Duel Commander | Legal |
| Oathbreaker | Legal |
| Unformat | Legal |
| Casual | Legal |
| Commander / EDH | Legal |
Unwinding Clock occurrence in decks from the last year
Commander / EDH:
All decks: 0.04%
Blue: 0.22%
Red: 0.14%
Unwinding Clock Discussion
5 days ago
@ dichia
By the way, I have appreciated your help and recommendations. I like the idea of Alchemist's Refuge.
I did consider looking into the food sub-theme before. Now that I got a better feel for how the deck runs, I may just make that into another deck of it's own. But I'm definitely open to seeing how the cards you mentioned can work in this deck.
I'm also a long time edh player, so I assumed Prophet of Kruphix was banned in modern too, thankfully it's not. I love the idea of this card.
To be honest, I don't know. At the multiplayer table, I found that
Bubbling Cauldron
is a huge target for removal. So I could only imagine how a single player would use their resources to stop that particular card. In multiplayer, it's easier to let someone else be a threat, wait till a lot of counter spells were used, then feel safer to play key cards.
1 week ago
shwanerz88 - It's funny, I've gone back and forth removing creatures for enchantments and adding a few more back in. I can't seem to make up your mind. Your not wrong on Gaseous Form, though I do end up playing that more on my opponents biggest bad damage dealer than on my side. Finding room for Gift of Immortality does make sense for recursion. Thanks for the suggestions! Also, on the mana base, you are absolutely right! I recently slotted out and in over 10 cards and I have adjusted the mana yet.
DreadKhan I completely forgot about Estrid's Invocation. You are absolutely right. Running one of them, I should run that over Copy Enchantment.
Vash13 Thank for the +1 help. You are also right, Drannith Magistrate would be a good add in place of one of the other creatures I am already running.
Epicurus You are right. I've had version of the list with Sphere of Safety and I've also slotted it out to keep all enchantments 3 and under. Your point is well made that I'll be more and more likely to get it in hand. My recent build has more creatures in it then before and it might be that I reverse course on that and return to have only one or two, making room for things like Sphere of Safety and possibly Silent Arbiter. The only problem with Alela, Artful Provocateur is that we only cast 25% of the enchantments that end up on the board as Zur the Enchanter doesn't actually cast them, just places them on the battlefield. I'll have to think about that one. I think you could be onto something with Stasis and Pemmin's Aura...or Freed from the Real would do the same. The really nice thing about Stasis is that it is not a cumulative upkeep. You only need two blue open for as many turns you can make it work. I do agree, it is likely to be no more than a couple turns, though if you really wanted to build it this way, you up your mana rocks and run Unwinding Clock (and enough tutors to fetch it) to keep your opponents locked down until they can remove the Stasis or Unwinding Clock. It's definitely a way you could do a complete build-around. It would require quite a bit of changes to my current build, so I may not do that just yet, but I can see the fun :).
Thanks all for the comments. Always appreciated!
1 week ago
Some cards you can cut are cards that lend themselves to strategies different than what you're trying to do. I mean strategies like going wide, Efficient Construction, or super friends, The Chain Veil, and artifacts matter, Unwinding Clock and Contraband Kingpin. The more backup strategies you have if your main one fails, the less consistent your deck will be. So look at your cards and ask if they are in there because they help your strategy or do some kind of spin off thing. Ornithopter, Raff Capashen, and Sen Triplets are all good cards but for different decks. Those are my thoughts! Hope you can keep thinning it out
1 month ago
Oh also Lapse of Certainty and Glorious End are fun with sunforger. Glorious End is particularly interesting because you can respond to its end-step trigger by, well, recasting Glorious End lol.
When it's down to 1v1 you can lock your opp out completely by looping Glorious End. Toss in a Rings of Brighthearth and Magnetic Theft, and with enough mana (12) + a loop engine (Unwinding Clock or To Arms! could help here) you're locking out all opponents.
Seething Song is another fun Sunforger target. Makes infinite mana possible in the right setup. It requires something like Gemstone Array, Prismite, or Signpost Scarecrow if you want though.
If you realllllly wanted to focus on sunforger, you could rework the deck to have Zirda, the Dawnwaker as a companion. Makes Sunforger cheaper to equip.
Sorry for the rant. I really like Sunforger
2 months ago
Thats definitely a good suggestion! I think that Voltaic Key or any other untap effect could certainly be put in here!
I originally had Unwinding Clock as a 1-of and my only reasoning for cutting it was because when Empires is online its more of a "win more" situation rather than winning because of being able to double tap... but its certainly worth revisiting the idea!
Load more