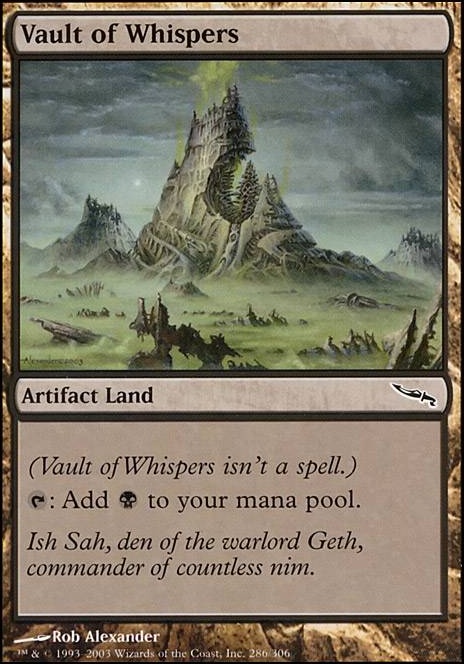 Legality
| | |
| --- | --- |
| Format | Legality |
| Noble | Legal |
| 1v1 Commander | Legal |
| Vintage | Legal |
| Vanguard | Legal |
| Legacy | Legal |
| Archenemy | Legal |
| Planechase | Legal |
| Duel Commander | Legal |
| Unformat | Legal |
| Commander / EDH | Legal |
Vault of Whispers
Artifact Land
(Vault of Whispers isn't a spell.)
: Add to your mana pool.
Have (12)
ZombieFood , NorthernCrow ,

M

o

J

o

M

i

X

u

P

, xXThormentXx ,

S

p

i

n

a

l

r

i

p

p

e

r

, sonnet666 ,

r

a

k

d

o

s

2

4

,

S

p

a

r

k

y

4

1

, Mousemke , ericalt91 ,

T

h

e

R

e

a

l

P

e

a

c

h

e

s

,

a

b

b

y

3

1

5

Want (6)
Dr.Jackel , Pylioz , Ariumlegion ,

p

s

k

i

n

n

0

1

, cj96.calimlim ,

v

a

s

h

a

c

l

a

r

e

n

s
Vault of Whispers Discussion
1 month ago
I'm interested to know why you aren't running Vault of Whispers. Also I feel like the sad robot Solemn Simulacrum is always helpful in most edh decks, especially those based on artifacts.
I like the deck though!
2 months ago
Hey, just stumbled upon your deck. One recommendation that I have for you is Artificer's Intuition. It works even better if you have some graveyard recursion because then you can discard fatties and recur them on turn 3-4.In your deck Artificer's Intuition can go fetch the following:
So... yeah that's 8 cards and you can add the other two artifact lands to help fix your mana. I love it in my deck.
2 months ago
This is labeled reanimator, but I'm not seeing many enablers or targets. Ravos's ability isn't really a reanimation effect. Do you want to develop this theme or just focus on artifact creature tokens?
Vault of Whispers and Darksteel Citadel are missing. Rather than guildgates, use karoos and life-lands first, then vivid lands if you need more color fixing, then Terramorphic Expanse or Evolving Wilds. And Command Tower, Commander's Sphere, Sol Ring and/or Skullclamp; since they go in so many decks I personally amortize their cost. If you need to keep the cost down, take out Westvale Abbey and Ancient Den first. Include the Signets too, they're generically good and grow Akiri.
How about more anthems like Intangible Virtue and Spear of Heliod? Spear is even an artifact. Maybe you want Hammer of Purphoros as well. Keeping up the Theros theme, Dictate of Heliod is a nice double anthem.
For more artifact creature tokens, you can put ci:wbr o:"artifact creature token" into magiccards.info for a list. The highlights are Foundry of the Consuls, Sram's Expertise, and Myr Battlesphere.
Cranial Plating duplicates Akiri's power. Brass Squire duplicates Auriok Windcrafter's utility for less mana and is an artifact, but I'm not sure there are enough equipment you want to be swapping around.
By the way, some board wipes and card draw would be good too.
3 months ago
Ancient Den and Vault of Whispers should be included as artifact lands. Not extremely important, but always helpful.
Sculpting Steel is an incredible card overall, but it also has infinite combo interaction with your commander (copy Sharuum, legendary rule forces you to sacrifice one, recur it with the other's ability, recycle for infinite etb/ltb, use Disciple of the Vault as outlet).
Inventors' Fair is a nice land that slows gains life early on, then you can sacrifice it to tutor for a game-winning artifact.
Master Transmuter allows you to do ALL the shenanigans. Bounce an artifact that's a chump blocker/about to die, put down something silly like Sphinx of the Steel Wind or Darksteel Forge.
Time Sieve is an artifact that allows you to take extra turns. No further explanation is needed. Oh, it also has an infinite combo with Thopter Assembly.
3 months ago
So per your suggestion, i've been looking at the pros and cons of Darksteel Citadel for this deck vs Evolving Wilds.
The pros being the fact that it is an artifact and that allows it to be sacrificed in order to trigger my effects. And it doesn't come into play tapped.
The cons being that it doesn't produce black mana. Its neutral to my improvise effects (because it taps for mana anyway, I can get any artifact to do that). And it doesn't thin out my deck like Evolving Wilds does, allowing me to get cards more consistently.
I'm thinking that the cons outway the pros in this decks case. I could most certainly be wrong because another sac target looks appealing, just not appealing enough. If only Vault of Whispers was still in modern I would use it all day long.
Load more