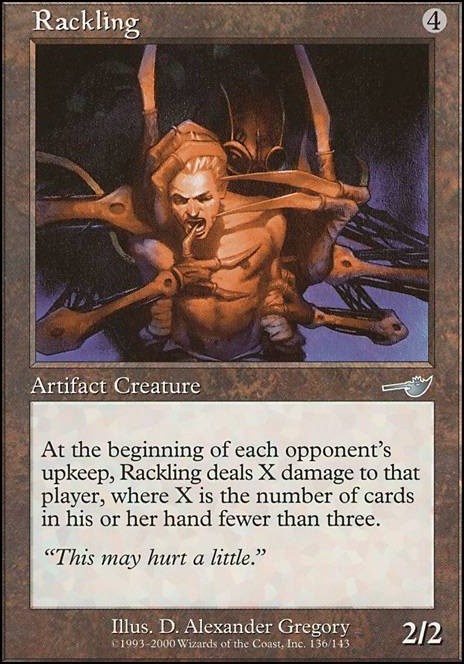 Legality
1 year ago
I am only saying this because you mentioned this is your first Commander deck: going down the infinite combo route and playing this many tutors will result in very similar games for you. If consistency is your focus that can be a good thing, but if it is your only deck it can get repetitive fast.
I would lose some single effect cards like Hymn to Tourach or Lapse of Certainty and select cards with recurring effects like Court of Ambition and Liliana's Caress.
Fate Unraveler is a walking Underwold Dreams. Rackling is a living version of The Rack.
In most cases, Memory Jar makes all your opponents draw 7 and discard 7 cards when you trigger it. That can be a win for you with the right setup.. I second Bloodchief Ascension as mentioned above, with or without Mindcrank.
Consider adding either Teferi's Protection or Flawless Maneuver. You may want to Invest some space for spot removal like Vindicate and Anguished Unmaking or Despark. As for mass removal, you may find Winds of Abandon more satisfying than Fumigate if you have a board.
Try Children of Korlis with Necropotence and your Commander or Enduring Renewal.You can add recursion that fits your mechanic with Luminous Broodmoth.
Finally, I think you would like Sangromancer. I do.
Hope you find something useful, welcome to the Commander format!
2 years ago
Might remove Trophy Mage and Whip of Erebos to put in Rackling and Viseling if i can obtain a copy. Hopefully i can find a suitable replacements for puppeteer Clique, not as good as I thought. Hopefully something that's an enchantment or an artifact. Hack even an enchantment creature
2 years ago
Since you're using a discard strategy have you considered cards that punish opponents for having a low hand count rather than Megrim effects? Cards such as this list:
With these types of cards your opponents will be taking damage even if they haven't discarded. The problem with megrim type cards is if opponents have nothing to discard the megrim type cards are just dead cards at that point. The cards I suggested on the other hand will be doing damage every turn. I'm not saying use all of them just saying some of them could replace megrim type cards. Myself though, I'ld make room for all of them because I go all in when it comes to certain themes.
2 years ago
Looks good to me! You might consider these: Bag of Holding , Memory Jar , Rackling , Painful Quandary , Specter's Shroud , Mask of Memory , Assault Suit , Bloodthirsty Blade , Hoarding Dragon , Inventors' Fair , Dimir House Guard , Universal Automaton , Shared Animosity , Kindred Charge , Dragon Mage , Knollspine Dragon
3 years ago
Stuffy Doll and Creepy Doll are the perfect inclusions. Theres also Puppet Strings . Theres a bunch of like Black Vise but bot the masterpiece the older ones like this
Wheel of Torture , Viseling , Rackling , Shrieking Affliction , and Iron Maiden .
Load more