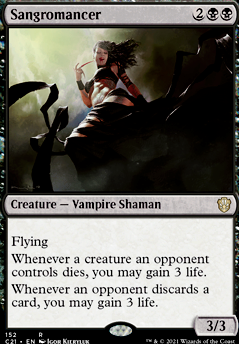 Sangromancer
Creature — Vampire Shaman
Flying
Whenever a creature an opponent controls dies (is put into the graveyard from the battlefield, tokens are put into the graveyard before they cease to exist), you may gain 3 life.
Whenever an opponent discards a card, you may gain 3 life.
Browse Alters
Trade
Legality
| | |
| --- | --- |
| Format | Legality |
| 1v1 Commander | Legal |
| Arena | Legal |
| Block Constructed | Legal |
| Canadian Highlander | Legal |
| Commander / EDH | Legal |
| Duel Commander | Legal |
| Gladiator | Legal |
| Highlander | Legal |
| Historic | Legal |
| Legacy | Legal |
| Leviathan | Legal |
| Modern | Legal |
| Oathbreaker | Legal |
| Unformat | Legal |
| Vintage | Legal |
| Casual | Legal |
| Custom | Legal |
| Quest Magic | Legal |
Latest Decks as Commander
Sangromancer Discussion
1 week ago
Hey Walrighti, +1!
Congrats on your first deck! You have a lot of fun cards in here and it looks great! I imagine you want to tune and make it even more efficient so here are some ideas...
Add 3 categories: #Combo, #Lifegain, and #Evasion; and then sort your maybeboard the same way you've done your mainboard to easily rank your choices within a category (By "combo" I mean all your "if-then" cards like Trudge Garden that are slower and don't work by themselves). Remove #Creatures (most of them are #Combo).
Avoid most cards above 4 cmc... Willowdusk is fast and fragile, so play into that... Also, prioritize cards that can do 2 or more things or that give value on ETB... If you have pet cards that don't really fit and that hurt to cut, put them in a "I'll build that theme later" list.
...Always play at least 10 ramp spells under 3 cmc.
...Playtest and make sure Willowbark consistently makes a fatty (with evasion) before turn 6-7.
Here's another Willowdusk thread.
Happy building :)
1 week ago
To stay more in black, I would consider some sort of vampire sacrifice, counters, and/or lifedrain strategy. Your black cards that could work well in such a deck would be Ayli, Eternal Pilgrim , Embodiment of Agonies , Kambal, Consul of Allocation , Knight of the Ebon Legion , Mortician Beetle , Souls of the Faultless , Castigate , Disentomb , Gerrard's Verdict , Revival / Revenge , Despark , and Grim Return . Most of the other black cards are at least playable as well. The only two I'd cut in most circumstances are Underworld Dreams and In Garruk's Wake . The former needs more build-around while the latter just costs too much to be a consistent boardwipe.
Cards I'd look at adding for such a build might be Gatekeeper of Malakir , Anowon, the Ruin Sage , Sangromancer , Dictate of Erebos , Kalitas, Traitor of Ghet , Victim of Night , Indulgent Aristocrat , Pawn of Ulamog , Grim Haruspex , Silversmote Ghoul , Yahenni, Undying Partisan , Vampire Nighthawk , Vampire of the Dire Moon , Malakir Cullblade , Blood Artist , Urge to Feed , Feast of Blood , Heliod, Sun-Crowned , Archangel of Thune , Cruel Celebrant , Drana's Emissary , Indulging Patrician , Malakir Bloodwitch , Marauding Blight-Priest , Sanctum Seeker , Vito, Thorn of the Dusk Rose , and Pious Evangel  Flip.
As a side note, to go infinite with Sanguine Bond , Vizkopa Guildmage , or Vito, the card you need is actually Exquisite Blood which is unfortunately quite expensive.
1 month ago
I have a Tergrid build myself, and tbh, I don't run into the "Life problem" all too often. More often than not, I'm hated out by turn 6. :/ (Oh the life of a Discard Deck is a strenuous one.) However, I like the on theme method of life gain through Sangromancer , the anti-token strat of Revenge of Ravens , or the godly stacking of life gain from Life Chisel from those reanimated goodies.
1 month ago
Oh! And Sangromancer is probably the best lifegain source you could ask for.
1 month ago
I agree with trying to capitalize on creatures a little more than noncreatures since you already have Drana, Liberator of Malakir , Zulaport Cutthroat , and Liliana Vess caring about them to one degree or another. I think the best creatures to look into would be vampires since you already have a decent shell for them. Gatekeeper of Malakir or Feast of Blood could swap for Geth's Verdict , Gifted Aetherborn or Nighthawk Scavenger could supplement Vampire Nighthawk , Pulse Tracker or Vampire of the Dire Moon could replace Mardu Shadowspear , Blood Artist could replace Cutthroat, Vito, Thorn of the Dusk Rose provides redundancy for Sanguine Bond , Pawn of Ulamog can provide sac fodder for cards like Ob Nix or Viscera Seer , Nullpriest of Oblivion is a flexible way to reanimate beefy monsters like Sangromancer , Vampire Nocturnus , Malakir Bloodwitch , Butcher of Malakir , or Kalitas, Bloodchief of Ghet . Finally, while not a vampire, I'd rather play Sidisi, Undead Vizier over Diabolic Tutor if you can't afford the OG 1-2 cost tutors. BTW, I'm not saying you should run all of these cards; just run what fits your playstyle.
1 month ago
Love to see Edgar Markov decks doing well on Tapped Out you. Had a few suggestions that I think could make this a stronger aggro deck.
Two Mana Mana rocks: In my experience with Aggressive Edgar Markov decks getting the aggressive strategy to work is all about playing at least one vampire every turn from one to four. When you just spend your second turn playing a mana rock you significantly damage the momentum building of your deck and give your opponents a lot more time to build up their boards or find an answer. In addition, you already play cards like Boros Charm and Flawless Maneuver which in a way "preserves" the mana you commit to the board and prevent you from losing momentum. Obviously, cards like Sol Ring and Mana Crypt are perfectly fine as they get you ahead of your curve and you can start comming more powerful vampires earlier in the game and you don't lose any momentum due to their raw efficieny as mana rocks.
Next, I just had a handful of card suggestions
Skymarcher Aspirant over Duskborne Skymarcher , since it just more aggressively statted or even Vicious Conquistador is probably better as well, really up to preference.
Nighthawk Scavenger over Vampire Nighthawk just a strictly better card, if any opponent cracks a fetch in the first 3 turns it's at least just as good but probably has more upside.
Bloodlord of Vaasgoth Maybe he's fun but he is just not a very good card, he is 5 mana and has no immediate board impact, if for whatever reason that he is threatening he will just get removed. In addition Edgar Markov

himself is one more mana and has the same role as Bloodlord of Vaasgoth does but just does it better. There are a lot of cards that you could replace him with, perhaps just Bloodghast he is a decent attacker and he is really good with Skullclamp + fetch lands.
Olivia Voldaren + Sangromancer are these just pet cards? that's all well and good to just play the magic cards you want to play. I honestly have no idea how these cards are good in an aggro strategy.
Sorin, Solemn Visitor for Sorin, Imperious Bloodlord , removal, mana cheating, and buffing all on one card and for one mana less. Although Sorin, Solemn Visitor isn't a bad card so you could just put in Sorin, Imperious Bloodlord for one of the other cards.
Nice to see an Edgar Markov deck with Vampire Nocturnus , the best vampire. If you want to check out my own deck I have a link here This deck isn't a pure aggro list but it is one of the stategies the deck can go for.
2 months ago
I guess it would/ could be considered win more, I think that i'm utilizing Memory Jar for Tergrid and in the deck itself presents both the best card draw and theft effect, I guess I was just considering how to win with it at that point when in reality Tergrid wins through resource theft and denial so yeah I think I could skip over the megrim effects until further notice. also totally forgot about Liliana's Caress , simply a cheaper Megrim good looks on that curve, also forgot about Sangromancer more bang for the buck, you're right.
3 months ago
Have you considered any combination of Fell Specter , Liliana's Caress , Raiders' Wake ? While all of these have the same function as Megrim, Liliana's Caress comes in at 1 mana less; Raiders' Wake may come in 1 mana more than Megrim, but can force multiple discards; and Fell Specter is also a creature.
If your looking for lifegain, Sangromancer could be a boost for Vito, Thorn of the Dusk Rose.
Also, Syr Konrad, the Grim allows for a damage boost. I used it in a Commander game with Mindcrank and shut down a lot of my opponent's spells through milling.
Happy Hunting!
Load more