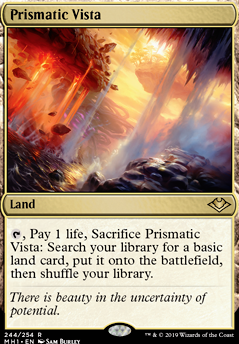 Legality
| | |
| --- | --- |
| Format | Legality |
| Tiny Leaders | Legal |
| 1v1 Commander | Legal |
| Magic Duels | Legal |
| Canadian Highlander | Legal |
| Vintage | Legal |
| Modern | Legal |
| Custom | Legal |
| Leviathan | Legal |
| Legacy | Legal |
| Duel Commander | Legal |
| Oathbreaker | Legal |
| Unformat | Legal |
| Casual | Legal |
| Commander / EDH | Legal |
Prismatic Vista
Land
, Pay 1 life, Sacrifice Prismatic View: Search your library for a basic land card, put it onto the battlefield, then shuffle your library.
Prismatic Vista Discussion
34 minutes ago
Hello there,
I think I just found the perfect Meren deck ❤️
But I gotta make it a bit more budget (tough student's life). So please let me know what you think of my changes:

First of all, the Razaketh combo comes out. Just taking your advice and putting in a few more lands:
Other changes/budget cuts:
18 hours ago
Hey N3M3S1S! Welcome to EDH. I hope you find it fun... I like this format the most. Hopefully you'll find these suggestions helpful:
Right. Good luck have fun!
6 days ago
Hey man! I have a few suggestions; feel free to ignore any/all of them.
Good luck!
1 week ago
I'm sorry to be the bad guy, but this deck is far too slow to be competitive. It may be in your local meta, but it will be eaten alive in a tournament.
I can tell you like desertion given your artifact selection. There is only one word to describe that card. BAD. Take it out.
Card advantage is king. Look into:
Mystic Remora
Rhystic Study
Dire Undercurrents
That's all I have for you. It's a decent deck. I like the build outside of the artifacts, counters, and lands. Change them up and you'll be amazed how much better this deck will become. It'll be significant.
1 week ago
Hey man! Grixis is fun. I've got some thoughts... feel free to ignore any/all of them.
There're some cards I think you should consider cutting in order to make room for my above suggestions. Wasp of the Bitter End strikes me as likely too weak in a format with three opponents; similarly, since Toll of the Invasion only hits one opponent, this should likely be considered on the chopping block. I think a boardwipe like Toxic Deluge is probably a lot better than Tyrant's Scorn . Lazotep Plating is probably worse than a regular hard counter. Finally, if you like the idea of artifact-based ramp in (2), thirty-eight lands is too many. I recommend cutting three to five, depending on how aggressively ramp-heavy you want your deck to play.
Right. That's all I got. Good luck!
Load more
No data for this card yet.