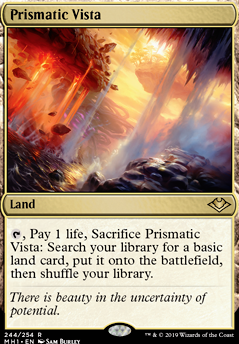 Prismatic Vista
Land
, Pay 1 life, Sacrifice this: Search your library for a basic land card, put it onto the battlefield, then shuffle your library.
Latest Decks as Commander
Prismatic Vista Discussion
1 week ago
Hey! Kinda late, but I would like to suggest some stuff:
(Disclaimer: I have a budget way lower than yours, but I've been tinkering with Ghired for almost two years - he's my favorite commander. I'll break the suggested upgrades down into categories for better organization.)
Haste enablers:
Ramp: Run at least 15 ramp cards to make your deck flow smoother and faster.
As an aggressive deck, speed is fundamental. Fellwar Stone, Nature's Lore, Three Visits, Skyshroud Elf, Bloom Tender, Faeburrow Elder, Chromatic Lantern, Coalition Relic, Wood Elves, Skyshroud Claim and Mirari's Wake can ramp and heavily fix your mana, taking the place of Gyre Sage, Solemn Simulacrum, Rampant Growth, Sakura-Tribe Elder and Xenagos, the Reveler - the latter is a win-more ramp, and his 2/2 token is not large enough to synergize with the power-based card draw, while the other four fix for a single color of mana (Ghired decks can sometimes be color-hungry), and this deck can't abuse the sad robot for value.

In the land department, Krosan Verge and Blighted Woodland pull their weight, and synergize greatly with Avenger of Zendikar and Rampaging Baloths. Maybe remove Cascading Cataracts? (Your spells are not THAT color hungry.)
Direct damage:
Extra combats: You don't have to worry about your opponents' answers if they never get to their turn, so...
Boardwipes:
Card draw: Alongside ramp, it is my main concern with Ghired. I want to be able to rebuild my board after a boardwipe.
Some cards I suggest you to remove:
Some cool lands for you to try out: (landbase is my favorite part of deckbuilding)
I hope I've been of some help to you. I didn't suggest many token-related cards because I believe that, as long as you have decent ramp, draw and removal in your deck, you can win to your heart's content. Wanna throw in a Godsire? Do it. Prefer to clone your opponents' creatures with Hate Mirage? Go ahead. But the fundamentals of the deck is what makes it flow consistently. Have fun and smash 'em all (and run Doubling Season for extra fun) ;-)
3 weeks ago
Hey there! Not sure how your mana-base is faring, but here are a few suggestions, as manabases in a five color deck can be very difficult.
Tri-Lands
Run all of the tri lands! I hate tap lands, trust me, but with the first sliver at the head I'm willing to bet you want him out as fast as possible. You're running most of them, but I'd recommend getting your hands on the others: Arcane Sanctum, Jungle Shrine, Nomad Outpost, and Sandsteppe Citadel.
Of course, the Ikora triomes would be awesome, but they can be a bit much per land if you have a smaller budget. For reference, here they are: Savai Triome, Ketria Triome, Indatha Triome, Raugrin Triome, Zagoth Triome.
Not sure how you feel about these, but something else to consider would be the 5 panoramas from wherever it was they were first printed. Having that choice of fetch without spending money on the big fetches can be a really big asset in many games: Naya Panorama, Jund Panorama, Grixis Panorama, Esper Panorama, and Bant Panorama.
Semi-Expensive Side
I'm sure you're aware of these, but in case you aren't, there are of course the expensive duals and fetch lands. The fetches (like for example, Bloodstained Mire) are incredibly powerful. They give you the power of choice between yes, the two colors, but beyond that virtually any color you wanted if you ran all the shock lands (like Stomping Ground). If you drew that Bloodstained Mire and needed a green, you could fetch Stomping Ground and boom, you have it. Of course, that is quite a lot of money, but if you weren't aware of them, it's a good thing to keep in mind. On a side note, the fetches are even more extremely powerful as they go to your graveyard, allowing you to recur them (with say, Ramunap Excavator) and get tons of landfall triggers per turn.
Ramp
You don't seem to have too much ramp in the deck besides the 3 green guys and a bit of Artifact ramp. Not sure how much you need more, but some I'd recommend are Fellwar Stone, Ornithopter of Paradise, Three Visits/Nature's Lore if you add the shock lands (like Stomping Ground, etc., then you can use these to find any color), Noble Hierarch, Ignoble Hierarch, Bloom Tender (adds one of each when big sliver is out!!), Birds of Paradise, definitely Arcane Signet, Sylvan Caryatid, etc. The dorks aren't slivers, but they are really really crucial in adding any color. It is a bit much of green though, which is probably not something you want to do, so maybe pick and choose wisely- especially if you replace the green ones I mentioned before (maybe not all of them). Let me know if you'd like some more of these kinds of ramp suggestions.
Anyways, I've got some stuff to do so I'll leave it at that for now- I'm not gonna read through this so sorry for any grammar errors too. Hope some of this is helpful, and insightful. Feel free to check out some of my decks (main one is Double Trouble EDH ⫸PRIMER⫷), and let me know if you have any questions or want some help. Best of luck with your deck, and have a wonderful evening.
edit: most of the slivers and all look good there's a couple things I'd swap no biggies, small things like maybe consider Kindred Discovery or Toski if you like Bident of Thassa) but that looks all good!
3 months ago
Some thoughts:
20 lands is super low considering how many of your cards cost 3cmc or higher. I'd recommend going up to 23-24ish.

Even with the increase in lands, I don't think you want to run more than 2 Garys, and 3 Obliterators. These high-cost cards have a huge risk of gumming up your hand if you run too many copies.

I'd suggest ditching Sign in Blood completely, it's a pretty universally garbage card, more so when you're playing a deck aiming to apply pressure and increase devotion (this card does neither of these, and likely wastes your turn-2).

Leyline of the Void is a very strange mainboard choice. The card is usually almost exclusively a sideboard option, as there are just too many matches where it will do nothing (it's still a great card to have in the sideboard though!)

Prismatic Vista might be a nice addition to help out Bloodghast
3 months ago
Doing it without Tron lands could give you a brew that looks very similar to existing Soulherder archtypes (just without Soulherder)... something like this might be almost-competitive (although at this point, it's a very different list to what you're trying to achieve, so not sure if this is the route you'd want to go down):
4 months ago
I should mention, I've been giving you advice under the assumption you're working with a limited budget. I bring this up because fetch lands like Marsh Flats, Verdant Catacombs, Bloodstained Mire, Polluted Delta and Prismatic Vista are all extremely useful in vampires even if you're monocolor because they let you reuse Bloodghast up to twice per turn, they can force a shuffle to hopefully get Nocturnus active, and they thin your deck making it slightly more likely you'll draw what you need.
Aside from Thoughtseize and Kalitas, Traitor of Ghet, another expensive card is Cavern of Souls, because having mainboard countermeasures to blue decks is always a good thing.
Load more