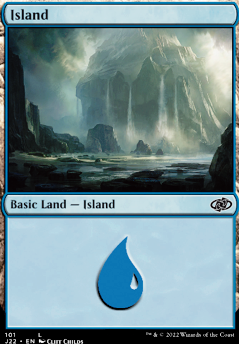 Legality
2 weeks ago
Hey Zorke,
Ok based on your comment about the combo, I'm basing these recommendations on a:
Tuned tier - Power level 5 (6 usually has a combo) - Win before Turn 14 - "Upgraded Precon". Visual Guide to Power Levels in EDH.
-- Land Base -- Prioritize untapped, Mana colors, Target 33: +Shivan Reef -Island +Yavimaya Coast -Forest +City of Brass -Aether Hub +Mana Confluence -Mountain Valley +Riverglide Pathway  Flip -Simic Growth Chamber +Rootbound Crag -Mountain +Hinterland Harbor -Forest +Sulfur Falls -Mountain +Rejuvenating Springs -Path of Ancestry +Training Center -Rogue's Passage +Spire Garden -Ancient Ziggurat +Boseiju, Who Endures -Island
--Ramp-- Creature preferred +Birds of Paradise -Thought Vessel +Three Visits -Heraldic Banner +The Great Henge -Gilded Lotus (Also important for draw) +Farseek -Harvest Season
--Morph-- +Kadena's Silencer -Stuffy Doll +Icefeather Aven -Keep Safe (Morph flavor) +Echo Tracer -Omnath, Locus of Mana (Morph flavor) +Mistfire Weaver -Forsaken Monument (Morph flavor) +Jeering Instigator -Shaleskin Plower (Morph flavor less salt)
--Draw-- +Fathom Seer -Zendikar Resurgent +Temur Ascendancy -Tomb of the Spirit Dragon +Tishana, Voice of Thunder -Ashcloud Phoenix +Guardian Project -Tidespout Tyrant +Toski, Bearer of Secrets -Fabricate +Garruk's Uprising -Creeping Renaissance
--Offense other than Animar-- +Garruk's Horde -Forest +Artisan of Kozilek -Island +Bane of Bala Ged -Trophy Mage (Pulls 1 unneeded artifact!) +Shrieking Drake -Temur Sabertooth (Non-Infinite Ancestral Statue) +Decimator of the Provinces -Temur War Shaman
--Control-- +Beast Within -Fog
I've left out some salty card for this power level: Cyclonic Rift Ancestral Statue Craterhoof Behemoth Rhystic Study Mystic Remora Dockside Extortionist
Special mention (would need to playtest): Secret Plans (Draw) Solemn Simulacrum (Ramp & Draw) Mulldrifter (Draw) Trail of Mystery (Ramp) Rhythm of the Wild (Don't think you'll see heavy counterspell in power 5)
Could go more less if needed Theres other stuff I didn't suggest because of the morph theme, like Cloud of Faeries, Hullbreaker Horror, Fierce Empath etc.
Hopefully you find some useful ideas here.
3 weeks ago
Got another couple games in today:
I made some swaps prior to today's match incluuding:
Crashing Drawbridge for Lightning Greaves
Smuggler's Share for Esper Sentinel
Search for Glory for Steelshaper's Gift
I think our decks are still functionally the same but I have a lot of the tech you were heavily considering already swapped in and will be focusing on their performance in multiplayer format.
Opponents:
Arvinox, the Mind Flail
,
Firkraag, Cunning Instigator
,
Ryu, World Warrior
Starting Hand?: Prismatic Vista, Windswept Heath, Myriad Landscape, Soul's Attendant, Generous Gift, Lightning Greaves, Folk Hero
Forgot to snap a picture of my starting hand but I think it was something like that. Important play of the game was Firkraag playing an early Agitator Ant. By turn 3 I had Giada equipped with a Lightning Greaves and slowly played out my hand, focusing on dropping lands and playing removal. I constantly dumped the +1/+1 counters onto Giada and since she had the greaves equipped she was basically untouchable.
After bringing Arvinox and Ryu down to the low 20's with just Giada I began dumping the counters onto a Bishop of Wings that I drew into so I could start swinging at Firkraag. Ryu also got in 2 Hadokens against Firkraag's board to draw cards. I only got 1 swing into Firkraag before they boardwiped.
I was able to recast Giada and cast an Angelic Page drawing me a card off Folk Hero. I also cast a Pyre of Heroes excited to chain it off for some spicy tech. Unfortunately Ryu was at low life and killed shortly after the boardwipe. As the other 2 players had no board they scooped to end the game so we could start the next, giving me the win.
Opponents:
Tevesh Szat, Doom of Fools
/
Armix, Filigree Thrasher
,
Firkraag, Cunning Instigator
,
Isshin, Two Heavens as One
,
Muldrotha, the Gravetide
Starting Hand: Plains, Mutavault, Pearl Medallion, Righteous Valkyrie, Sigarda's Vanguard, Well of Lost Dreams, Steelshaper's Gift
T1 - Plains into Steelshaper's Gift tutoring Lightning Greaves
T2 - Plains (drew) into Pearl Medallion
T3 - Mutavault into Lightning Greaves & Giada (Sworded by Isshin)
This game had some intense interactions. Isshin had a turn 1 Authority of the Consuls. Tevesh nearly played a turn 2 Tevesh Szat, Doom of Fools with a Jeweled Lotus but was countered by Muldrotha. Firkraag played a Pursued Whale giving us all Pirate tokens and forcing us to attack. Isshin played into that with a Combat Calligrapher. The entire table started swinging into each other with increasingly multiplying Inkling tokens. After Isshin's Combat Calligrapher was blown up and they took a bunch of damage from their own Inklings they decided to super wipe the board with a Ruinous Ultimatum but luckily their board was pretty sparse.
I lost Pearl Medallion, Well of Lost Dreams, Sword of the Animist, Lightning Greaves and Righteous Valkyrie. This set me back really far but luckily I had been ramping every turn with Sword of the Animist and kept some strong angels in hand.
I recast Giada, and played Archangel of Tithes, Angelic Field Marshal and Lyra Dawnbringer with Mutavault giving me the extra +1/+1 counter. At this point Isshin started going off and nearly killed me with a combination of Tectonic Giant,