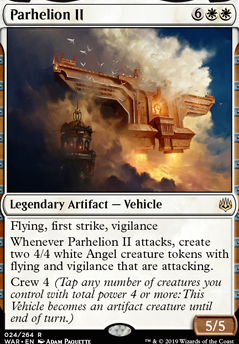 Parhelion II
Legendary Artifact — Vehicle
Flying, first strike, vigilance
Whenever Parhelion II attacks, create two 4/4 white Angel creature token with flying and vigilance that are attacking.
Crew 4 (Tap any number of creatures you control with total power 4 or more: This Vehicle becomes an artifact creature until end of turn.)
Parhelion II Discussion
1 month ago
Rule 0 began as a hub idea, but quickly became it's own sub-format within the EDH community.
When you build a new deck, or update an existing deck, you can now select Commander: Rule 0 as an option for the format.
3 months ago
I'd recommend cutting the following cards right away:
Tidal Force (Doesn't do much. Very expensive.)
Siege Behemoth (Good effect, but very expensive.)
Emmara Tandris (It doesn't look like you really have that many tokens. Not sure why this is here.)
Deepfathom Skulker (Good trigger, but expensive, and you can't activate its second ability easily.)
Archon of Coronation (Really easy to lose the monarch and it doesn't do much besides give you the monarch.)
Amareth, the Lustrous (Not really that good. Very rarely will draw you anything in general and the body is very meh.)
Inniaz, the Gale Force (I don't like this kind of effect. You are forced to give up something.)
God-Eternal Oketra (The tokens are okay, but it really doesn't do enough IMO)
Archon of Redemption (3/4 flyer for 5 with a situational life gain effect is pretty bad...)
Angel of Destiny (If it ever gets removed, all you did by attacking, possibly losing creatures in the process, possibly taking hits because your defense are down, was gain life. It just seems like the card really does nothing.)
Trostani, Selesnya's Voice (Not enough token synergy to matter. Life gain is not very good.)
Thassa, Deep-Dwelling (This doesn't do much in your deck. IMO)
Basri's Lieutenant (With almost no +1/+1 counter synergy in the deck, this really doesn't do anything for you.)
Adrix and Nev, Twincasters (Not enough token synergy.)
Niambi, Esteemed Speaker (Can save a creature, but other than that, the card pretty much does nothing.)
Ornithopter of Paradise (Can't trigger Derevi because it has 0 power. Pretty bad as a ramp card too.)
Rhys the Redeemed (Not being elf tribal or big on tokens means that he won't do much.)
Parhelion II (Way too expensive and really doesn't do that much for its cost.)
Righteous Authority (Very expensive and no way to abuse it in the deck currently.)
Cosmos Elixir (You have a ton of draw in the form of "when a creature deals combat damage, draw 1" type cards. You don't need this IMO.)
Sword of Vengeance , Sword of Body and Mind (Not really sure what they're supposed to do for you. Tiny pumps and trample aren't going to help you much IMO.)
Combine Chrysalis (Not enough tokens.)
Sol Talisman (Why is this not Sol Ring?)
Cloudshift , Ephemerate (Almost no abusable ETBs)
Griffin Aerie (Not enough life gain to make this work and not even a great effect.)
Garruk's Uprising (I feel like you should probably be focusing on smaller bodies, not bigger ones.)
Growing Ranks (Not enough tokens.)
Elspeth Conquers Death (Doesn't really do anything you're looking for IMO.)
That's just the ones I would cut right away for not being good in general or not fitting with your strategy.
The token subtheme is kind of unfitting IMO. There's only a few tokens here and there, and a lot of them are "big" tokens, not little ones that can trigger Derevi a lot, but then you also have lots of things to take advantage of tokens even though you don't have that many things that produce tokens (and a lot of times, they're too expensive). If you want to focus a deck on tokens, I think you should choose a different commander.
In general, I think you should probably focus more on having a bunch of smaller creatures so you can get lots of Derevi triggers rather than bigger creatures. This could be a way to work in tokens if you want to push it, because you could focus on smaller tokens that you can push out very cheap and early in the game.
In addition to this, you may also want to consider putting in more cards that you can abuse with Derevi. I love the inspire guy you have in there, Arbiter of the Ideal (don't know if you know, but you can stack tap/untap/tap/untap triggers on him and trigger inspire a bunch of times in one combat!). I think you should focus on this kind of effect more.
I think you should also try to put a little more ramp in there. Sol Ring, Simic Signet, Arcane Signet, and maybe a couple other mana rocks are noticeably missing.
That's pretty much all I have to say about it right now. Let me know what you think!
3 months ago
To add on to Coward_Token's comment, is it possible to make it so that we could choose the art, much like we can for cards? That could also add the ability for custom alters of tokens, and tokens that don't technically exist (Kaldra being the biggest example of a missing token art).
I say this because I love the different arts of various tokens (I like the tokens made by Divine Visitation better than the tokens made by Parhelion II , even though they do the same thing in game.)
10 months ago
Dropped
Things I like
Considering
Probably not...
I've played a small set of games with the deck now. It had impact on the game. Majority of creatures cast in the deck didn't feel of consequence when standing alone. I'm investigating more ways to gain life but also add "target player gains life" to abuse Tainted Remedy against non-life gain decks that just ignore it when it hits the field. Spells like Swords to Plowshares.
1 year ago
Elbrus, the Binding Blade  Flip is clearly an example of what should be a commander option. Also, Weatherlight and Parhelion II should be commander options.
Anyways... Based on Eutropia the Twice-Favored
Augury Bowls of Nylea and Thassa
Legendary Creature - Equipment
Equipped creature has +0/+1 and "Whenever an enchantment enters the battlefield under your control, scry 2."
Equip
If the equipped creature would die, you may reveal a card from your hand and the top of your library, if they are both enchantments, exile that creature instead. Transform Augury Bowls of Nylea and Thassa.
---
Eutropia, Seer of Trees and the Sea ()
At the beginning of your upkeep, name a card. Reveal the top card of your library, a card with the chosen name is revealed this way, you may put it into your hand.
Whenever an Island enters the battlefield under your control, you may reveal an enchantment from your hand, if you do, target creature gains flying until end of turn.
Whenever a Forest enters the battlefield under your control, you may reveal an enchantment from your hand, if you do, put a +1/+1 counter on target creature.
1/3
---
I'd like to see another weird equipment. Here, bowls are being equipped, so something in that vein of unconventional equipment.
I'd like it at common, please!
1 year ago
Hey, nice start, mono white can be tricky to build and play in Commander. You have Avacyn, Angel of Hope, make her the Commander? This is Angel tribal, but using Elesh Norn as Commander is strange...
No matter the Commander with Angel tribal Angels take up most, if not all, the high CMC spots in the deck because the best Angels have high CMCs. My advice is cut the majority of the other nonAngel high CMC (5 CMC or higher) cards. Ramp and Angels should be priority.
Cards to consider cutting right away because they're not as good as other cards or are redundancy you don't need:
This is 20 cards that doing a quick look over are subpar compared to the rest. The next 10 cards are cut to streamline by choosing the most important cards at different CMCs and cutting the others. Cards to consider cutting:
The last four cards is where it gets difficult to make cuts, but continue to streamline:
Hopefully this info helps and I offer more advice especially if you change to Avacyn, Angel of Hope as Commander since there's several good interactions to take advantage of.
Good luck with your deck.
1 year ago
At 8 CMC, Parhelion II and Akroma, Angel of Wrath just don't do much.
Now, I'm not personally a fan of lifegain, so I would suggest you remove the lifegain subtheme. I could just be biased, though. Outside of decks that can use lifegain as a resource (like Heliod, Sun-Crowned), lifegain just becomes a card that delays your death without giving you any real tools to overcome whatever situation may be killing you. Now, if a card can gain you life AND do something else, then it's much better. This includes cards like Archangel of Thune. But if a card ONLY gains you life and does nothing else, it's probably not the best. These include Resolute Archangel, Beacon of Immortality, Angelic Chorus, Shattered Angel, Boon Reflection, Rhox Faithmender, and more.
Since lifegain strategies require both cards that gain life as well as cards that use life, in order to make the strategy as viable as possible, the commander should fill one of those 2 roles. Otherwise, you end up using a lot of deck space to put in cards that individually have little impact. Trostani, Selesnya's Voice, for example, is a good lifegain commander since she provides all the life you need to make use of cards like Aetherflux Reservoir. But I could just be biased since I don't have much experience with lifegain outside of my own Trostani deck I used to have. Good luck making cuts!
Load more