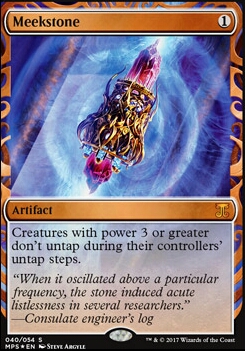 Legality
| | |
| --- | --- |
| Format | Legality |
| Pre-release | Legal |
| Noble | Legal |
| Leviathan | Legal |
| Tiny Leaders | Legal |
| Magic Duels | Legal |
| Vintage | Legal |
| Casual | Legal |
| Vanguard | Legal |
| Legacy | Legal |
| Archenemy | Legal |
| Planechase | Legal |
| 1v1 Commander | Legal |
| Duel Commander | Legal |
| Unformat | Legal |
| Pauper | Legal |
| Commander / EDH | Legal |
Meekstone
Artifact
Creatures with power 3 or greater don't untap during their controllers' untap steps.
Have (13)

W

o

l

f

e

b

l

a

d

e

e

l

i

t

e

, gildan_bladeborn , warcry02 , NOGzFTW , maR2307 , carsickpanda273 , dplerner , Mousemke , bakeraj4 , kpral , Supremespeed ,

M

o

J

o

M

i

X

u

P

, Clawsun73
Want (3)

T

o

o

l

m

a

s

t

e

r

O

f

B

r

a

i

n

e

r

d

,

a

c

b

o

o

s

t

e

r

,

P

T

s

m

i

t

t

y
Meekstone Discussion
6 days ago
Switching to English, thanks Tappedout.
None of the following recommendations/cuts are as important as they were with Karametra, since this deck is built on a solid ground and only needs a better defined game plan.
You have three archetypes to choose from, and you should focus on one or two of them. Trying to build all three will be too inconsistent.
Aggro - win by dealing 40 damage to everyone through combat damage and Purphoros/Blood Artist effects. Alesha is used to punch things and reanimate token producers/anthems/beaters.

Control - win by taking care of threats and staying relevant until late game where you outvalue whoever's left. Alesha is used less for combat damage and more for reanimating value/removal.

Combo - win by assembling an infinite combo. Alesha is mostly just there as a backup plan in case a combo piece is stuck in the graveyard.
I would recommend going for either aggro-control or combo-control.
Utter End - being able to target anything is very strong
Duplicant - one of the best creature-based removal cards
Wear / Tear - similar to Duergar Hedge-Mage but casts for 1/2 when you really need it, or a two-for-one for 3 mana at instant speed
Rakdos Charm - instant speed graveyard hate, or cheap removal, or a way to kill someone who's going wide and is about to win
Painful Truths - very good card draw in 3 colors
Toxic Deluge - the best creature board wipe in the game
Merciless Eviction - amazing against artifact decks, amazing against enchantment decks, amazing against reanimation decks, amazing against indestructible and very good against everything else
Chromatic Lantern, Commander's Sphere, Coalition Relic and Darksteel Ingot - good mana rocks for 3, prioritize from left to right
Fellwar Stone and Talisman of Indulgence - good mana rocks for 2
Animate Dead - reanimation for 2 mana is just too good to pass up on, fun with Sun Titan
Path of Ancestry - it's a strictly better Nomad Outpost
Ash Barrens - 1 mana for colorfix can help many bad hands, and lategame it's an untapped land
Mana Confluence and City of Brass - worth it when you're 3 colors, the lifeloss rarely matters but being able to play out your hand does matter
Clifftop Retreat - only checkland you're missing
Hanweir Battlements - colorless land is not great when you're 3 colors, but haste on Alesha is strong
Fervor - good source of haste, not as easy to remove as Lightning Greaves
Key to the City, Reconnaissance, Maze of Ith and Iroas, God of Victory - good way to keep attacking with stuff
Siege-Gang Commander and Ponyback Brigade - many tokens for just one ETB, deals 8 damage with Purphoros, God of the Forge for each cast/reanimation
Beetleback Chief and Pia and Kiran Nalaar - less tokens but still playable
Ankle Shanker - good for getting damage past blockers
Zulaport Cutthroat and Blood Artist - useful when going wide and repeatedly reanimating stuff, makes board wipes hurt
Harsh Mentor - very strong hatebear, can stop some game plans entirely
Mirror Entity - strong anthem when most of your deck is power 2 or less
Mother of Runes - protection can either make one of your creatures unblockable or protect one of your creatures from spot removal
Drana, Liberator of Malakir - decent anthem for cheap
Purphoros, God of the Forge and Impact Tremors - useful when going wide and repeatedly reanimating stuff
Noosegraf Mob - up to 5 2/2s per turn and can be reanimated with Alesha
Enlightened Tutor - good for getting Skullclamp when you need card draw or Purphoros, God of the Forge when you need damage
Swiftfoot Boots - an extra pair of Lightning Greaves
Cathars' Crusade - very strong anthem when going wide
Behind the Scenes - good way to get past blockers, pump is expensive but can be done after assigning blockers which is neat for getting damage through
Elspeth, Sun's Champion - playable either for the board wipe or to get 3 tokens per turn depending on board state
Fiend Hunter - can perma-exile stuff repeatedly with sacrifice or protect one of your own creatures from a board wipe while getting an extra ETB
Key to the City, Reconnaissance, Maze of Ith, Iroas, God of Victory and Whispersilk Cloak - good way to safely get Alesha triggers and get cards in the graveyard without losing card advantage
Ayli, Eternal Pilgrim - decent way to get stuff into the graveyard while still getting value out of them, also good chump blocker
Liliana, Heretical Healer Flip - a pretty good planeswalker that's a creature in the graveyard and can be reanimated
Hope of Ghirapur - can repeatedly stop or at least slow down a lot of decks
Sin Collector - one of few ways non-blue decks can deal with board wipes and huge swingy instants/sorceries
Feldon of the Third Path - slow without haste but a very strong effect once online
Leonin Relic-Warder - not as strong as Fiend Hunter but still useful in the same ways
Sunforger - lets you tutor up the most relevant removal and protection spells at instant speed, also get Mistveil Plains if you add this to get stuff back into your library
Strionic Resonator - works for double attack triggers with Alesha or double ETBs with anything else
Vampiric Rites - one of few sac outlets that provide solid value from its own effect
Flameshadow Conjuring - lots of extra value for only one mana per creature
Panharmonicon - doesn't work with some of your creatures, but solid value when it does
Assemble the Legion - decent wincon when your opponents are running out of gas
Elspeth, Sun's Champion - playable either for the board wipe or to get 3 tokens per turn depending on board state
Wayfarer's Bauble - not as fast as mana rocks but not as vulnerable against board wipes, good when aiming for slower wins
Fiend Hunter - combo with sac outlet + Karmic Guide or Sun Titan
Anafenza, Kin-Tree Spirit, Cathars' Crusade and Solemnity - combo with sac outlet + Murderous Redcap
Murderous Redcap - combo with sac outlet + Anafenza, Kin-Tree Spirit, Solemnity or Cathars' Crusade
Geralf's Messenger - combo with sac outlet + Solemnity
Viscera Seer, Carrion Feeder, Altar of Dementia and Goblin Bombardment - free sac outlets, the latter two can also weaponize most infinites
Zulaport Cutthroat and Blood Artist - weaponizes any sac-based infinite
Purphoros, God of the Forge and Impact Tremors - weaponizes all your infinites, lets you win with Kiki-Jiki, Mirror Breaker combos without having to go into combat
Mother of Runes - for protecting your combo pieces or sometimes making Alesha unblockable
Living Death - when you have enough combo pieces in the graveyard, resolving this usually lets you win on the spot regardless of which creatures your opponents get to return
Enlightened Tutor - another tutor for finding wincons
Village Bell-Ringer - combo with Kiki-Jiki, if you don't care about creatures being power 2 or less there's also Combat Celebrant, Zealous Conscripts, Restoration Angel and more
Archetype of Finality - way too expensive
Palisade Giant - generally worse than a creature with "When ~ enters the battlefield, you gain 7 life", which you wouldn't want to run in the first place
War Priest of Thune - can't hit artifacts, would never want to reanimate it over other targets
Mortify and Return to Dust - good removal cards but you have better options in your colors
Diabolic Tutor and Gamble - 4 mana is a bit much for a tutor and the card disadvantage on Gamble combined with the fact that you might discard non-creature combo pieces makes it questionable
Meekstone - pretty stupid to disable your own commander, not really beneficial to your game plan since it lets slower decks build up board state while no one can/wants to attack
Also, come up with a better title and description and try to keep your online list up to date with your deck IRL.
1 week ago
Based on his abilities, Derevi is at his best in a stax/prison-type build, with you abusing your opponents with options like, Authority of the Consuls, Stasis, Winter Orb, Static Orb, Meekstone, Blind Obedience, Kismet, Vitalize, Benefactor's Draught, Always Watching , Brave the Sands and other similar low-cost options that create a decided board advantage for you. Using lots of mana dorks with a well-timed Intruder Alarm would also fit, as the more creatures you have in play, the more you will benefit. Adding a Luminarch Ascension to really benefit off the board prison stalling to create 4/4 angel finishers is another option. Those are just a few ideas - good luck with your build.
1 week ago
Trying to determine my final deck as my meta seems to have disbanded. Problem is I have several projects going that aren't finished which will end up being melted for this last one. Trying to do something different from my other decks for a little variety but if they rely on the same strategy then that's okay. Budget should be kept around $15 per card max since this is my last hooray so to speak. However, I do own most of the staples so any suggestion will be considered. Here are the decks I currently run:
Decks I Currently Run
Purphoros, God of the Forge: my main man. Token spam and by far my favorite deck.
Karametra, God of Harvests: big stompies and land ramp.
Rafiq of the Many: enchantress voltron. Though even an enchantress can be suited up and work just as well should Rafiq keep eating removal.
Karlov of the Ghost Council: extort/lifegain with a touch of voltron and combo.
The Gitrog Monster: dredge/Dakmor Salvage combo deck. Very dependable and its a frog.
Breya, Etherium Shaper: my most competitive (aside from Gitrog and Purph) combo artifact deck
Edric, Spymaster of Trest: 1 drop evasive goodness
Brago, King Eternal: I've ran him very hardcore stax. While effective no one wanted to play against him so I've since lessened the stax effects.
Decks I'm Considering/Have Partly Built
Doran, the Siege Tower: big butts matter. Lots of Meekstone effects or power based wraths. What I have built seems inconsistent probably in part to vanilla critters with high toughness. That's great if Doran is out but otherwise not so great. I Don't want to go voltron bc I have Rafiq and Karlov nor do I want a good stuff build as that gets rather pricey.
Seton, Krosan Protector: ramp with big stomp finishers. What I have built seems consistent but you may have to dig to find a win con. Stax effects through Hall of Gemstone/Ritual of Subdual. Only concern is it is similar to Karametra aside from using creature ramp as opposed to land ramp. However, the synergy is pretty impressive and can lead to explosive plays.
Talrand, Sky Summoner: lots of bounce but entirely commander dependent. Could go Polymorph tucking a drake with use of Proteus Staff to whip out bombs. No real fast win con though. I've built this before and it was hilarious but it ended up getting pieced apart for other decks.
Or any other ideas anyone else has. The above 3 decks are mostly built already just needs finishing.
3 weeks ago
If you want to go the lockdown route, cards like Frozen AEther, Kismet, and Orb of Dreams paired with stuff like Stasis, Meekstone, and Winter Orb help keep your opponents stuff tapped. Cards like Propaganda, Windborn Muse, and Sphere of Safety will be useful if you don't want to get attacked. And if you want to untap stuff on the opponents turn, cards like Murkfiend Liege, Turnabout, and Seedborn Muse (even though it's pretty expensive) could be nice.
What I like to do when I start building decks is search for keywords/rules contains/subtypes in sites like this one, tcgplayer, starcity, etc. It really helps find synergies you wouldn't have thought of before and find new cards you haven't seen before. I suggest checking them out some time. I'll still suggest stuff and help if you need it, but that's all I got for now.
1 month ago
Can't believe I missed Mentor of the Meek for card draw in my Doran deck. Apparently I haven't updated my deck for a while now. My deck focuses on punishing creatures based on their power. But I have a few ideas to run by you, use them as you wish:
Abzan Beastmaster: card draw
Eidolon of Rhetoric: can neuter some decks and has a nice body to boot.
Guiltfeeder: Possible evasion and can hit for 4 with Doran out. Added damage is better the longer the game goes on.
Kami of Old Stone: I don't care for vanilla critters but this one was too good to pass up
Marble Titan: another Meekstone v2.0
Necroskitter: steals opponent's critters and plays nicely with Obelisk Spider and his infect friends Priests of Norn and Tangle Angler.
Priests of Norn/Tangle Angler: See above, Also can be finishers with cards like Tower Defense ect.
Raving Dead: testing this out. Can be brutal with cards like Sidar Kondo of Jamuraa/Behind the Scenes or after a wrath effect that targets higher powered critters. It's a Quietus Spike with legs.
Sun Titan: recursion
Tree of Redemption: huge with Assault Formation or a last ditch life saver.
Noetic Scales: currently testing but probably the first thing to be cut.
Crackdown, Retribution of the Meek, Wave of Reckoning: all higher power critter punishing cards
My deck if you want more ideas:
---

Commander / EDH Flagellum
SCORE: 5 | 17 COMMENTS | 868 VIEWS | IN 2 FOLDERS
---
1 month ago
Love the concept. I found Meekstone goes well with Akiri's vigilance.
Looks fantastic though. Its a pity my play group doesn't do mass land destruction.
Tree
Load more