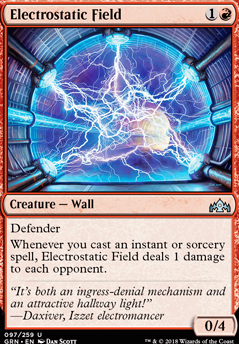 Legality
| | |
| --- | --- |
| Format | Legality |
| Pre-release | Legal |
| Tiny Leaders | Legal |
| Magic Duels | Legal |
| Canadian Highlander | Legal |
| Vintage | Legal |
| Modern | Legal |
| Arena | Legal |
| Penny Dreadful | Legal |
| Standard | Legal |
| Leviathan | Legal |
| Legacy | Legal |
| Brawl | Legal |
| 1v1 Commander | Legal |
| Duel Commander | Legal |
| Oathbreaker | Legal |
| Unformat | Legal |
| Casual | Legal |
| Commander / EDH | Legal |
Electrostatic Field
Creature — Wall
Defender
Whenever you cast an instant or sorcery spell, Electrostatic Field deals 1 damage to each opponent.
Electrostatic Field Discussion
17 hours ago
Hey man!
Before we get into this, I just want to say that if I sound like a know-it-all and a dick, it's toatally unintentional and I apologize for it. Also, I have never played Jeskai in EDH, so please take my suggestions with a grain of salt.
It's kind of hard to find a good Jeskai Commander that is based around creatures, so I think you have two options:
Of course, you could have both in your deck, and switch them around as the meta/playgroup changes, but it's best to choose one now. I'll provide options for both.
---
The ramp and land package wil be roughly the same, so I'll start with that. I use TCC's manabase template, but feel free to change it.
Ramp
Lands
TCC's template for a manabase is this, but feel free to change it to fit your budget etc.
3 OG Duals (Can be replaced by Check, Scry or Man lands)

3 Shock

3 Zend-Onslought Fetch (Can be replaced by Panoramas)

15 total basics and utility (9/6 split)

3 Filter Lands

3 Pain Lands

4 Any Colour Lands

1 Tri Land

3 Other Lands(more utility, duals, Lairs, etc)
---
Here's a deck that I drafted if you want Shu Yun, Silent Tempest as your commander. I left three slots for the cards already in your deck
---
Here's the draft deck if you want Ishai, Ojutai Dragonspeaker and Bruse Tarl, Boorish Herder as your commanders
---
That ends my very long post. Feel free the change anything you want about the decks I made, as they are only a first draft.
Good Luck,
Hex
2 days ago
First thing you need to worry about here: what's your wincon? (win condition, if you're not familiar with the term)
I would recommend Thousand-Year Storm or Guttersnipe or Electrostatic Field . Ral, Storm Conduit and Niv-Mizzet, Parun are good as well but only hits one player. One may even argue that Niv might be a better commander for what you're going for. Casting lots of spells = drawing lots of cards = dealing lots of damage
6 days ago
My pet card for this deck is Veilstone Amulet . It puts in work.
You are a little creature light especially if you want a lot of targets for mirrorwing and zada. I see what you are going for with Swiftblade Vindicator but I think there are better creatures for this deck.
Psychotic Fury can't target zada or mirrorwing, so it didn't make my list.
Seize the Day underperformed for me. Without a lot of vigilance creatures it ended up doing the same as giving one creature double strike
Other considerations for the deck, Akroan Crusader , Path to Exile (can be used on your own tokens to ramp you), Goblinslide , Intimidation Bolt , Guttersnipe , Electrostatic Field , Thermo-Alchemist , Sentinel Tower , Reliquary Tower
1 week ago
Forgot to mention about Akroan Conscriptor his end of turn effect can be overriden by using any flickering effect (my deck has a lot of them) so you basically steal your opponent's creatures for 5 mana + 2-6 in form of 1 cantrip and 1 flicker. I agree that having your commander stolen is the unfunniest thing imaginable, but since my playgroup did a lot of it to my atraxa precon, gotta give them that feeling :)
I don't really like Electrostatic Field , Firebrand Archer , Thermo-Alchemist and Guttersnipe since those deal playwide damage and it really makes people want to kill you first since you cant controll your damage.
Also I forgot some cheap lands that will help to solve color problems (I figured out im going to have a lot of them)
1 week ago
Sphinx-Bone Wand is for multiplayer games that grind to a stand still, I don't know your meta but if your not playing against hyper competitive decks, something that would be rough on a budget deck, its a nice way to seal the game when you are cantriping 3-4 times a turn to build damage rapidly although there is the lite version Sentinel Tower .
Having play tested your deck a few rounds I think you could drop about six creatures, mostly the heroic ones although I do like Anax and Cymede , and add a couple of more lands and some more cantrip spells trying to keep things around 1-2 mana. With your commander you never really want to miss a land drop as the deck is actually pretty mana hungry when it wants to do its thing. I think as far as creatures generally go you want stuff that rewards you for casting but not having to be targeted like Balefire Liege , Electrostatic Field , Firebrand Archer , Ojutai Exemplars , Thermo-Alchemist and Weaver of Lightning . Regardless I think it looks like a fun deck and hope to get my hands on a copy of Feather my self.
2 weeks ago
Seems like a pretty reasonable budget Feather list! +1 from me.
If you're open to suggestions, Electrostatic Field seems good here. It's got a slightly less powerful Guttersnipe effect for only 2cmc, but it's always going to survive Fell the Mighty and/or Solar Blaze effects.
I also like Monastery Swiftspear and Ghitu Lavarunner for the list. Swiftspear seems like she could go wild with early game prowess, and Lavarunner just fits red spellslinger to a tee.
Load more
Electrostatic Field occurrence in decks from the last year
Standard:
All decks: 0.17%
Red: 2.22%
Commander / EDH:
All decks: 0.01%