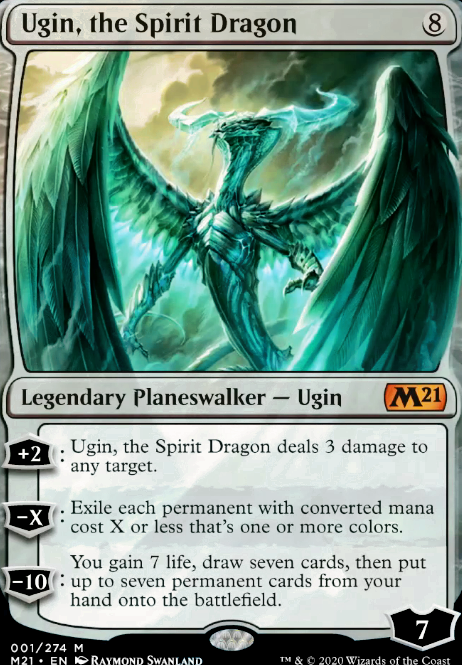 Ugin, the Spirit Dragon
Planeswalker — Ugin
+2: Ugin, the Spirit Dragon deals 3 damage to target creature, player or planeswalker.
-X: Exile each permanent with converted mana cost X or less that's one or more colours.
-10: You gain 7 life, draw seven cards, then put up to seven permanent cards from your hand onto the battlefield.
Browse Alters
View at Gatherer
Trade
Legality
| | |
| --- | --- |
| Format | Legality |
| Unformat | Legal |
| Limited | Legal |
| Block Constructed | Legal |
| Brawl | Legal |
| Legacy | Legal |
| Highlander | Legal |
| 1v1 Commander | Legal |
| Modern | Legal |
| Standard | Legal |
| Duel Commander | Legal |
| Pioneer | Legal |
| Leviathan | Legal |
| Oathbreaker | Legal |
| Historic | Legal |
| Casual | Legal |
| Vintage | Legal |
| Canadian Highlander | Legal |
| Arena | Legal |
| Pre-release | Legal |
| Commander / EDH | Legal |
| Tiny Leaders | Legal |
Ugin, the Spirit Dragon Discussion
21 hours ago
Assuming you still would like help, here are my thoughts just going off what you already have (so your mainboard and sideboard).
First of all your land situation needs to be sorted out. You have an insanely high average cmc (4.74) so you're going to be looking at about 40 lands without the very pricy ramp cards. 30 lands is in the range that decks with an average of about 2cmc or lower run. Here's a quickly made list of your lands that I'd use:
You almost always want to prioritise lands that can come in untapped over ones that always enter tapped. This is because auto-tapped lands basically set you back a turn, so it's often better to just run a basic over something like Sheltered Thicket. The exception here goes to the Triomes because they offer three colours and more importantly can be picked up by your fetchlands.
As for the rest of your cards, here's what I recommend cutting:
And add in their places, assuming you're running 40 lands:
Hopefully that helps, and let me know if you have any questions! These are just suggestions after a brief runthrough of course, so feel free to take them or leave them!
6 days ago
Snips500: you can ask "what ifs" all day, but they dont really matter. the whole purpose of Blood Moon is to shut down lands. play around it the same way as any other format. also keep in mind that your idea of fun is subjective. for all you know, making it harder to cast the commander could have been the intention of the format to begin with. and if you wanted a 3+ color deck, you already have to run color fixing, just like in regular commander. so your point about "wasting a turn" just isn't valid. mana ramp and/or color fixing can have big payoffs later. just look at tron in modern. they spend their first 2 or possibly 3 turns doing absolutely nothing that impacts board state, then turn the tables with their turn 4 Ugin, the Spirit Dragon
1 week ago
DragonSliver9001 Honestly Idk why people like Trius even complained, Ugin, the Spirit Dragon is literally in standard, we have colorless permanent removal and have had it for a long while xD
3 weeks ago
It was playing really well. The biggest problem was that it is not Ugin, the Spirit Dragon. Everything else was working great. It churns out zombies very well. it played consistently. I tried putting in Banishing Light because I only had one Deputy of Detention but being able to fetch the Deputy and always having an abundance of 2 drop enchantments makes it pretty crucial. I did add one Deputy (giving me 2 now) and I think I'm gonna tinker with the other two slots. I think I have 2 Dungeon Geists that I'll throw in for now.
The only other change I made was adding 2x Temple of Silence and removing Wolfwillow Haven as I was getting stuck without white mana too often. I also removed Kenrith's Transformation to accommodate The Binding of the Titans which play pretty well with the rest of the deck.
3 weeks ago
Control pieces: Swan Song, Swords to Plowshares, Path to Exile, Mortify, Anguished Unmaking, Vindicate
Superfriends pieces: Oath of Kaya, Oath of Ajani, Ugin, the Spirit Dragon, Kasmina, Enigmatic Mentor
Stompy pieces: The Eldrazi titans, Uro, Titan of Nature's Wrath, Progenitus, Mayael the Anima.
4 weeks ago
Ugin, The Scary Ghost Dragon
Legendary Planeswalker - Ugin
+X: Ugin deals 3-X damage to any target (X can't be 0)
-4: Ugin deals 4 damage to each creature and each planeswalker or destroy target permanent
-12 Draw 12 cards add 12 and ~ deals 12 damage to any target
7
---
Based off Ugin, the Spirit Dragon, I don't hate him because he's a bad card, I hate him because he's one of the most broken cards ever printed, and after the first time should not have been reprinted. He comes down exiles everything anyone plays, then bolts you every turn.
Anyway ugin rant over. This is a much fairer card
ninja'd do above
1 month ago
It's true that Spark Double would give you another use of a planeswalker's ability but if your goal is to make tokens of it, it still runs into the same problem. Turning all your tokens into a copy of Spark Double means that all of the tokens are 0/0 illusions that die as state based actions. But a wincon consisting of a huge planeswalker army is still well within reach!
We probably all know about Jace, Cunning Castaway's interaction with Doubling Season. If he ults with Doubling Season on the board, he makes two copies of himself each of who can do it again. You end up with infinite Jaces. If you have Oath of Gideon or Oath of Teferi/The Chain Veil on the field, they will either have enough loyalty to create 2/2 creatures (in the case of the former) or will be ready to create 2/2 creatures next turn (in the case of the latter.) Infinite tokens are pretty decent for our pal, Brudiclad, Telchor Engineer dontcha think? But who wants to win with creatures attacking anyways? If we wanted that we just play Selesnya or something. Why not throw in another card to win in a truly glorious fashion? A card that you already run in your deck! Nicol Bolas, Dragon-God on the field with the two aforementioned cards (Jace and Doubling Season) allows you to make infinite Nicol Bolas! If you have Oath of Teferi out, you can +1 them all at once, exiling everything on the opponent's battlefields and from in the opponent's hands. Come to think of it, that dragon dunce should've just done this during War of the Spark... but I digress. I think that those might be some fun combos for you to look into! Also it's important to remember that Bolas doesn't just have to use his own +1. That wins the game, sure, but if you wanna be flashy, he can use the loyalty abilities of any other walker you have out! Draw your library and drain everyone with Sorin, Grim Nemesis, dragonbomb the shit out of everyone with Ugin, the Spirit Dragon, gain infinite life with Ajani, Strength of the Pride, same turn token storm with Chandras One and Two, empty hands with Davriel, Rogue Shadowmage or Karn Liberated, gain infinite mana with Teferi, Temporal Archmage or Domri, Anarch of Bolas and if you really want to stick to the big, bad dragon then literally every single Bolas

walker wins the game on the spot. Now that's a flashy superfriends pop off!
You can even cheat out pieces of the combo with cards like Deploy the Gatewatch, Academy Rector, Arena Rector and my personal favorite Planebound Accomplice.
I hope you dig this path, I know the point was to do some Brudiclad shenanigans to go infinite but I'll be damned if this isn't a close second on the coolness scale!
Load more