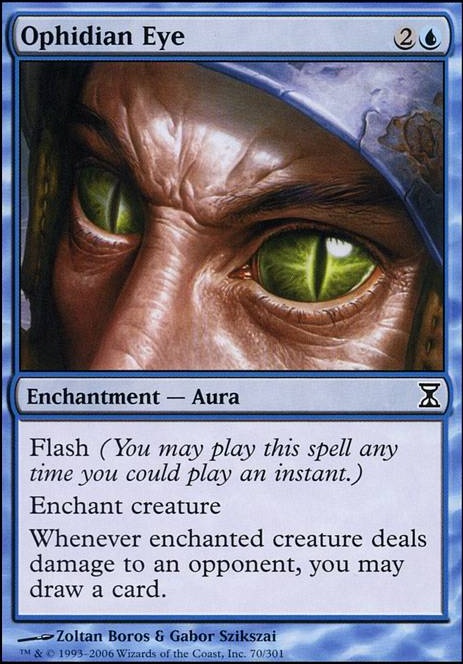 Legality
| | |
| --- | --- |
| Format | Legality |
| Tiny Leaders | Legal |
| Noble | Legal |
| Leviathan | Legal |
| Magic Duels | Legal |
| Canadian Highlander | Legal |
| Vintage | Legal |
| Modern | Legal |
| Casual | Legal |
| Pauper EDH | Legal |
| Vanguard | Legal |
| Legacy | Legal |
| Archenemy | Legal |
| Planechase | Legal |
| 1v1 Commander | Legal |
| Duel Commander | Legal |
| Unformat | Legal |
| Pauper | Legal |
| Commander / EDH | Legal |
Ophidian Eye
Enchantment — Aura
Flash (You may play this spell any time you could play an instant.)
Enchant creature
Whenever enchanted creature deals damage to an opponent, you may draw a card.
Have (4)
Joblaska , mziter501 , ahobrien , voidruby
Want (15)

B

r

i

n

g

e

r

O

f

S

t

o

r

m

s

, DeadeyeDesperado , Korevana , doonmeister , Dawnbreaker7727 , sycdan , vakuso , Cheshire000 , DragynFyre , Fralaylah , 0ur0b0r05 , Arrownight , AzureOctive , Turtlelover73 , powertrot
Ophidian Eye Discussion
1 week ago
I think you should try out either Niv-Mizzet, the Firemind or Niv-Mizzet, Parun . Both tend to control the board until they can win with either Curiosity or Ophidian Eye . OG Niv is easier on a budget mana base, but paying more for new miv might be preferable for you if you're okay not turbo'ing him out and playing a slower game. Mizzix of the Izmagnus is also very combo-y if you're into Izzet. If you want to go Temur, Animar, Soul of Elements is typically build as a combo deck using Ancestral Statue to go infinite, and the popular Animorphs build is very budget friendly and lends itself well to the Pickles Lock combo of Brine Elemental + Vesuvan Shapeshifter . The Gates deck is a control deck that wins with your favorite one-card combo, Scapeshift . It's a one-trick pony, but if you're into it, I would build it with Child of Alara at the helm. Riku of Two Reflections might be for you if you just want all the value until you can find whatever wincon you like. Finally, if it's the rampy, storm bit you like about Nic Fit and Scapeshift, I love my Tatyova, Benthic Druid druid tribal deck. Chaining land ramp and drawing cards feels very stormy, even more so when going off with Gilt-Leaf Archdruid , Guardian Project , or Beast Whisperer with Seton, Krosan Protector , Nykthos, Shrine to Nyx , Stone-Seeder Hierophant , or Growing Rites of Itlimoc Flip.
2 months ago
Actually, there is a deck that I alone am a proponent of. I have yet to see another player in all of my years of EDH, looking online, IRL, etc for this commander another user of it:
This commander is simple, a powerful mono-blue commander that while being considered low-tier, can be a powerful unblockable voltron draw-engine, a normal draw engine, or something to attach non-voltron equipment onto.
Ever seen a player be blown out by a few damage? Sword of Feast and Famine making them discard a card, Sigil of Sleep bouncing their biggie into their hand, Sword of Body and Mind milling them ten, and Quietus Spike doesn't help matters on their end ;)
It isn't the best commander, no, however it brings a mono-blue aggro commander onto the field, and can play a great midgame and lategame need be. Like drawing cards? It has you covered, and with extra turn spells for more damage, stacking Tandem Lookout, Sword of Fire and Ice, Fireshrieker and Ophidian Eye or Curiosity, you are drawing some 8 cards a turn, probably drawing another extra turn spell in the process. Sounds like Narset, Enlightened Master some of the time!
Don't worry about the big aggro problems of not being able to deal with threats, you often don't need to tap out, holding up mana for a Swan Song, Counterspell or Into the Roil, sometimes even the overloaded Cyclonic Rift, while still progressing your board by dropping a one or two mana enchantment onto Lu Xun.
See my following three lists for budget reasons:
14 Dollar Super-Duper Budget Varient:
$14 Budget Lu Xun (Mono-Blue Voltron)
Mid Budget Varient:
Mid Budget Lu Xun (Mono-Blue Voltron)
High Budget Varient:
Load more
Ophidian Eye occurrence in decks from the last year
Commander / EDH:
All decks: 0,01%
U/R (Izzet): 0,09%