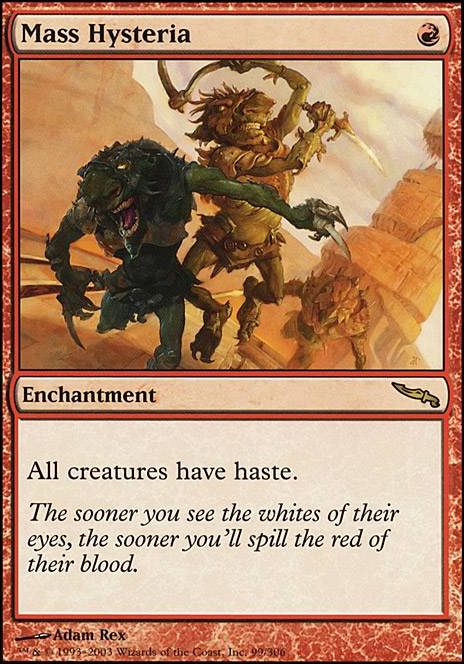 Legality
| | |
| --- | --- |
| Format | Legality |
| Tiny Leaders | Legal |
| Noble | Legal |
| Leviathan | Legal |
| Magic Duels | Legal |
| Canadian Highlander | Legal |
| Vintage | Legal |
| Modern | Legal |
| Vanguard | Legal |
| Legacy | Legal |
| Archenemy | Legal |
| Planechase | Legal |
| 1v1 Commander | Legal |
| Duel Commander | Legal |
| Unformat | Legal |
| Casual | Legal |
| Commander / EDH | Legal |
Related Questions
Mass Hysteria
Enchantment
All creatures have haste.
Have (11)

F

u

l

l

m

e

t

a

l

m

a

g

e

, DarkMagician , jstn.mrrtt , Joblaska , Skydra2 , Psycheretic ,

M

y

l

l

y

e

s

3

1

4

,

s

o

n

n

e

t

6

6

6

, Pumpkinking913 , ajc3527 ,

N

e

m

e

s

i

s

Want (9)
marsp44 , Flame213 , Zerail , thekamikazeking , Gommel , RhobearST , AikenFreedreamer , DeadeyeDesperado , zomburs
Mass Hysteria Discussion
1 month ago
NOTE: The Cards at the front of each suggestion are the cards you should put in, not take out.
---
You should probably switch out Gruul Turf for Stomping Ground. Gruul Turf sets you a turn or two behind, which is not good for an aggro deck. Why are you running 4 Azusas when she is legendary? The most I'd run is three, as you can only have one out a time. How are you going to get creatures in the grave for Ghoultree? Also, have you considered the Arbor Elf and Utopia Sprawl combo? The best manabase I think for this deck would look this this:
---
I think that this manabase, esp. with Azuza, is very good, allowing you to get your big guys out quickly. However, I think you could change your creatures as well. There are two ways you can do this, you could either go wide (lots of creatures) or the grow big (a few huge creatures). I have provided cards for both of them
---
I put the Nissas in here because her Elemental making ability can come in handy while trying to cast Ghalta or for extra mana (untapping the land with Sprawl)
So, not much change, but that little change makes a lot of difference. Also, Lightning Bolt needs to change. You need something that can kill something, no matter the size. Good Luck!
1 month ago
Nice deck! You might consider some haste-enablers such as Anger, Bloodsworn Steward, Xenagos, God of Revels, Fervor, Concordant Crossroads, Mass Hysteria, Lightning Greaves, or Fires of Yavimaya to get huge amounts of burst damage with Prossh and OTK opponents out of nowhere. Also with the amount of tokens you generate, cards that have synergy with armies of tokens (e.g. Parallel Lives, Doubling Season, Overwhelming Stampede, Triumph of the Hordes, Harvest Season, and Second Harvest) could be very effective, especially if you area able to curve out with Parallel Lives or Doubling Season into Prossh the next turn. Also, cards that can turn your many tokens into mana could have a lot of potential as well. You've already included Cryptolith Rite and Growing Rites of Itlimoc , but the addition of Ashnod's Altar, Thermopod, Pawn of Ulamog Cards like Green Sun's Zenith, Chord of Calling, Heroic Intervention, Damnation, Crux of Fate, Sylvan Library, Vampiric Tutor and Demonic Tutor could provide the the deck with additional consistency, utility, and power. If you wnt to add another mana-doubling card, Mana Reflection would fill that role. It looks as if you have a bit of a 'sacrifice stuff' subtheme as well, so more cards to add for that could be Barter in Blood, Birthing Pod, Blood Divination Attrition, Awakening Zone, Bloodspore Thrinax, Disciple of Bolas, Eliminate the Competition, Mazirek, Kraul Death Priest, Sidisi, Undead Vizier, Sadistic Hypnotist, Goblin Bombardment, and Razaketh, the Foulblooded. Other considerations might be Sprouting Thrinax, Goblin Sharpshooter, Atarka, World Render, Grave Titan, Oracle of Mul Daya, Dragonlair Spider, Stalking Vengeance, Tempt with Vengeance, Xenagos, the Reveler, Poison-Tip Archer, Avenger of Zendikar, Fecundity, and Pitiless Plunderer. Those are just a few suggestions, and good luck with the deck!
3 months ago
Cryptic Gateway seems incredibly good. On top of cheating creatures into play, it lets you cheat them into play at instant speed. Allows for plenty of tricks mid-combat with Scourge of Valkas, Panharmonicon, or even Knollspine Dragon. Allows you to cast Sandstone Oracle with Panharmonicon out, draw up to an opponent's hand size, cheat all the dragons from among them into play, then draw again. Can't beat that value.
Paradox Engine seems a little slow if you're only using it to untap your dragons; you might as well play Aggravated Assault.
Why Unclaimed Territory? It's strictly worse than a Mountain if you're only using it for one color. Also, why so many haste enablers? It's a powerful effect, but many of your dragons already have haste; cards like Mass Hysteria might accidentally help your opponents more than they help you.
Lastly, many of the dragons have ETB abilities, which you've capitalized on with Panharmonicon, Minion Reflector, and Flameshadow Conjuring. Why not Conjurer's Closet? Blinking your Scourge of Valkas every turn could be a lethal firestorm of damage, and a sky full of terrifying dragons. It could blink Knollspine Dragon to draw a ton of cards, or even just untap an exerted Glorybringer to let it attack again next turn.
4 months ago
Nice deck list. I've been looking at making a Kaervek punish deck since I've turned my old Rakdos suicide deck into a tribal demon deck. Some of my favorite cards form that deck were Manabarbs, Citadel of Pain, Havoc Festival, Sulfuric Vortex, Spellshock, Planar Chaos, Storm Cauldron, Zo-Zu the Punisher, Ankh of Mishra, Angel's Trumpet, Mass Hysteria, Grand Melee, Avatar of Slaughter, Avarice Amulet, Spiteful Visions, Seizan, Perverter of Truth, Temple Bell, Mikokoro, Center of the Sea, Geier Reach Sanitarium. I love Toxic Deluge in my suicide deck as a board wipe. If you're looking for more pay life to kill creatures there's also Phyrexian Purge, Fire Covenant, Slaughter, Hellfire, and Ashes to Ashes as well as Repay in Kind which helps brings opponent down to your level after hurting yourself. Possibility Storm could be a nice inclusion as well if it works the way I think it does with Kaervek. Opponent casts a spell and both Kaervek and Possibility Storm trigger, the spell gets exiled and if your opponent plays the other card with Possibility Storm then Kaervek will trigger again.
Load more